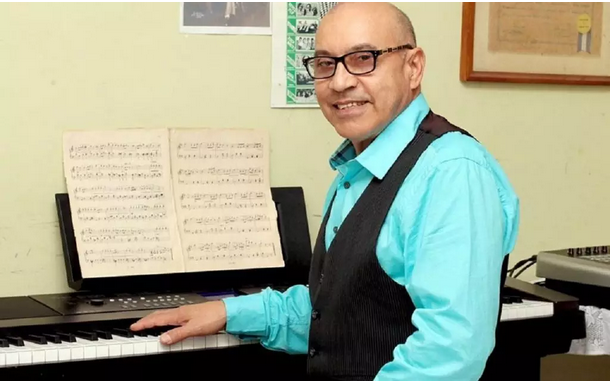 by the El Reportero's news services
Salsa star, Nicaraguan Cali Alemán, writes farewell words for his friends in social media
The piano is mourning in Nicaragua and San Francisco.
Nicaraguan pianist Danilo Amador, who founded musical relics bands that became part of the history of modern music in Nicaragua, died on Thursday, July 16, in his hometown of Matagalpa.
Amador founded the group Los Juveniles, from Matagalpa, one of the first representatives of  rock bands of Nicaragua in the 60s and worked with a large number of national groups such as Los Hermanos Cortez, Los Tupamaros, Los Clarks, of León, and Los Juniors.
Danilo was the composer of the Bwana Theme, one of the greatest successes of national music, worked in Creole radio and television programs and participated in festivals in Europe, Las Vegas and at the OTI Festival where he won many triumphs.
Amador also had a long musical career in Florida, San Francisco and Los Angeles, California, United States.
From Florida, USA, singer Cali Alemán dedicated the following farewell words to his colleague and friend:
Dear brother:
You will live in my spirit forever. You were and always will be my brother. We share and enjoy everything in life.
You were a great man … a gentleman … very decent … great musician.
You are now with God … Jesus … and the Holy Spirit.
In the glory of our Lord you will rest eternally. Amen. (Sources: Radio Ya).
Trio Matamoros, a cultural phenomenon in Cuba
Havana, Jul 4 – The songs of Trio Matamoros, which is a reference in the history of Cuban and universal music, still resound among popular phrases, rhythms and memories, 95 years after the group's creation.
The combination of boleros and son took this group to the summit of popularity in the first half of the 20th century, thanks to the talent of Miguel Matamoros, Siro Rodríguez and Rafael Cueto.
Due to their way of playing music, they became very popular, both in Cuba and abroad, with classical songs like Lágrimas negras, which has been recorded hundreds of times, Promesa, Dulce embeleso, Elíxir de la vida, La mujer de Antonio and Mamá son de la loma, among other hits.
The Matamoros performed with outstanding singers and composers of that period, like Rafael Hernández, from Puerto Rico, who composed Capullito de alelí, and Benny Moré, who debuted with the group in the record industry.
The trio, which had a repertoire of nearly 400 songs, showed their talent in the United States, Mexico, the Dominican Republic, Venezuela, Panama, Curacao, Puerto Rico and Colombia, during 35 prolific years.
Their last performance for the Cuban people was in 1960, but their picaresque songs are still listened to and sung in the country like the first time.
Caribbean countries celebrate their literature day
Reading of works, recitals, gatherings and workshops are some of the actions with which the countries of the region celebrate the Day of Caribbean Literature today.
The initiative is part of a request from the House of Nehesi Publishers (HNP) that seeks to pay tribute to the roots, scope and excellence of writing and the book that covers all the linguistic zones of the area.
The main Caribbean authors and their works will be the center of the actions planned for the date, although each country will have its own program of celebrations appropriate to its particular health conditions related to Covid-19.
HNP writer and project manager Lasana Sekou urged to celebrate with the festivities 'one of the youngest literatures in the world, which continues to flourish within the same region where the oldest documented foundation of written and oral of a great people codified in books.'
Literary creation in this part of the Americas stands out for including works in Spanish, English, French and Creole, among other languages.
City installs temporary drive-in theater to aid recovery of cultural life
Films will be shown twice a week at the Hermanos Rodríguez racetrack
The Mexico City racetrack that has been home to the Mexican Grand Prix — part of which already houses a temporary Covid-19 hospital — will also become the site of drive-in movie theater.
The Hermanos Rodríguez racetrack at the Magdalena Mixhuca sports center will now house a temporary movie theater as well, government officials announced.
The racetrack theater will show films twice weekly from July 26 through August 19 each Sunday and Wednesday, Culture Minister Alfonso Suárez del Real said, in an effort to provide cultural opportunities for citizens.
Films scheduled to be shown include Alfonso Arau's A Day Without a Mexican and Alejandro González Iñárritu's Babel. There will be two showings each day, one at 5 p.m. and another at 8 p.m. Gates will open 90 minutes before each show.
Tickets will be sold on Ticketmaster for 10 pesos per vehicle, around US 45 cents. Cars can have up to five passengers, and SUVs and vans can carry eight. The racetrack can accommodate 415 vehicles.
The sports center location was chosen due to the fact that it is located in a part of the city with few cases of infection.