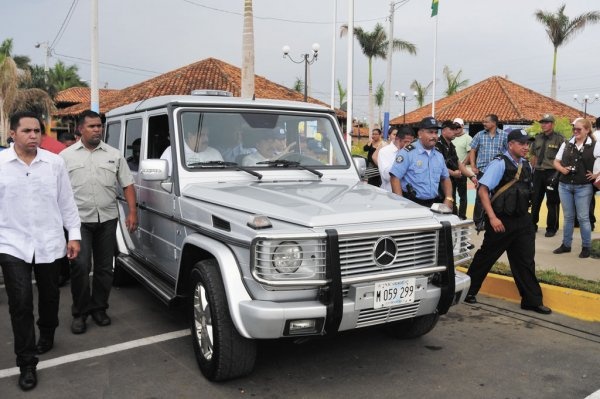 by Market Watch
The president of Nicaragua, Daniel Ortega, arrived in a new Mercedes Benz SUV at the 79th anniversary of the birthday of commander Carlos Fonseca Amador last June 23, informed the Nicaraguan newspaper Confidential.
According to the newspaper, Ortega has replaced the previous Mercedes Benz by the model G63 V8 AMG, a more recent model of the German make of vehicles, which price base on the international market amounts to $178,000 plus $100,000 for the shielding service that also provides the car factory, not including the tax, said a seller at the concessionaire in Nicaragua.
Puerto Rico poses bigger threat to U.S. investors than Greece
As U.S. investors have been panicking over a potential Greek collapse, Puerto Rico's governor Sunday announced that the small U.S. territory cannot pay its roughly $72 billion in debt.
Less than 24 hours later, Gov. Alejandro Garcia Padilla proposed a plan to seek a restructuring of the island's debt, suggesting that the island is virtually insolvent.
A long-awaited report compiled by former International Monetary Fund staffers brought the Puerto Rican debt crisis back into the spotlight.
The report concluded that the U.S. commonwealth has lost the ability to fund itself through public debt markets, while pointing to what the authors described as "a decade of stagnation, outmigration and debt."
Although the Puerto Rican debt crisis is no secret to residents of the island, the governor's statement essentially was the first official opening for a renegotiation of the debt, said economist Carlos Soto-Santoni, president of Nexos Económicos, a Puerto Rico-based consulting firm, and deputy adviser for former Governor Rafael Hernández Colón's administration.
But the problem is that, as per the U.S. constitution, Puerto Rico cannot file for Chapter 9 bankruptcy, like Detroit did, and neither can its public corporations and local agencies, Soto-Santoni added.
So the governor is basically seeking a negotiated agreement – just like Greese – with bondholders for a postponement of payments on the debt for a number of years.
But U.S. investors would actually have much more to lose in a potential Puerto Rican default than in a Greek default. The reason is that Puerto Rico's bonds are trading in the U.S. municipal bond market, while the vast majority of Greek debt is in the hands of the International Monetary Fund, the European Central Bank and eurozone countries.
"[According] to most recent estimates about 60 percent of [Puerto Rico's] bonds are owned by traditional municipal bond investors and the rest is in the hands of hedge funds and other crossover investors," stated Daniel Hanson, an analyst at Height Securities, LLC.
Out of about $350 billion in Greek debt outstanding, only around $14 billion is owed to U.S. banks.