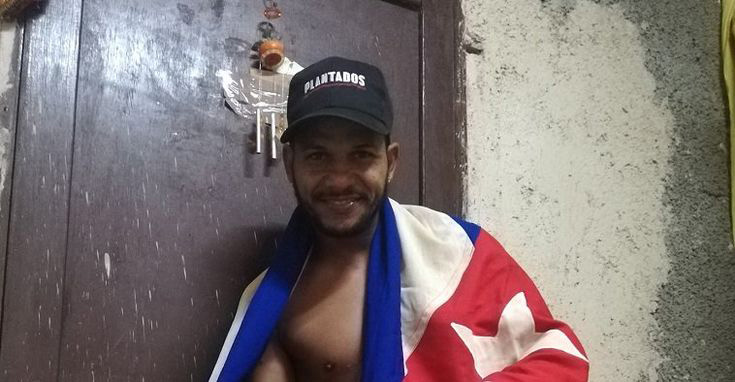 by the El Reportero's news services
The threat to opponents of depriving them of parental authority over their children has been a common practice of the political police for many years, but it has rarely been carried out, says a report by ADN Cuba.
An Interior Ministry official threatened rapper Maykel Osorbo and his partner Rosmelis Hernández to strip them of the custody of their 4-year-old daughter, Jade de la Caridad.
Hernández was summoned to the Old Havana police station, located at the intersection of Cuba and Chacón streets, to alert her to the education she is providing her little girl.
"I was not allowed to enter the interview, even though I was the girl's father. However, I could see that there were many State Security agents inside the police unit, "the rapper told Radio Televisión Martí.
"Rosmelis was received by a Major [of the Department] of Minors of Old Havana who told her about the upbringing that we are giving to our daughter. They told her that the girl is starting school in the next academic year (…), that we are not teaching her the real concepts of the Revolution and that this was going to create a disorder in her behavior.
"And that is why, at any time, they could take away the custody of the girl, who will analyze whether the state is raising her or her grandmother is raising, which they will determine," said the rapper.
A day earlier, the same unit had been summoned to the same unit by Felicia Hernández, Rosmelis's mother, to order her to expel Osorbo from her home, because, according to what they alleged, he is "an anti-social element."
Film by Cuban Edesio Alejandro wins new award
Jul 29 – The film Mambo Man, by Cuban musician Edesio Alejandro and British-Iranian film-maker Mo Fini, received today a new award after being chosen as the Best Feature Film of the season at Best Global Shorts festival.
With this prize this film increased to 15 the awards won, including Best Director and Best Fiction Film at the Festigious International Film Festival; Best Feature Film at the Florence Film Awards; and Best Foreign Film at the Moody Crab Film in India.
'And today we reached 15 awards, […], I am very happy, congratulations to all my Mambo Man team, these awards belong to us all, […], all of you are indispensable, thanks to all,' Edesio Alejandro wrote on Facebook
This independent film, shot in locations of the eastern region of Cuba, was produced by Tumi Music, a British company that has recorded Cuban traditional musicians for years.
The film is starred by renowned Cuban actor Héctor Noas, with the special feature of musicians Cándido Fabré, María Ochoa, Arturo Jorge, David Álvarez, and Julio Montoro.
Selena tribute during Premios Juventud 2020
Premios Juventud 2020 is officially 10 days away and today (Aug. 3), Billboard exclusively reveals more exciting news.
As part of the forthcoming 17th annual awards show, Univision announced that a special segment, honoring 25 years of Selena Quintanilla's music and legacy, will air during the star-studded event.
Her brother and producer of her biggest hits, A.B. Quintanilla III, as well as Karol G, Natti Natasha, Danna Paola, Ally Brooke and Greeicy, will participate in the motivating special.
"For me being part of this special was a real honor. She is a woman that after all these years, and everything that has happened, is a legend. I never hard the chance to meet her while she was here but she is an icon, an icon that lasts a lifetime," Greeicy tells Billboard.
"How amazing is it that she has inspired so many with her music. It was very challenging for me to create the energy and portray her flavors of cumbia. It was a beautifully difficult challenge and it was very special because I learned from her music and I'm going to keep enjoying it with respect and I hope to honor her. To have the privilege to prepare this special with her brother, who knew her, lived with her, and spent her life with her, is very special. It was a hard challenge for me because I felt like I was speaking directly to her. The special is going to be really great, it was beautiful to be able to create it with him, he was wonderful to work with," she adds.