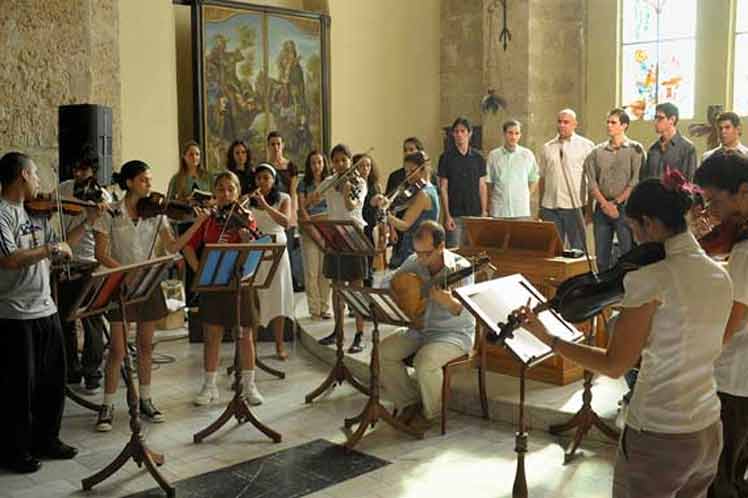 by the El Reportero's news services
The Cuban group Musica Antigua Ars Longa will perform on January 23rd at the Concert Hall in Vienna, Austria, during the Resonanzen Festival, said its choral director Teresa Paz.
The group, founded in 1994 to work with music from Middle Ages, the Renaissance and the Baroque, with similar instruments, costumes and other features of those times, will premiere its work 'Carnaval.'
Paz said in a press conference that the performance at the Groyer Saal of the Vienna Concert Hall is part of the Resonanzen Festival program, which will take place there from January 21st to 29th.
With 'Carnaval' Ars Longa will open, on Feb. 4 in Havana, the 12th Festival de Musica Antigua Esteban Salas, held in Cuba with the participation of artists from various countries and dedicated this year to the influence of dance.
Paul McCartney Tries to Recuperate Beatles Songs Copyrights
Los Angeles, Jan 19 – Famous British songwriter Paul Mc Cartney, one of the member of famous rock and pop group The Beatles, still alive, is trying to recuperate the copyrights of 267 songs of the famous rock and pop band, by means of a demand presented to the Sony Corporation before a federal court in New York.
US deceased pop music star Michael Jackson bought the copyrights on the large collection of songs of The Beatles in 1985, two decades before his premature death in 2009.
Last year, the heirs of Michael Jackson -nicknamed The King of Pop- sold the collection of songs, among other goods, to Sony Corporation, for 750,000 dollars, an insignificant amount, if compared to the 47.5 million dollars Jackson paid to own it.
Inside this collection, there are famous and successful tunes, such as 'All You Need Is Love' and 'I Wanna Hold Your Hand'.
Paul McCartney's demand states the right of the British songwriter to suspend the transfers of intellectual property over the songs of the collection, has not been rightfully respected, in virtue of the US legislation.
The autorship of the 267 songs corresponds to McCartney and his deceased partner and musician John Lennon (also a member of The Beatles), his colleague in the band, acclaimed by the critics, as the most successful pop-rock group in the history of popular music ever.
Afghan female orchestra wins Freemuse Award
The Afghan female orchestra Zohra, the first and only of its kind in the country, won the 2017 Freemuse Award edition, a recognition that promotes music as the driving force of freedom, Ariana News reported today.
During last decades, the Afghan music sector experienced a setback due to the war, the exile of the musicians and the Taliban-imposted policies who ruled between 1996 and 2001.