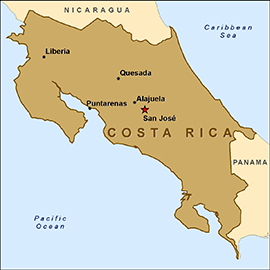 by the El Reportero's wire services 
The Costa Rican Union of Chambers and Associations of the Private Business Sector ( UCCAEP) has condemned today the xenophobic acts, hate speeches and insults of a group of people from Costa Rica against Nicaraguan migrants.  
The business sector will never be in favor of acts of xenophobia and hatred against Nicaraguans or any other person of different nationalities,' said Gonzalo Delgado, president of UCCAEP, to the press. 
Some 500 xenophobic demonstrators, members of sports associations and neo-Nazi and anarchist groups, broke into La Merced Park – known as a meeting point for Nicaraguans – and other places in this capital with expressions against Nicaraguan migrants. 
The demonstration ended in clashes that left 44 detainees – 38 Costa Ricans and six Nicaraguans – and the seizure of eight Molotov cocktails and about 20 knives. 
Delgado said such events are detrimental to the human dignity of many Central American brothers and sisters and other nations who have had to leave their countries due to various internal situations. 
He recalled that his organization has reiterated that the issue of greater and better immigration control is about security, not only for Costa Ricans, but also for all migrants. 
They (the migrants) also have rights to be respected, so they should be able to have an adequate registration at the time of their entry into the country, which would make it easier for them to circulate normally in Costa Rican territory, the president of UCCAEP said. 
Besides, he indicated, it is impossible not to recognize the importance of migrants in the history of Costa Rica, since they have contributed to the economic growth of the country, accounting for 12 percent of the Gross Domestic Product (GDP), according to the Organization for Economic Cooperation and Development. 
In the same way that the migrant population contributes to the growth of the GDP, it also does so with social security, which benefits the country as a whole, but those who enter in non-formal conditions cannot contribute in this way, which creates damage to them and to the system, Delgado explained. 
Stressing that Costa Rica is characterized by solidarity when required, the President of UCCAEP believes that such demonstrations will not be repeated, and calls for and incitement to violence and hatred against people of other nationalities will be wiped out from the country. 
Panama could become an oil producing country 
The likelihood of Panama becoming a petroleum producing country made headlines again, stimulated by the discovery of oil fields in Colombia, near the common border, issue to be assessed at an international convention next October.  
'According to the Secretary of Energy (SEP), there are studies being carried out on oil exploration, after Ecopetrol of Colombia found three fields near our border with Colombia, what made us think that Panama could share such fields', business woman Leonor Gomez told Prensa Latina. 
'I wish we can find something similar, as those three fields representing over 25 billion dollars for Colombia', said Gomez who heads an initiative by sponsoring companies of the bid to offer Panama as venue of a world conference on the topic. 
The first geological study in the last 30 years found traces of hydrocarbons in the Caribbean Sea of Panama, in a zone connected with three natural gas wells in Colombia, the SEP confirmed last January, after prospecting 9,000 square kilometers at 40,000 meters deep.