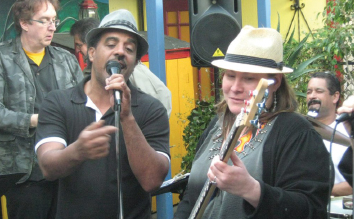 Compiled by the El Reportero's staff
Come and enjoy our 44th Annual Corazón del Barrio! Our open house is an event for the community made by local artists Saturday, Feb. 13, 10 a.m. – 4 p.m. Online program, Zoom, Facebook Live, Youtube Channel MCCLA. Free. All ages. ¡Access is free!
For more information about the workshops materials and registration visit our website www.missionculturalcenter.org
Orquesta Adelante will be playing Outdoors from 3 to 4 p.m. in front of the Mission Cultural Center for Latino Arts.  We will be Live Facebook streamed on 'The Mission cultural Centers Event page Corazon Del Barrio' & the Event page 'Music in the Mission.' Please join the events to Hear Live stream
Orquesta Adelante will also be playing on March 20 in Santa Cruz at 2 p.m. to 4 p.m. for a Santana Tribute at Joe's Pizza & Subs. They also will be playing at La Raza Park in SF on Saturday, April 10 for Suzanne Cortez Birthday and her Album Release of her original music.  For more info of upcoming events go to OrquestaAdelante.com
Online – Bilingual Storytime – Live with Jazz and Friends!
Special live English/Spanish bilingual storytime with Armando through Zoom with stories supporting our transgender youth of all colors. Ideal for ages 3-5. However, the whole family is welcome! RSVP required for Zoom identification and password. Feb. 26.
Contact Pam Evans pevans@redwoodcity.org
Get Involved and Help Shape the Future
Are you or someone you know interested in getting involved with your local government? Are you interested in contributing your voice, making an impact in your neighborhood and the entire City?
Your civic participation is always important in advising and maintaining critical city resources and infrastructure.
The City welcomes and encourages your active participation by serving on a Council-appointed Board or Commission, and is seeking volunteers to fill vacant seats. Join other volunteer members in shaping policy initiatives and services affecting the community.
The City is recruiting for two (2) seats on the Library Board and one (1) seat on the Parks, Recreation and Community Services Commission.
Recruitment is open from Jan. 12 through Feb. 21, 2021 at 11:59 p.m. Apply today! www.redwoodcity.org/bccrecruitment.