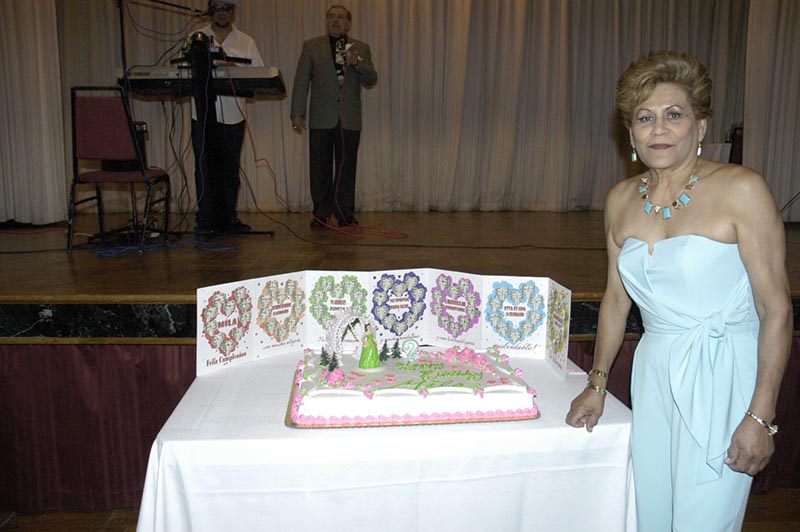 [Author]by Marvin Ramírez[/Author]
A big homage to Mila Turcios was celebrated in the distinguished Patio Español of San Francisco this past June 22 to celebrate her proud 70 years of life.
People from many places came to celebrate and to bring happiness to Mila, who has become a relic within the Nicaraguan community in San Francisco.
A good number of invitees came from distant places out of SF and the state to accompany this distinguished lady who has been able to gain the fondness of her friends.
Mila, who arrived in San Francisco on Feb. 1, 2000, from Managua, Nicaragua, received 140 people, many who came from every where in the Bay Area cities, and as far as Los Angeles, Arizona, Las Vegas, and with special mention from New York, René A. Solórzano.
It was a party that also distinguished itself for the participation of many known personalities and merchants such as Dr. Maritza Rosales, the owners of the popular Restaurant The Tinajas, Alí Castillo of AC Auto body, who came with his beautiful wife, the ex boxing champion Mike Galo – who danced the first sone with Mila, among others, and the elegance of the banquet served by the personnel of the aristocratic Patio Español.
But the party was even more special with the presence of the well-known radio and television personality, Luis Echegoyén, who directed the artistic acts that took place at the birthday party, and who wrote and recited a pretty poem to Mila.
Darío DJ, two child dancers, children of Ernesto and Maria Taleno, who danced the Tapatío of Mexico, and Cumbia Chinandegana of Nicaragua, and the group composed by Dr. Noemí Balladares and here two daughters, Yara and Dara, who danced cumbias and rock ' n roll of the 60s, turned the event into something unforgettable.
" I am very grateful to all for their presence, I felt happy to be among my friends and relatives ', said a moved Mila.
The personnel of El Reportero, who was also present at the act, wish many more years of life mila Turcios.