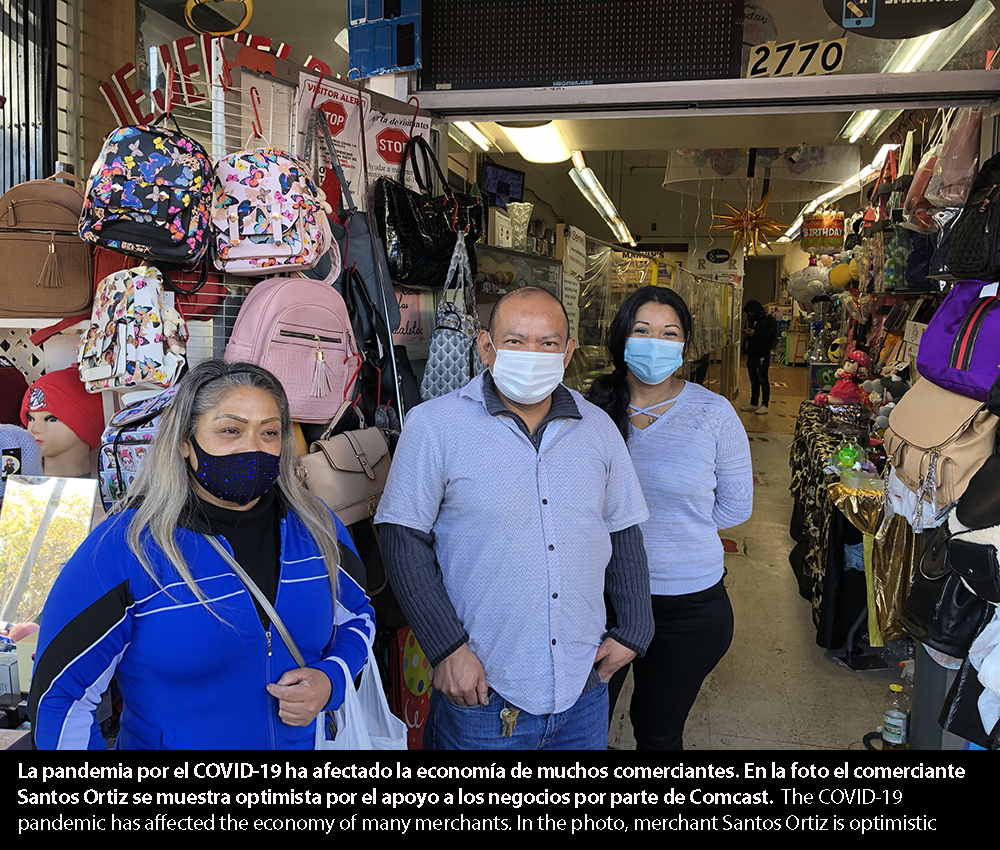 By Eduardo Palomino
Special for El Reportero
San francisco California. Faced with the difficult situation in which Latino small businesses find themselves in the San Francisco Bay Area, due to the COVID-19 pandemic, Comcast California has donated $350,000 to the Opportunity Fund, which in turn launched a loan program to support with these funds, marketing services and financial advice for businesses for Latinos, African Americans, indigenous people and other ethnic groups of color.
A clear example of the current situation is Mr. Santos Ortiz, originally from El Salvador, who opened the Multiservices Jewerly jewelry store six years ago. After a lot of work and patience, Ortiz's small business managed to consolidate. However, the COVID-19 pandemic drastically reduced his income and, therefore, forced him to spend the savings he had collected with so much effort. "We are still here eager to do the best for our customers, but we need help, so I celebrate initiatives like Comcast," said Ortiz.
According to experts, the pandemic has disproportionately affected minorities, including Latin American microentrepreneurs. The foregoing becomes more relevant if we consider that, according to the Small Business Administration, 44% of all productive activity in the United States is created by small businesses, on which two-thirds of the net new jobs in the country depend .
For this reason, in addition to financial support, Comcast will produce Public Service Announcements (PSAc) to promote the fund and show the benefits of the loans. These announcements will be broadcast on Comcast's communication channels, including Telemundo and NBC Bay Area, as well as in social networks, thanks to the advice of specialists who will advise microentrepreneurs to improve their digital infrastructure, electronic commerce and Internet presence.
"Microenterprises create jobs, drive innovation, and foster competition. They are the lifeblood of the American economy. Although micro-business owners are among the most agile, tenacious and resilient people around, their businesses, their livelihoods, have been challenged by the COVID-19 pandemic in unimaginable and unprecedented ways, "said John Gauder , Senior Vice President of Comcast California. "We have come to depend a lot on them. Now, when times are tough, we want them to know that they can trust us to overcome this crisis. "
"In my case, a debt was generated for me for the rental of the property where my business is located, at 2770 Mission St. A loan would save us in many ways, especially since three families depend on this business," said Ortiz. "My fellow Mission merchants are going through something similar. We work hard because we are working people, however, any support at this time would be greatly appreciated, it would be a blessing from God. With that we could pay the debt of the rent and electricity ".
"Opportunity Fund has a proven track record of success, helping microenterprises by providing impactful microcredits for more than 25 years," said Executive Director Luz Urrutia. "Our mission, to promote economic mobility, is part of the fight against systematic inequalities, including racism. We must do this work as quickly as possible, with unwavering commitment and increasing courage, what we want to create is large-scale partnerships. About 2.2 million (15%) of the country's microenterprises closed during the spring and summer due to COVID-19. Black businesses, 19% of Latinas and 21% of Asian American businesses, have closed, reflecting historical biases of the financial system that have left minority-owned businesses undercapitalized and with fewer resources. We are deeply grateful to Comcast for supporting our efforts in California. "
More information on microenterprise support with Latino, African American, and indigenous owners can be found on the website: www. opportunityfund.org/get-a- loan / You can also call 888-648-7859 in Spanish, and 888-720-3215 in English.
Similarly, more information about Comcast can be found at the website: california.comcast.com
Opportunity Fund is the nation's leading microenterprise lender, based on the idea that small loans help hard-working entrepreneurs make lasting changes in their own lives and build stronger communities by growing businesses and creating jobs. The Opportunity Fund's donor and investor community is creating an inclusive financial system that empowers women, immigrants, and minority micro-business owners. For more information:
www.us.accion.org/accion- opportunity-fund
Comcast Corporation (Nasdaq: CMCSA) is a global media and technology company with three main businesses: Comcast Cable, NBCUniversal, and Sky. Comcast Cable is one of the largest video, high-speed Internet, and telephone providers in the United States to residential customers under the Xfinity brand, and also provides these services to businesses. It also provides wireless and security and automation services to residential customers under the Xfinity brand. NBCUniversal is global and operates news, entertainment and sports cable networks, the broadcast networks of NBC and Telemundo, television production operations, television station groups, Universal Pictures and Universal Parks and Resorts.
Visit www.comcastcorporation. com for more information.
(Sponsored by Comcast)