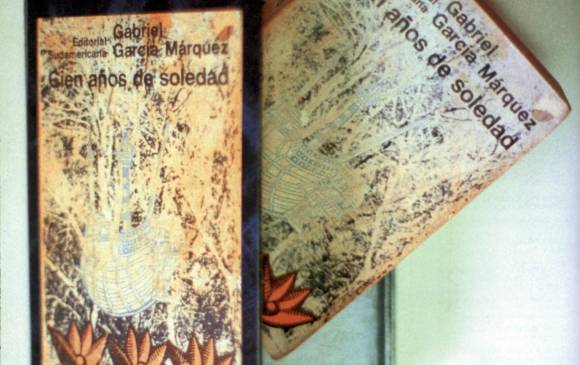 by the El Reportero's news services
Colombian police analyzes the video security cameras Corferia fairgrounds, where it was stolen a copy of the first edition of One Hundred Years of Solitude by Gabriel García Márquez.
The theft was detected on Saturday night at the Macondo Pavilion, where he is honored at the International Book Fair in Bogotá (FILBO) the Nobel Prize for Literature, a year after his death in Mexico City.
National morning news refer that investigators received the recordings of the security cameras and other information provided by the fact the authorities of Corferia and FILBO organizers, whose last day takes place on Monday, after its inauguration last 21 last month.
The stolen copy is from the first 1967 edition of One Hundred Years of Solitude by Editorial Sudamericana de Buenos Aires, which then printed eight thousand copies.
The book was delivered on loan for display at FILBO-2015 by the bookselle  Alvaro Castillo and contains a dedication by the novelist in the name of its owner.
"For Alvaro Castillo, his friend Gabriel", expresses the dedication contained in the stolen copy now, which its owner said is invaluable.
Executives of the Book Chamber of Colombia and Corferia director, Andrés López also stressed the incalculable value of the missing volume.
The emblematic work of Gabo has been printed in more than 30 million copies, translated into some 35 languages. With it, the Colombian writer was awarded in 1982 the highest distinction awarded by the Swedish Academy of Letters, the Nobel Prize.
Canada comes alive with a fusion of Latin Music styles and rhythms
Koerner Hall comes alive with a fusion of Latin music styles and rhythms 24 May 2015.
Sultry and sensual, the music of Latin cultures urges countless couples toward dance floors around the world's and continues to exert a potent influence on other genres.
Tango, flamenco, bossa nova, fandango, klezmer, afro-samba, and jazz are among the styles featured in an evening of musical "encounters" featuring internationally acclaimed guitar virtuosos Grisha Goryachev and Fabio Zanon.
The all-star lineup also includes Argentinian bandoneon player Héctor Del Curto, Colombian singer María Mulata, and Juno Award-winning pianist and composer Serouj Kradjian. Co-pro duced with the Royal Conservatory of Music as part of its 21C Music Festival, and including world premieres by Canadian composers Andrew Staniland and Mark Duggan, this colourful event also pays tribute to Toronto's hosting of the 2015 Pan American Games songs.