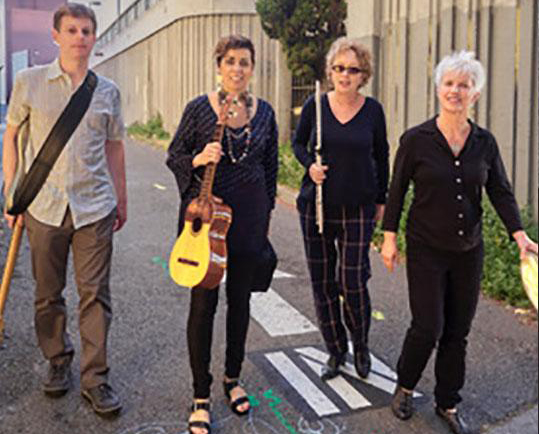 An interactive program for audiences of all ages
Compiled by the El Reportero's staff
VNote Ensemble – Hailed for their spirited performances and fascinating fusion of jazz with Latin and folk rhythms, the VNote Ensemble gives voice to the hidden treasure that is Venezuelan music as they explore its connection to North American jazz.
Blending the infectious rhythms of joropo, swing, gaita, soul, be-bop, and calypso (among many others), the VNote Ensemble defiantly ignores musical boundaries. Exquisite arrangements and unique compositions, colors, and rhythms blend together to create a truly unique sound sure to make children of all ages sing and clap for joy!
Wednesday, Feb. 27, 2019 at Kohl Mansion. Two 45-minute shows: 10:25 a.m., repeats at 11:35 a.m.
Paintings by Beryl Landau & Anthony Holdsworth
Holdsworth features the start of a new series entitled "Day and Night in the Mission". Using a LED lamp attached to his easel, he documents locations as they transition into night.
The Mission District offers a unique window on Latin America while simultaneously enriching the culture of San Francisco. He works on site to channel the unique energy of this community and also to bear witness to the changes that are being forced on it by gentrification.
Beryl Landau calls her work "symbolic landscape". The acrylic paintings in this show depict geographical locations but evoke inner feelings. Each image draws the viewer into a particular space and mood. Landau's clear colors range from high contrasts to subtle gradations.
Images of changing San Francisco are prevalent in her recent work. The paintings often convey the juxtaposition of nature and the modern world.
Alley Cat Gallery, 3036 24th Street, San Francisco. Exhibition from March 2 to 31
Reception: March 2, 7 to 9 p.m.
Abel Sanchez & the Song For Cesar Allstar Revue, introducing The Paper Thin Band
An event you can't miss, on Saturday, March 2. Advance: $20/ Door: $25
Doors open 7 p.m. Show a 8 p.m. At Club Fox- 2209 Broadway, Redwood City. Call 415-285-7719 or write DrBGMalo@aol.com.
What's New At The Presidio – Spring, 2019
March – May Events Announced
It's not too early to plan a spring visit to the Presidio, San Francisco's urban national park with nearly 1,500 acres of space in which to play, right at the foot of the Golden Gate Bridge. With two historic boutique hotels, Lodge at the Presidio and Inn at the Presidio, delicious restaurants and various activities, the Presidio can be a vacation destination in itself, or added to any San Francisco itinerary as a calm oasis close to the action of downtown.
Nature comes alive in the Presidio in springtime, and visitors are always welcome to stop by the Presidio Visitor Center to pick up a hiking map and suggestions for exploring the park's free picnic areas, overlooks and trails
Transportation in the Park
The free PresidiGo Shuttle takes visitors from two locations in downtown San Francisco to the Presidio, and PresidiGo's Around the Park service offers visitors two routes within the park. San Francisco MUNI buses access the Presidio as well. Options for bike rental include Sports Basement and Electric JUMP Bikes. See: https://www.presidio.gov/transportation
The popular Presidio Picnic mobile food extravaganza, sponsored by the Presidio Trust and Off the Grid, returns to the Main Post lawn each Sunday beginning March 31. Self-guided adventures in nature always await, especially in spring as the park's flora and fauna awake to the season.