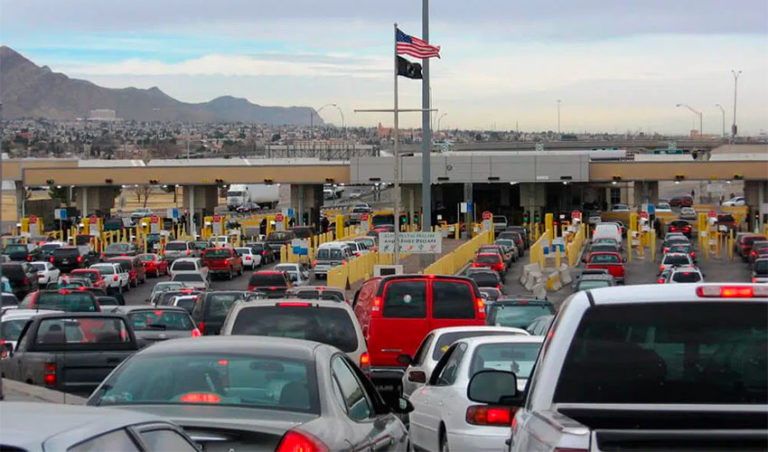 It's supposed to be closed but US citizens have no problem entering Mexico
by the El Reportero's wire services
In the wake of a sharp increase in Covid-19 cases that is now overwhelming the state's hospitals, the Chihuahua Congress has asked the Ministry of Foreign Affairs to enforce an agreement that is supposed to deny U.S. citizens nonessential entry into Mexico.
By agreement between the two nations, the land border has been closed to all foot and vehicle traffic since March and will remain closed until Nov. 21, and probably longer. In theory, that means Americans seeking to cross into Mexico need an approved reason, such as family or medical emergencies or for work.
However, in practice, say Chihuahua lawmakers, border officials allow U.S. citizens to cross freely into Mexico. They believe such leniency is responsible for the state's new Covid-19 spike, which has saturated hospitals.
US judge denies bail to ex-army chief; attorneys offered US $750,000
Amount represents the former defense minister's life savings
A United States judge has refused to grant bail to former army chief Salvador Cienfuegos on drug trafficking and money laundering charges, rejecting an argument that the ex-defense minister was not a flight risk because he is determined to clear his name.
At a hearing in Los Angeles on Tuesday, the attorney for Cienfuegos, who was arrested at L.A. airport last week, said that his client could offer bail of US $750,000, an amount he described as the former general's life savings.
Duane Lyons, a partner at Quinn Emmanuel Urquhart & Sullivan, the largest litigation firm in the world, said that his client, who he called "a dedicated Mexican general who served his country honorably for a number of years," has "every intention of clearing his name."
If he were to be released on bail and flee, "his name and reputation would be ruined," Lyons said. If he were to return to Mexico while out on bail, the United States' extradition treaty with that country would help ensure that he was sent back to the U.S., he said.
The lawyer also argued that Cienfuegos, 72, was at risk of being infected with the coronavirus by being kept in jail, pointing out that he is vulnerable to a serious illness due to his age.
He is accused of helping the H-2 Cartel, an offshoot of the Beltrán Leyva Cartel, to operate with impunity in Mexico and smuggle large quantities of cocaine, heroin, methamphetamine and marijuana into the United States. He is also accused of laundering the proceeds of his alleged illicit activities.