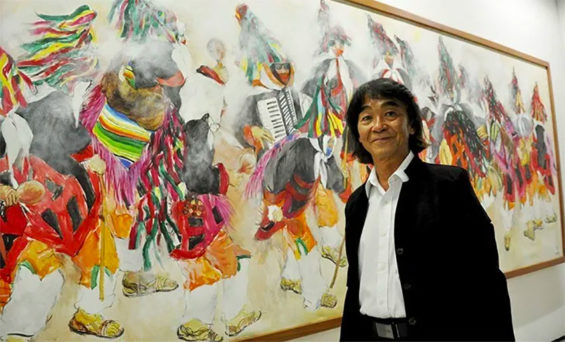 Japanese-born artist depicts Mexico's local cultures from a unique perspective
Mexico captivates hundreds upon hundreds of artists from the Americas and Europe, no surprise there. But it has held a strong fascination for Japanese artists as well despite, or perhaps because of, the huge cultural differences.
Akio Hanafuji is a soft-spoken man who has a unique take on the traditional cultures of Chiapas struggling to survive in the modern world. Born in 1949 in the Osaka prefecture, he graduated from the Osaka University of Arts in 1975, traveling to Mexico soon after.
He had been captivated in school by images of the Lacandon Rainforest in Chiapas, and the Lacandon Mayan people who inhabit it.
His desire was, of course, to paint the Lacandon and their way of life. At this time, the region was quite cut off from the rest of the world. He took time to integrate himself in the community, living in a palapa, sleeping in a hammock, working the corn and bean fields and learning their Mayan language. This not only earned him the Lacandons' trust, but it built a base from which his career would unfold.
His plan was to leave Mexico after a few years in Chiapas, but he was given the opportunity to study his masters at Mexico's prestigious La Esmeralda National School of Painting, Sculpture and Print. Even before graduating in 1978, he was invited to exhibit his work at the Palacio de Bellas Artes (Palace of Fine Arts) in Mexico City.
(This article was cut to fit space).
To read the complete article visit: https://mexiconewsdaily.com/mexicolife/chiapas-through-the-eyes-of-akio-hanafuji-who-came-to-paint-and-never-left/
John Leguizamo boycotts the Emmys: 'If you don't have Latin people, there's no reason for me
by Gisselle Bances
Shared from Yahoo!
The lack of Latino stories and representation in Hollywood, both in TV and film, is an important issue for John Leguizamo. He's decided to take a stand and snub this year's Emmy Awards.
"It's unbelievable that our stories aren't being told and there's one reason for that," he explains. "Executives don't see us, don't get us — don't care about us."
In a statement to theLos Angeles Times, the Television Academy addressed the need for representation, saying, "We feel it is a very positive sign that over the past decade the well-deserved recognition of performers of color has increased from 1 in 10 to 1 in 3 nominees across all performer categories. Clearly that increase in representation has not been equal for all groups, and clearly there is still more to do to improve both gender and racial representation across all categories."
The actor turned director's latest movie, Critical Thinking, premiered Sept. 4 and includes a predominantly Black and Latino cast, which was a motivating factor for Leguizamo to be part of the film.
Critical Thinking tells the true story of five Latino and Black teens from an underprivileged Miami neighborhood, who become the 1998 National Chess Champions. Leguizamo plays the inspirational chess coach and also makes his directorial debut.
"I'm just dying to see positive Latin stories out there," he says.
While he been in the industry for more than three decades and has received four Emmy nominations, including a win in 1999 for his variety special Freak, Leguizamo agrees there is more to be done to improve diversity in Hollywood.
"It's just not OK to ignore us, exclude us," he explains. "We're the largest minority group in the country. We're the biggest voting block. We're going to decide who the president is this year."
Folks online have called out the Emmys for its exclusion of Latinx-centered shows. The hashtag #LatinosAreOnTvToo has circulated with many reacting to the snub.