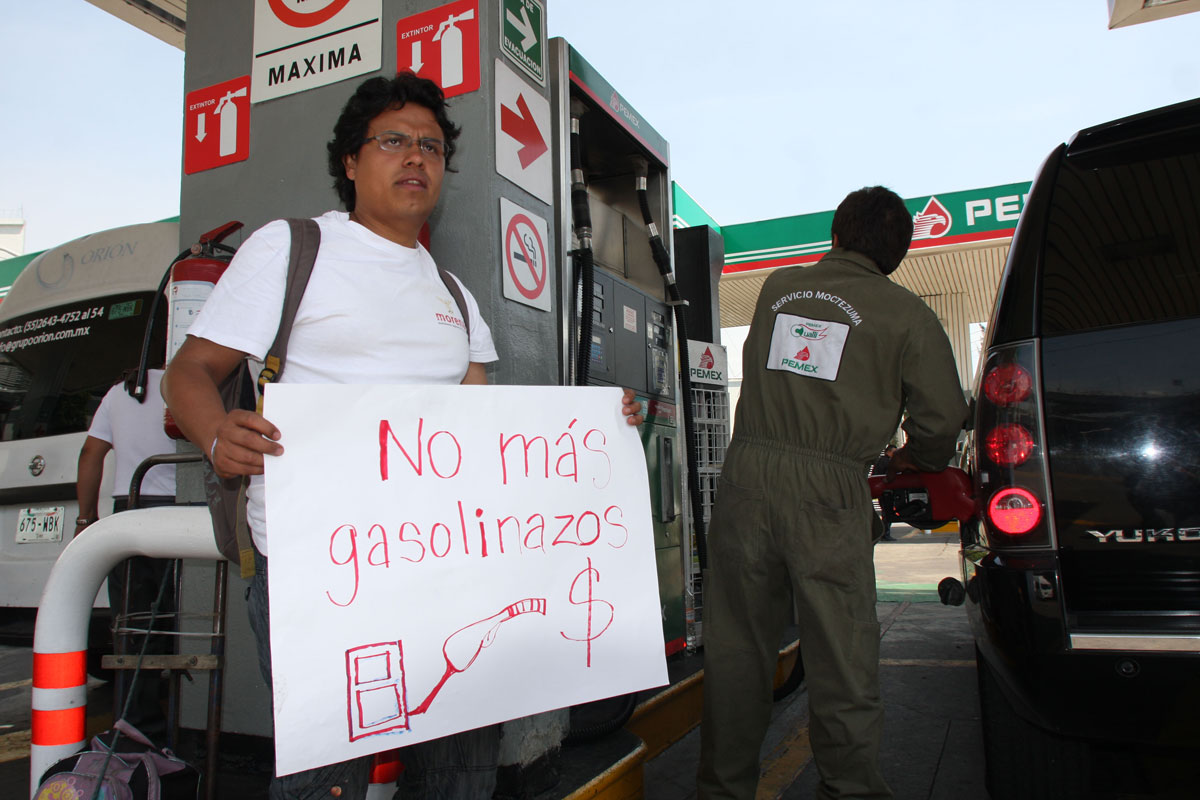 by the El Reportero's wire services
The Central of Peasant and Popular Organizations (Cocyp) of Mexico will promote a campaign for the annulment of free trade agreements and against the increase of fuel prices, met here today.
José Jacobo Femat, Cocyp President, said that during 2017, some landowners will be mobilized during 2017 to seek the annulment of the North American Free Trade Agreement, wich includes Mexico, the United States and Canada.
Also to reverse the government's decision that fuel and diesel increased price since Jan. 1, which will impact inflation rates and the pockets of the neediest, he said.
He said that the environment that announces 2017 represents another twist to further dismantle the impoverished family economy and social ownership of landowners and community.
He described the increase in fuel prices as irresponsible, due to the increase to the minimum wage that will be 80.04 pesos per day (just over four dollars) is pulverized by the rise of food in December 2016.
Puerto Rico implements medical cannabis dispensaries
Puerto Rican President Alejandro García Padilla implemented today a regulation he passed a year and a half ago with the opening of two private medical cannabis clinics in Puerto Rico.
"I am proud to say that this new program, which took a lot of courage, after being subjected to social stigmas and opposition, will provide a better quality of life for our citizens," stated the president, who issued a decree in July 2015 to authorize the Ministry of Health to reclassify cannabis for the use of certain certified patients.
With the opening of both dispensaries, Puerto Rico is joining in record time to other Latin American countries that have adopted reforms on medical cannabis and its discrimination, such as Argentina, Brazil, Chile, Colombia, Costa Rica, Mexico, Paraguay, Peru, and Uruguay.
In addition, it joins more than 25 states in the United States that have opened up in some way to allow access to cannabis for therapeutic purposes.
Police purges more than 2,000 officers in Honduras
More than 2,000 officers were expelled from the National Police in Honduras this year after purging that force, said today the commission responsible for the process.
Omar Rivera, member of the committee for the review, said that out of the total amount of officers assessed in eight months of work, 2,091 ones were excluded from the force as part of the restructuring, by dismissal on fair grounds or by their voluntary retirement.
The police officers assessed have different hierarchical levels, nine are generals, 47 are commissioners, 262 sub-commissioners, 108 commissioners, 241 inspectors, 497 sub-inspectors, 215 non-commissioned officers, 1,407 basic officers and 218 assistants.
According to Rivera, "the process of purge and restructuring to which different police institutions are being subjected is historical and unprecedented."
However, he also said that the process would be unfinished if criminal processes were not launched against all officers who committed illegal actions while in their posts.