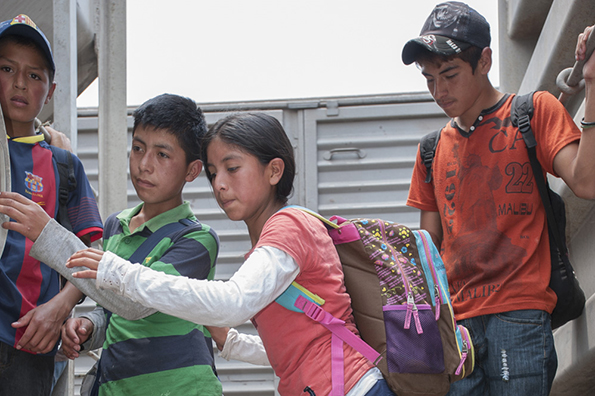 [Author]by the El Reportero's wire services[/Author]
Foreign ministers of El Salvador, Guatemala and Honduras met in the Salvadoran capital to analyze the actions their countries should take in the case of children traveling illegally to the United States, officials said Saturday.
The meeting behind closed doors began at 9:00 a.m. in San Salvador, a spokesperson for the Salvadoran Foreign Ministry told Efe without specifying the place or giving any further details.
The meeting was called to review the actions taken up to now by the three countries and to find new ways to protect emigrant children, the same source told Efe.
It will also serve to launch a campaign aimed at raising awareness about the danger of minors emigrating to the United States.
The results of the meeting will be announced in a communique, the source said.
Around 90 unaccompanied children cross the U.S. border from Mexico every day.
Over the past nine months, some 52,000 minors have been detained after entering the United States illegally, mostly coming from Mexico, Guatemala, El Salvador and Honduras, according to official U.S. figures.
Nicaragua Tourism Grew 8.3 Percent So Far in 2014
Nicaragua welcomed 545,174 foreign visitors in the first five months of this year, which represents a growth of 8.3 percent over the same period in 2013, according to figures released by the Nicaraguan Tourism Institute, or Intur.
Between January and May 2013, Nicaragua received 503,077 foreign tourists, which means that in the same period this year there was "a substantial increase" of 8.3 percent, the executive president of Intur, Mayra Salinas, told reporters.
The official said that 25 percent of all foreign tourists who entered the country in the first five months of this year were from North America, though the greatest number, whose percentage she did not specify, came from Central America.
Salinas said that Nicaragua is positioned as a tourist destination worldwide.
She said that in the first five months of this year some 29 cruise ships sailed to the Central American country with at least 52,796 foreign tourists, of whom 37,000 visitors disembarked.
Nicaragua expects to take in some $440 million in foreign currency from tourism this year and greet 1.31 million tourists.
In 2013, the country received 1.23 million tourists, who spent some $417 million in foreign currency in the country, according to official figures.