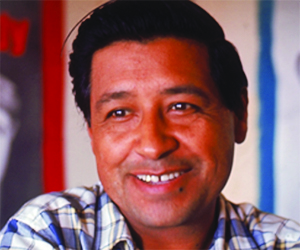 by the El Reportero's wire services
California Senator Tony Cárdenas introduced on Thursday, March 28, a resolution in the House of Representatives recognizing the late farmworkers champion César Chávez.
This resolution honors the life of the labor leader who organized migrant and farm laborers in the western United States.
"I am thankful that 70 of my colleagues in Congress have committed to support this bill, and will advocate for its passage in the People's House," Cárdenas said
He said his father came to this country to work as a farm laborer, and his parents worked hard to support our family. Chávez fought for respect and human rights for all workers, regardless of how humble their job was.
César Chávez once said, "We cannot seek achievement for ourselves and forget about the progress and prosperity for our community." That's what I work to do every day to make sure my constituents and all Americans have access to the American Dream.
Chávez is perhaps best known for founding the National Farm Workers Association, which became the United Farm Workers of America.
In 1994, Chávez was posthumously awarded the Presidential Medal of Freedom. In 2012, President Obama declared March 31st, Chávez's birthday, as César Chávez Day and, later that year, directed the Secretary of the Interior to establish a César Chávez National Monument in Keene, Calif.
Cárdenas' legislation recognizes the accomplishments and example set by Chávez, pledges to promote Chávez's legacy, encourages the people of the United States to commemorate that legacy and honors Chávez's famous rallying cry, "Sí se puede!" Spanish for "Yes, we can!"
50% of organized crime orchestrated from prison cells: Durazo
Public security secretary blames corruption in the system
Half of all organized crime in Mexico is planned inside jails due to corruption in the prison system, according to the federal public security secretary.
"Unfortunately, the prisons in the country are marked by corruption and the high rates of corruption sadly translate into 50 percent of organized crime being run from within prison facilities. This is an example of the challenge we have in front of us," Alfonso Durazo said.
The secretary said that acknowledging the reality does not reflect poorly on the current government because it is not responsible for creating the situation. However, it does have an obligation to solve the problem, Durazo added.
The official also acknowledged the wider problem of corruption in Mexico, ironically describing Mexico's low position on Transparency International's Corruption Perception Index as a "feat" of past governments.
"In the year 2000… Mexico was in 53rd place on the worldwide corruption rankings, six years later, the government of president [Vicente] Fox left our country in 70th place. Six years later, the government of Felipe Calderón left it in 100th place. In 2016, we're in 123rd place, then 134th in 2017 and 138th in 2018 out of 175 evaluated countries," Durazo said.
"Understand that it is quite a feat to move from one position to another when there are only 175 countries evaluated and that speaks to us about the scale of the challenge we have," he added.
To stamp out corruption in federal security forces, the Secretariat of Public Security is implementing an anti-corruption and open government program, Durazo said, explaining that its goal is to create a culture of accountability.
Measures to combat corruption "historically haven't existed in the security forces," he added.
"They haven't existed because these forces have been used to commit abuses against the population . . . In this government, we will never use public force to repress. Consequently, we won't have anything to hide . . ."
Despite recent spates of violence in Guanajuato and Veracruz, Durazo said that the security situation in both states is under control.