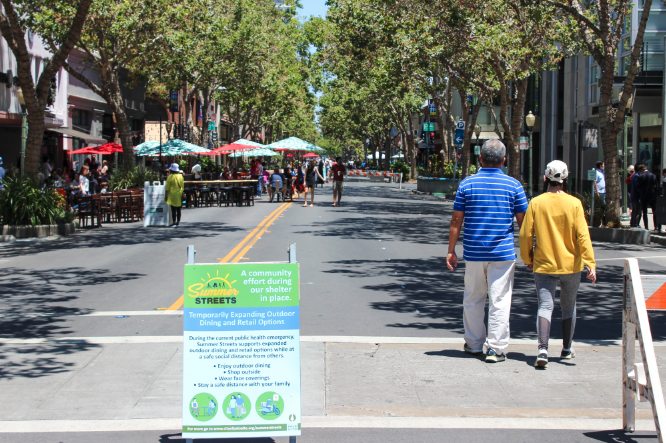 Summer Streets continues with partial closure of Ramona St, starting August 7
compiled by the El Reportero staff
The Summer Streets program is designed to be a nimble and flexible initiative to evolve with the public health emergency and support both our community and local businesses.
Our Business Assistance Center has up to date information for businesses that continue to operate and for those businesses that are closed and experiencing hardship during the shelter in place order. If you are a restaurant or retail business that would like to provide outdoor dining or shopping experiences, please learn more on our Summer Streets for Business page.
Thought Leaders: Stanford's eCorner Entrepreneurial Thought Leaders series features Kevin Weil, VP of Product at Novi Wednesday, Aug. 5 at 4:30 p.m. Join virtually as they bring founders, investors, and industry influencers to center stage and invite them to share what it takes to become a disruptor.
Grants for Artists and Cultural Practitioners: The California Relief Fund for Artists and Cultural Practitioners is distributing $920,000 from the CAC's general fund in the form of $1,000 grants to help artists and cultural practitioners (including fine and performing artists, teaching artists, culture bearers, and maker-based sole or collective creative entrepreneurs) who comprise the various and diverse cultural communities of the state of California. The application cycle closes Tuesday, Aug. 18 at 3 p.m.
Coffee & Community: Join the Renaissance Women's Business Center for "Coffee & Community," a space for entrepreneurs to share stories of resiliency, strength, and support during these challenging times. Be prepared for an interactive morning with fellow entrepreneurs and the Renaissance team. Bring a cup of coffee or tea, and join the group on Wednesday, Aug. 12, 2020, from 9:30 a.m. to 11 a.m.
Best of the fest season finale – Michael Franti, Los Lobos, and more
Headline One-Hour Special Broadcast On KPIX-TV
SAN FRANCISCO, CA (July 29, 2020)—Stern Grove Festival celebrates the conclusion of their 83rd season with a one-hour special featuring exclusive, newly-recorded performances from Michael Franti, Los Lobos, Ben Gibbard, Bebel Gilberto, Fantastic Negrito featuring Tarriona "Tank" Ball, ALO and Con Brio. The Best of the Fest finale, hosted by TV and radio personality and season emcee Liam Mayclem,
The Festival created Best of the Fest in response to the COVID-19 pandemic and the moratorium on large gatherings. The nine-week series of video playlists, featuring performances and historic footage from its archives, began on Sunday, June 14, and has garnered a significant audience on KPIX-TV and its sister station KBCW 44/Cable 12.
It will be televised on KPIX-TV/CBS on Sunday, Aug. 16 at 4 p.m., and simultaneously on the Festival's Facebook page, where Mayclem will host a Watch Party.
Some SF libraries expected to start servicing its clients
The City Librarian, Michael Lambert, is planning the first reopening of the Main Library and the Excelsior Branch to curbside service a local news source reported.
Named SFPL To Go, the program will allow pick up and return of pre-ordered books and materials. The exact dates of reopening will be announced soon and we will let you know the details at once. Please continue to check our home page at FriendsSFPL.org.
Save the Dates: D1, D7, & D11 Board of Supervisors Candidate Forums
Save the dates for our upcoming D1, D7, & D11 San Francisco Board of Supervisors Candidate Forums. In our LWVSF hosted online forums, candidates for Board of Supervisors will answer questions submitted in advance about issues important to San Francisco voters:
– District 1: Thursday, September 17, 7-8:30 p.m.
– District 7: Wednesday, September 23, 7-8:30 p.m.
– District 11: Wednesday, September 30, 7-8:30 p.m.
– Registration is required; Zoom details will be emailed prior to the forum. Please register and share with your friends, family, colleagues, and online communities by forwarding this email or sharing the event on Facebook! Register here: https://lwvsf.org/candidate-information.