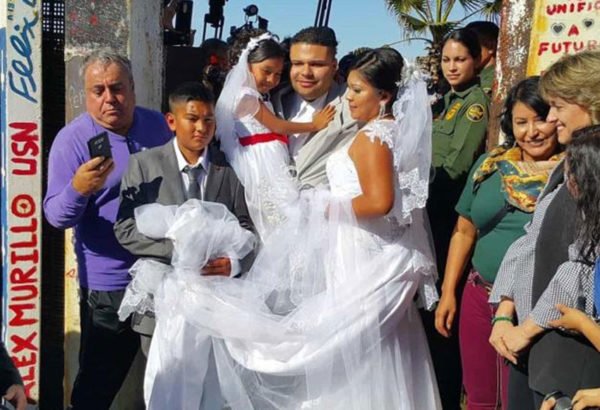 Gates open for three-minute ceremony at Friendship Park
by El Reportero's wire services
Three years after meeting at a Tijuana taco restaurant, a binational couple married Saturday at the only place they could: in the shadow of the border fence.
Brian Houston, a resident of San Diego, told the San Diego Union Tribune that he couldn't go into Tijuana for the wedding although he declined to explain why.
His bride, Evelia Reyes, originally from Guerrero but now a resident of Tijuana, cannot legally enter the United States.
So the couple decided to tie the knot on a narrow strip of land between the two countries known as Friendship Park.
Shortly after midday, three U.S. Border Patrol agents opened the heavy gates at Playas de Tijuana, a coastal area of the northern border city where the dividing barrier stretches into the Pacific Ocean.
It was just the sixth time since 2013 that the gates — known colloquially as the Door of Hope — had been opened but the first time ever that they had enabled a bride and groom to unite in marriage. However, there was no time for a long and elaborate ceremony.
In just three short but precious minutes, Houston, dressed in a light gray suit, and his bride wearing a long white wedding gown and veil, were able to come together to exchange rings, sign Mexican marriage documents, pose for photos, hug, kiss and become husband and wife.
Family members of the bride and groom were also able to meet briefly, embrace and share in the occasion before returning to their side of the fence. Members of the press from both countries attended to document the historic moment.
In stark contrast to the coming together of the two extended families, just over 20 kilometers away lie eight 30-meter-high border wall prototypes made by companies eager to make President Donald Trump's controversial proposal a reality.
But both Houston and Reyes said that a border wall is no deterrent to their love.
Houston said the couple had deliberately chosen to get married at the border to highlight that a physical barrier cannot prevent the love that they, and others, feel for each other.
"It's a statement that love has no borders. Even though we are divided by a giant fence here, we can still love each other on both sides of the fence," he said.
Reyes reiterated her husband's words saying that their marriage "is a message for everyone that there is no wall that can stop love."
The couple worked with the director of the Border Angels group, which facilitates the infrequent openings at the border, to organize the wedding.
They have also hired an immigration lawyer so that Reyes can eventually join her husband in the U.S., although the process could take up to a year.
Border Angels head Enrique Morones, who has long advocated for immigration reform, said the organization hoped to facilitate more gate openings next year to enable more families separated by the border — in some cases for many years — to reunite, albeit briefly.
"While some people want to build walls, we want to open doors," he said.
Source: Frontera (sp), The San Diego Union Tribune (en)