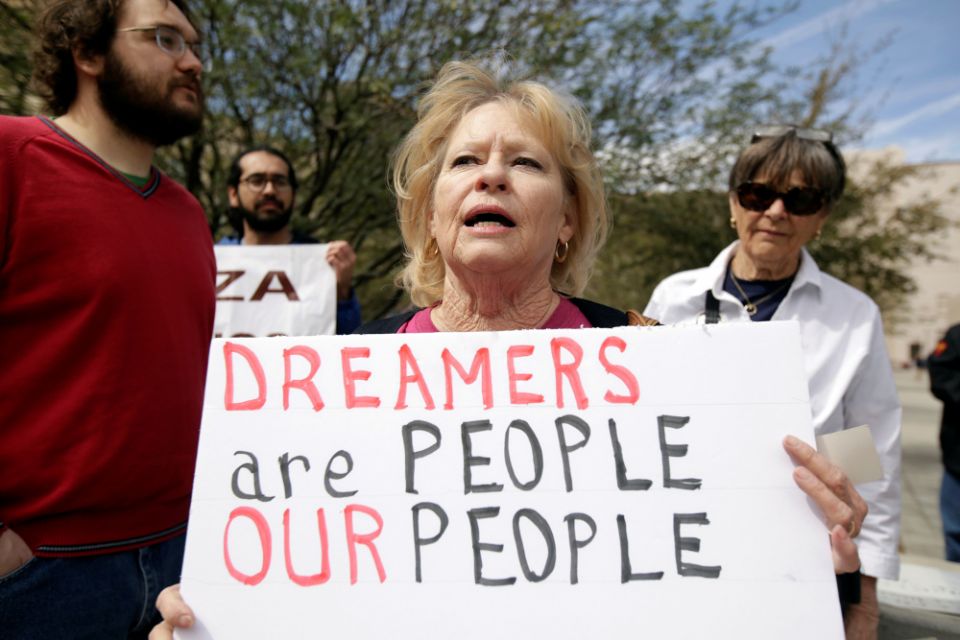 by the El Reportero's news services
Democrats passed a bill on Tuesday that will offer protection and a path to citizenship to about 2.5 million "dreamers" who were brought to the US as children, and which President Donald Trump had intended to remove.
The bill, which passed 237 to 187, with seven Republicans voting yes, would create a new legal pathway for young undocumented immigrants brought to the United States illegally as children, known as Dreamers, and for those with Temporary Protected Status, granted to immigrants whose countries are ravaged by natural disaster or violence.
The vote for the American Dream and Promise Act of 2019, would grant dreamers 10 years of legal residence status if they meet certain requirements.
The White House said on Monday that Mr. Trump would veto the measure. But as the vote tally hit 218, representing a majority for passage, scores of Dreamers seated in the House gallery rose to their feet and cheered loudly, chanting, "Si se puede!" and then the English translation, "Yes we can!" It was evidence of the national grass-roots movement they have built over more than a decade to push for permanent legal status.
Rep. Joe Neguse (D-Colo.), a freshman congressman and the son of Eritrean refugees, prompted cheers and a standing ovation from Democrats as he quoted President Ronald Reagan to defend immigration as integral to the fabric of the country. He also described dreamers as "young people all across our country who know no other home but the United States."
"We can't allow these young people to continue to live in fear, to be at risk," Neguse said.
The Obama administration granted work permits to many of them through the Deferred Action for Childhood Arrivals (DACA) program, but President Trump ended the program in late 2017. Its fate rests with the Supreme Court, which may take up the issue in the coming months.
Versions of the bill have been introduced in Congress over the years but never passed, despite support among members of both parties. The debate over the legislation has been emotional at times; in 2010, more than 60 young people crowded into the Senate gallery to push for passage of a previous version of the bill known as the Dream Act. The chamber ultimately defeated the measure.
"This is legislation that is consistent with who we are as Americans, as an aspirational people, as a nation of immigrants and as a place where people can come to pursue the American Dream," Rep. Hakeem Jeffries (D-N.Y.), chairman of the House Democratic Caucus, told reporters ahead of Tuesday's vote.
Rep. Lucille Roybal-Allard (D-Calif.), the lead sponsor of the current bill, noted that Tuesday marked "the first time the Dream Act will be passed by a chamber of Congress as a top Democratic priority."
"Because of Donald Trump's anti-immigrant policies, millions of immigrants across the country live in constant fear that they will face deportation and potentially be separated from their families," Representative Nydia M. Velázquez, Democrat of New York, said as she argued in favor of the bill. "Let's send a strong message to the world that we recognize that immigrants make America America."
Republicans denounced the bill as a grant of amnesty that would provide an incentive for more illegal immigration at a time when the border with Mexico is already overrun by migrants.
"This bill does nothing to address our crisis," said Representative Mike D. Rogers, Republican of Alabama. "Instead, it tells an entire generation of illegal immigrants that breaking our laws is rewarded."
The House measure was introduced in March. That month, two groups of senators introduced similar legislation that would protect dreamers. One bill was authored by Sens. Lindsey O. Graham (R-S.C.) and Richard J. Durbin (D-Ill.). The other was introduced by a group of Democrats, including Sens. Chris Van Hollen (Md.), Ben Cardin (Md.), Dianne Feinstein (Calif.) and Tim Kaine (Va.).
House Democratic leaders on Tuesday voiced optimism that Senate Majority Leader Mitch McConnell (R-Ky.) would bring up the legislation in the Senate.
"There should be nothing partisan or political about this legislation," House Speaker Nancy Pelosi (D-Calif.) said at a news conference, flanked by other Democrats and supporters of the measure. "We are proud to pass it, we hope, in a bipartisan way."
Passage of the legislation follows years of haggling among Mr. Trump and congressional Republicans and Democrats over a plan that would have done both, pairing legal status for the Dreamers and Temporary Protected Status holders with money for a border wall. The negotiations broke down repeatedly, even amid signs that such a measure would have had enough bipartisan support to pass.
Democrats now say they are opposed to any money for a wall. Even as they debated the so-called Dream and Promise Act on Tuesday, they unveiled a spending bill for the Department of Homeland Security that added no new money for border barriers or security measures. Republicans likewise were nearly unanimous in their opposition to protecting Dreamers and Temporary Protected Status holders, arguing that stricter immigration policies must first be imposed.
Immigrants with temporary protected status or deferred deportations could immediately apply for green cards if they have been in the country for at least three years, had their status as of September 2016 and passed background checks. Five years after obtaining a green card, members of both groups could apply for citizenship.
(Sources: The New York Times and the Washington Post).
Mexico blocks new caravan of Central American migrants
Tuxtla Gutiérrez (Mexico) (AFP) – Authorities blocked a new caravan of Central American migrants Wednesday after they entered Mexico bound for the United States.
Soldiers and police forced hundreds of migrants in the group — which was mostly from Honduras — to a halt in the southern town of Metapa de Domínguez, about 12 kilometers (7.5 miles) from the Mexican-Guatemalan border.
The National Migration Institute (INM) said about 420 migrants had been stopped and taken to a detention center by bus.
But many others may have fled: state police initially estimated the caravan had some 1,200 people.
(Source: AFP).