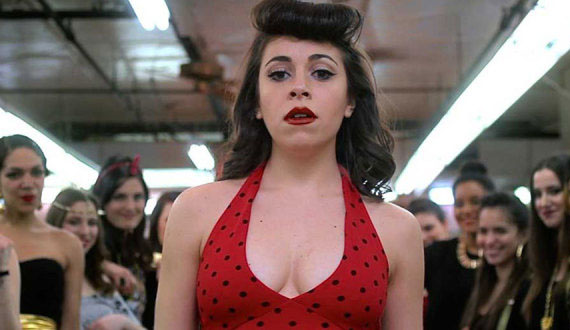 Compiled by the El Reportero's staff
Redwood City is proud to offer our kids music series for a third year! For three Sundays this summer, the ubiquitous Andy-Z will be the Master of Music and Play by bringing his high energy to Courthouse Square.
Sponsored by Redwood City's Public Library and Parks, Recreation and Community Services Department, this series will provide a safe and fun environment for kids to dance and enjoy live music from 11am to 1pm. Your family will be thrilled to enjoy free live music, along with an inflatable play-land at the Kidchella series this summer!
Kidchella 2015, Courthouse Square , on July 12, Aug. 9 and Sept. 13 from 11 am – 1 p.m.
The 2015 frozen line up: ready to dazzle and entertain
You are invited to the 2015 frozen opening night mixer.
This year's lineup is set to chill out July 16th to the 18th! Films include jaw dropping documentaries, dramatic short and comedic film collections, an epic animation collection, plus international features, and intense surf/skateboarding films.
Come mix mingle and celebrate the arts at the 2015 Frozen Film Festival opening night party and meet other film lovers, filmmakers, singer/songwriters, media/bloggers and supporters! We want to meet you!
At Dalva (SF) on Thursday, July 16 at 7 p.m. 3121-16th St., SF. At the Roxie Theater, July 17 & 18, 3117 16th St, San Francisco San Francisco.
Campaign to preserve, improve, and expand Medicare-to-All
This summer marks the 50th year of Medicare and the 80th year of Social Security, arguably the nation's two most successful social programs, keeping millions of older and disabled people out of poverty.
Yet both programs are at a crossroads: The corporate agenda in government is to restrict who is eligible, reduce their benefits, cut their funding, and turn them over to private companies. But workers, retirees, and their families need these programs as never before.
The speakers will describe how senior groups, labor unions, and community groups are mounting a Preserve, Improve, and Expand-Medicare-to-All campaign, including a giant event at Oakland's Ogawa Plaza on Thursday, July 30 at 11 a.m.
They will also describe how these groups are also actively supporting bills in Congress to improve and stabilize Social Security.
At 555 Ellis Street (Between Leavenworth & Hyde).  Contact Michael Lyon, 415-215-7575, mlyon01@comcast.net or Kathie Piccagli, 415-235-1300, kpiccagli@gmail.com
Silicon Valley's premier annual music event – San Jose Jazz Summer Fest 2015
San Jose Jazz is thrilled to announce the return of Summer Fest 2015 for its 26th festival season.
A showcase for jazz and related genres, Summer Fest is also nationally recognized as one of the biggest Latin festivals in the country, and a standout summer destination for music lovers, concert-goers and families alike with its 12 stages of live music pulling in tens of thousands of visitors to downtown throughout the weekend.
From Friday, August 7 – Sunday, August 9, 2015 in and around Plaza de César Chavez Park in downtown San Jose.