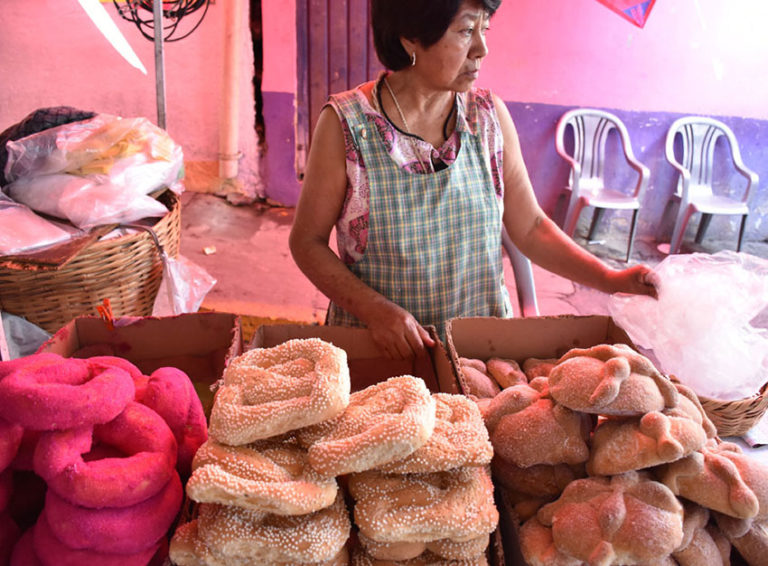 Home kitchens, large bakeries are busy making pan de muerto in San Gregorio Atlapulco
by Joseph Sorrentino and El Reportero's news services
In late October, Eva Chapa sets up her stall at the market in San Gregorio Atlapulco, Mexico City, as she's done for over 20 years now.
Her pan de muerto (bread of the dead) is spread out in front of her. Like many people selling the traditional Day of the Dead holiday bread in the market, she bakes hers in her small home kitchen, using recipes handed down for generations. The recipes, she emphasizes, "are only used for pan de muerto."
Pan de muerto is only available at the end of October through November 2 and is an important offering on Day of the Dead altars.
There are usually three kinds of bread made for Day of the Dead. Torta de muerto is probably the most familiar. Its round base represents a skull, the narrow strips on top, bones. This bread is often decorated with colored sprinkles or dusted with sugar. The gollete looks like a large donut and is covered with sugar that's dyed red.
Enrique Iglesias will receive a special award at Billboard gala
LOS ANGELES, Oct 21 – Spanish singer Enrique Iglesias is currently adding a new award to his career by being chosen as the best Latin artist of all time by the Billboard specialized magazine.
Since his debut in 1995, the singer has led the Billboard charts for weeks, including the Hot Latin Songs (27) and Latin Airplay (31), plus Top 10 Latin Airplay (40), plus number one hits in Latin Pop Airplay (24) and more Top 10 in Latin Pop Airplay (43).
The 45-year-old singer beat names like Luis Miguel, Selena Quintanilla, Marco Antonio Solis and Vicente Fernández, who occupy the four consecutive positions, followed by Marc Anthony, Juan Gabriel, Shakira, Mana and Romeo Santos.
Over two decades of career and 180 million copies of albums sold mark the artist's career, which has a wide catalog and other important awards and recognitions, among which several Latin Grammys stand out.
Iglesias will receive the recognition during the 2020 Billboard Latin Music Awards ceremony, to be held on Wednesday at the BB&T Center in Miami.
Puerto Rican singers Bad Bunny and Ozuna lead the list of nominees for the awards with 14 each, followed by their fellow countryman Daddy Yankee and Colombian J Balvin with 12.