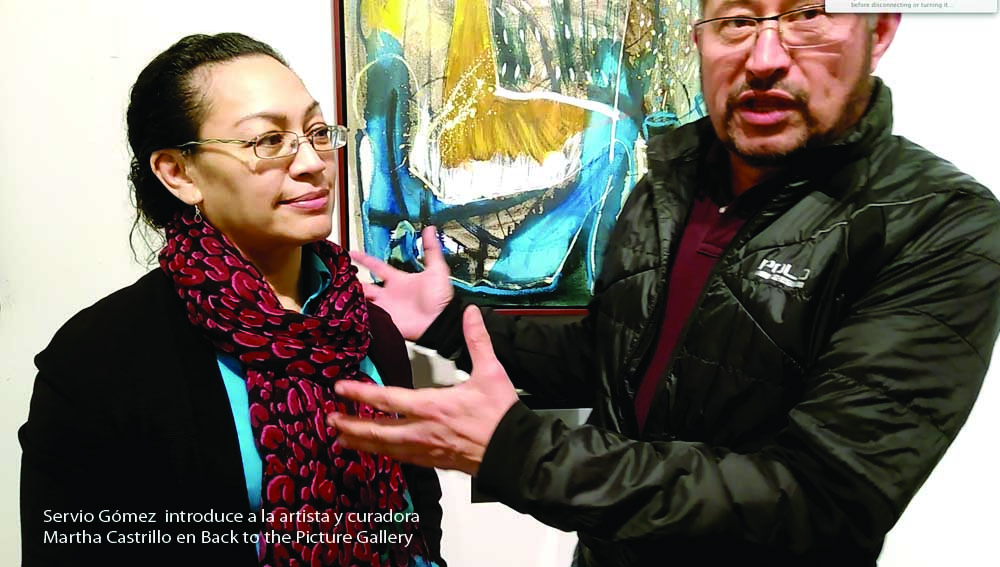 by Marvin Ramírez
In a warm and cozy art exhibition, Servio Gómez, proprietary of Back to the Picture, hosted a special opening reception of artist and curator Martha Castrillo Cheng's exhibition of 18 different artists from different ethnic and cultural backgrounds in the Mission District of San Francisco.
An enthusiast SF resident originally from Nicaragua, Castrillo, who originally studied interior design and psychology at SF State University and now a consummated painted and curator, invites those art lovers to come enjoy her displayed art at Back to the Picture Gallery, at 934 Valencia St, at 20th St.
You will be able to see works of artists of the category of MCCLA art teacher Calixto Robles, of brothers André and Gabriel Castrillo, of renowned world traveler Nicaraguan-Chinese photographer Robert Siu, and Myrna Funes, (who is not a cousin of El Salvador former president Mauricio Funes as it was previously reported), Antonio Huerta, Rich Nyhagen, Felipe Acosta, Alejandra Blum, Vladimir Cuevas, José Islas Colin, Marlene Jahoor, Kevin Lu, Jason Mecier, Mark Nestra and Dan Stingle.
They are being exhibited now until March 12. Don't miss it! Back to the Picture, 934 Valencia St., between 20th and 21st Streets. For more
call Derek Hargrove, gallery general manager at (415) 826-2321.
7th Annual San Jose Jazz Winter Fest 2017
San Jose Jazz proudly announces the official Winter Fest 2017 lineup: Roy Ayers, Donny McCaslin, The Cookers, Wallace Roney, Villalobos Brothers, Ben Allison & Think Free, Huntertones, Kim Nalley and Kalil Wilson, Mary Stallings, Natalie Cressman, Ron E. Beck Soul Revue, Reva DeVito, CME, Mark PLSTK, Shea Butter, Chale Brown, Troker, Jazz Organ Fellowship with Akiko Tsuruga and Tony Monaco, The Eulipions Jazz Sessions, Silvestre Martínez, and some of the Bay Area's premier youth jazz ensembles.
Within the heart of Silicon Valley, San Jose Jazz Winter Fest 2017, the Jazz Beyond series, co-curated with local production house Universal Grammar, presents buzzy young stars pushing the boundaries of jazz, soul and hip-hop and the Next Gen performances showcase top regional student jazz ensembles and offer up master classes.
Coming up from now through March 3, 2017, San Jose Jazz presents its 7th Annual SJZ Winter Fest 2017, featuring more than 25 concerts in downtown San Jose, Saratoga and Palo Alto.
Now thru Friday, March 3, 2017, at Cafe Stritch, The Continental, Schultz Cultural Arts Hall at Oshman Family JCC (Palo Alto), Trianon Theatre, MACLA, Café Pink House (Saratoga), Poor House Bistro, Hedley and other venues in Downtown San Jose. Event Info: sanjosejazz.org/winterfest. Tickets: $10 – $65.
Five continents of fashion and fantasy
Mission Cultural Center for Latino Arts (MCCLA) 40th Anniversary celebration will kick off with a retrospective show of costumes, designed by Mario Chacon, award-winning, Salvadoran designer. Spanning a creative career of over 50 years, the costumes will be presented in a runway show on Saturday, March 11 at 7 p.m. in the Theater.
Also, Join us for the reception afterwards with music by the trio "El Guajiro."
Models, representing the diversity of the community, will showcase a lavish line-up of 75 one of a kind costumes, including Historical, Ethic and Carnaval styles.
Mario is highly regarded in the Mission District for the many fantasy costumes that he has designed and produced for numerous Carnaval San Francisco contingents over the years.
Mario Chacón studied architecture in El Salvador, but a costume design program at City College of Los Angeles ignited his passion for fashion and design. Mario's designs have been featured at the deYoung Museum and are on permanent display in San Salvador. His most recent exhibition is in Santa Tecla, El Salvador, a historic town outside the capital.
Luis Echegoyen, pioneer of Bay Area Latin television, will host the show. Immediately following the show there will be a meet-and-greet in the Gallery on the 2nd floor providing an opportunity to talk to the designer and mingle with the costumed models.
FASHION SHOW on Saturday, March 11, at 7 p.m. Theater | RSVP on Eventbrite.