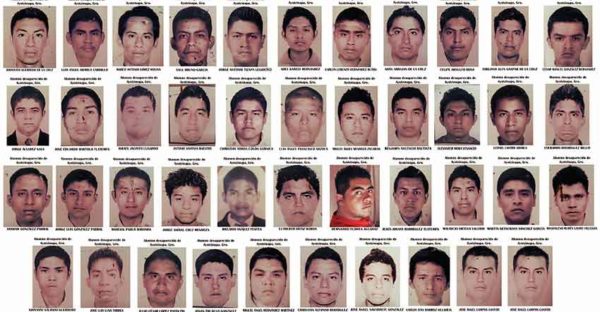 New evidence will lead to arrest of 30 suspects and information regarding motive
by Mexico News Daily
Federal authorities are preparing to make arrests in connection with the disappearance and presumed murder of 43 teaching students in Guerrero in 2014, the prosecutor in charge of the case said yesterday.
Alfredo Higuera Bernal told a hearing of the Inter-American Commission on Human Rights (IACHR) in Bogotá, Colombia, that the federal Attorney General's office (PGR) had obtained new information "in recent weeks" enabling it to file charges against 30 people, including municipal police officers.
Higuera explained that the information included evidence about the motive for the disappearance of the students in the city of Iguala on Sept. 26, 2014 but said that the information would not be made public at this stage.
However, a joint statement from the PGR and two federal secretariats said that the investigations would conclude this year.
The students' disappearance triggered mass nationwide protests and an international outcry. It also damaged the reputation and popularity of President Enrique Peña Nieto more than any other single event.
The federal government has been heavily criticized for its handling of the case.
On the day of their disappearance, the 43 young men were among more than 100 students from the Ayotzinapa Rural Teachers' College who commandeered buses in Iguala to travel to Mexico City to attend a protest march.
However, the students were intercepted by municipal police, leading to a confrontation that killed six people, injured 25 and left several vehicles destroyed.
According to the government's official version of events, or "historical truth," corrupt police subsequently handed over the 43 students to a local criminal gang which subsequently killed them before burning their bodies in a municipal dump and disposing of the ashes in a nearby river.
However, the official investigation was widely disputed and an international team backed by the IACHR uncovered several irregularities in the case.
Many people suspect that the Mexican military played a role in the students' disappearance.
Higuera initiated a new probe in 2016 and said yesterday that it examined new lines of investigation.
In a radio interview following yesterday's appearance before the IACHR, the prosecutor said that he had ruled out a theory suggesting that the students had taken control of a bus that contained a hidden heroin shipment.
The parents and other family members of the victims have led the criticism of the government's investigation and continue to accuse authorities of evading their responsibility in relation to the case.
A lawyer for the victims' families said yesterday that the government was continuing to drag its feet in its investigations and last year failed to comply with its own scheduled investigation timetable.
US bars personnel from using QR ferries
Explosion on one ferry and devices found on another trigger alert by embassy
An explosion aboard one ferry and at least one explosive device discovered on another triggered a security alert last night by the United States embassy, prohibiting government employees from using ferries operating between Cozumel and Playa del Carmen, Quintana Roo.
The explosion took place Feb. 21 on a passenger ferry in Playa del Carmen and injured 26 people, including U.S. citizens. The embassy alert said the blast was caused by an explosive device.
At least one other device was found yesterday on another ferry. Both vessels are owned by Barcos Caribe, whose regular service between Cozumel and Playa del Carmen was suspended by federal authorities after the explosion.
The alert prohibits U.S. government employees from using all tourist ferries on the route until further notice and said that Mexican and U.S. law enforcement continue to investigate. It also warns travelers to be aware of their surroundings and exercise caution.
The newspaper Reforma reported yesterday that the Federal Bureau of Investigation (FBI) is assisting Mexican authorities in its investigations.
After the February 21 explosion, the Quintana Roo state port authority said that preliminary indications suggested a mechanical failure may have been to blame. However, some media reported that a drug cartel had taken credit for the blast.
The vessel was left with a gaping hole in its starboard side next to a passenger seating area.
Guerrero, a large opium poppy producing state, is one of Mexico's most violent.
At least five more forced disappearances occurred in state capital Chilpancingo in the last week of 2017 and the state's main tourism drawcard, Acapulco, has been described as "Mexico's murder capital." 
Source: El Universal (sp), Reuters (en)