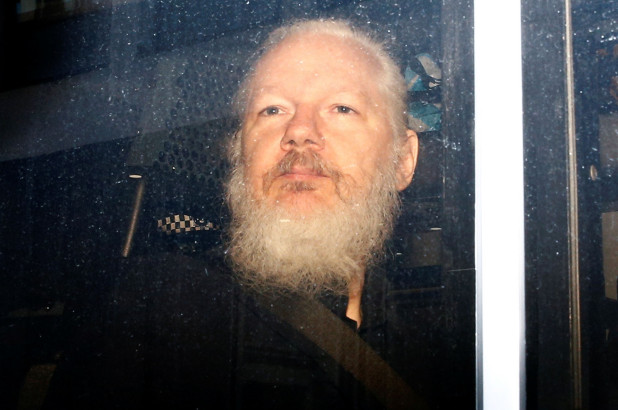 by the El Reportero's wire services
Presented before the judge in an expeditious manner after being forcibly removed from the Ecuadorian embassy here Thursday, Wikileaks founder Julian Assange was found guilty of violating bail.
Although the Australian journalist pleaded not guilty to a charge dating back seven years, the judge of the Westminster Magistrates Court decided otherwise, and immediately referred the case for sentencing to the Southwark Crown Court, in which he could receive up to 12 months in prison.
However, the possibility of his extradition to the United States, which led him to seek asylum at the Ecuadorian diplomatic legation in June 2012, is almost a fact, especially after the Metropolitan Police admitted Thursday that they arrested Assange at Washington's request.
The hearing on the possible extradition to U.S. territory, where he would be tried for the crime of conspiracy to commit computer piracy, was set for May 2.
The British Minister of the Interior, Sajid Javid, confirmed this Thursday in Parliament that in the case of Assange the corresponding procedures will be followed, and that the British justice system will be in charge of deciding whether or not to send him to the United States, whose authorities will have until June 12 to argue the extradition request.
For her part, Prime Minister Theresa May made a parenthesis in her particular battle over Brexit to express her agreement with the arrest of the Australian journalist, assuring that 'in the United Kingdom, nobody is above the law'.
Following the Westminster court hearing, Assange's attorney Jennifer Robinson announced that her client will fight in court to avoid being extradited to the United States, where he is said to have been sentenced to five years in prison.
According to the lawyer, the arrest of the creator of the digital portal that years ago put the U.S. government in trouble by disclosing thousands of cables and secret documents of the State Department, sets a very dangerous precedent for the rights of journalists.
DPA executive director issues statement to Mexican Senate on marijuana legalization
Mexico Senate Health Committee holds Forum, "toward a regulatory policy for cannabis," as country moves to implement legalization
On Monday, the Mexican Senate's Health Commission hosted a forum featuring policy experts and government officials.
DPA's executive director, Maria McFarland Sánchez-Moreno, issued a statement to the Mexican Senate. McFarland was scheduled to present at the forum, but was unable to do so following a flight diversion. Her statement details the overall success of legalization in the U.S., as well as lessons learned and areas for improvement. McFarland also touches on the massive violations of human rights generated by the drug war, as well as prohibition's failure to protect public health.
In November 2018, Mexico's Supreme Court effectively set binding precedent that ended the country's prohibition on marijuana use, possession and cultivation. Federal lawmakers in Mexico are now in the process of devising a regulatory system.
"Regulation has the potential to improve the lives of many: people who are currently criminalized or abused in the name of cannabis prohibition and people who don't have access to medical cannabis," said McFarland. "By regulating cannabis, Mexico will be able to better shape how cannabis is produced, distributed, and consumed, and therefore protect public health. Mexico will also demonstrate regional leadership, and take an important step toward reforming the misguided policies that have caused such devastating harm in recent decades."