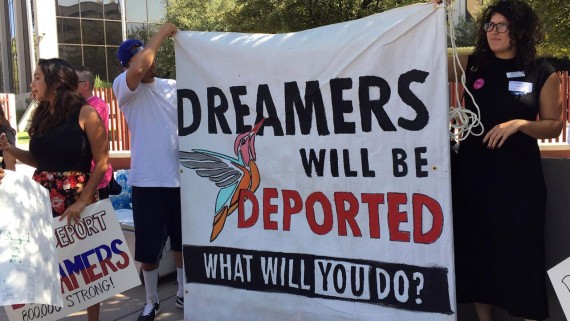 As DACA's end is announced, advocacy groups stand in defense of Dreamers
by Dylan Gascon
New America Media held a national press call on Thursday Sept. 7 addressing not only the future of the Dreamers, but a study on Dreamers' contribution to the economy, as well as a personal story from a DACA recipient. This is in response to Tuesday's announcement from attorney general Jeff Sessions, who stated the DACA (Deferred Action for Childhood Arrivals) would come to an end. DACA was created in 2012 by president Obama, and has protected 800,000 people from deportation by giving work benefits that can be renewed every two years.
Many who use these benefits have been renewing for their second or third times. But this may all drastically change in six months, when the program is set to expire.
Currently anyone who is already approved by DACA is protected. However, the deadline to renew benefits ends on Oct. 5, giving those recipients a very slim window to ensure their legal status. No new applicants will be processed, except for those who applied on Sept 5, with it costing $495 for a renewal.
None of the current cases will be revoked or terminated, but will naturally expire. DACA benefits may be lost if the individual in question is guilty of certain crimes, including fraud. Any claims for advanced parole – which allow them to travel abroad and come back – have been eliminated, including any that are currently pending. Anyone currently approved will still receive benefits.
Since the DACA announcement, National Immigration Law Center (NILC) has filed a letter stating that the government provided no "reasoned explanation" to rescind the DACA policy, which is in violation of the Administrative Procedure Act. The letter also claims the president violated the equal protection component of the due process clause of the Fifth Amendment.
Fifteen states as well as the District of Columbia have also filed lawsuits against the federal government.
Many Dreamers were brought into this country when they were very young, and are now in their 20s or 30s. One such Dreamer is 27-year- old Luis, a student in San Francisco, who gave his personal story at the New America Media press call. On hearing the attorney general's announcement, Luis said "I don't think anyone was emotionally prepared, I was surprised myself when just tears started gushing out my eyes on the bus."
Luis came to this country when he was 6 months old, and doesn't know any other home. He grew up in San Diego and has since gone to San Francisco to attend college and has since found employment in a good paying job.
But things haven't been so great for Luis. When in his early teens, Luis's brother was deported back to Mexico. Two years after moving to college at 17, his father was also deported.
By the end of 2015 his mother would be taken back to the other side of the border, leaving Luis on his own. Now nine months away from graduation, he is uncertain of what the future may bring.
Luis isn't alone in being a productive Dreamer in society. According to a survey conducted by Tom Wong, a political science associate professor at UC San Diego, of those surveyed, 94 percent report being in school because of DACA, with 72 percent receiving a bachelor's degreeor higher. Many of those who receive DACA benefits are also currently employed. Sixty-nine percent of those surveyed have reported they have moved on to better employment, with 56 percent reporting better working conditions. Eight percent of those surveyed have also started their own business, which is a higher percentage than the American public. Achievements made by Dreamers are not only being noticed on a national level, but an international one as well.
Seventy two percent of the top Fortune 500 companies, including JP Morgan Chase, Wells Fargo and Apple are also known to hire Dreamers into their workforce. These Dreams have given back to the economy in sales and property taxes as 65 percent of Dreamers have purchased their first car and over 10 percent purchasing their first home. The survey was conducted on 3,063 respondents, with 92 percent reporting being employed with a variance of 1 percent.
Despite these statistics, attorney general Jeff Sessions position remains unmoved.
All is not lost however, as staff attorney Allison Davenport at the Immigration Legal Resource Center (ILRC) has stated that there are some benefits that people may not be aware of.
This includes legal consultation as well as family petitions from DACA recipients who are American citizens.
There are also options for people who are in or have family in the military or who have been honorably discharged. U visas are also available to those who have suffered serious crimes and who have helped law enforcement. But until congress decides what to do, everyone is left in limbo, wondering what tomorrow will bring.