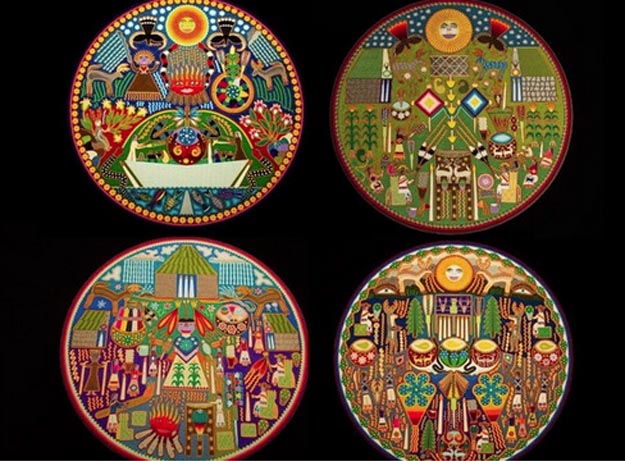 Compiled by the El Reportero's news service
Wenima López Robles is an artist originally from the wixárika community in Tuapurie Santa Catarina Cuexcomatitlan, north of Jalisco. Since she was 12 years old she has been devoted to share the culture of Huichol art.
Her collection Ta-Iyari, which literally means "our heart", displays all the heritage of life that the ancestors left for humanity as well as the canonical work that this indigenous group develops to keep the continuity of the life they were granted.
On July 17, 12 p.m. to 1:30 p.m., at the Consulate General of Mexico, 532 Folsom Street San Francisco.
Blues, Music, Arts & BBQ Festival in downtown Redwood City
The City of Redwood City announced the schedule of events for the Pal Blues, Music, ARTS, and BBQ Festival coming up July 21 and 22. Celebrate summer in Redwood City this July with family fun, food, art and entertainment and more! After you and your family enjoy the Fourth of July in Redwood City, mark your calendars for the free Pal Blues, Music, Arts & BBQ Festival!
Featuring live music, the Pal Blues, Music, Arts & BBQ Festival also offers delicious food and drink on Redwood City's Courthouse Square (2200 Broadway, Redwood City).
For its 12th year, a special rendition of the festival puts women in the forefront by celebrating Women in the Blues, with musicians from the San Francisco Peninsula and beyond.
Friday, July 21 with Music on the Square & Art on the Square from 5 p.m. – 8:30 p.m. 6 p.m.
Saturday, July 22 with Art on the Square from 12 p.m. – 8 p.m. For more event details, visit www.palbluesfestival.com
A special Latin dance night
"Edgardo & Candela" is a Salsa Band based in the San Francisco Bay Area for over 30 years, making them one of the most established Salsa Orchestras in California.
Better known as simply "Candela," their trade mark is their high energy level performance, featuring great vocals, a tight rhythm section and the powerful sound of the horns.
The band features the crop of professional musicians in the Bay Area, which makes for an incredible musical experience every time they play!
During the evening, Edgardo will personally assure that everyone is entertained while he mixes singing tunes by Oscar De León, Marc Anthony, Eddie Palmieri, Rubén Blades, Tito Puente, Guaco, Pete "Conde" Rodriguez, Celia Cruz and Ray Barretto among others, but the real treat here is Edgardo's original music, presenting him as a mature composer and poetic lyricist.
At Le Colonial, 721 Sutter St. San Francisco, on Saturday, July 29. Also with the presence of DJ EldelaClaveSF.
Silicon Valley's Premier Annual Music San Jose Jazz Summer Fest 2017
San Jose Jazz Summer Fest returns for its 28th festival season from Friday, August 11 – Sunday, August 13 in and around Plaza de César Chavez Park in downtown San Jose, Calif.
A showcase for jazz and related genres, SJZ Summer Fest is also nationally recognized as one of the biggest Latin festivals in the country. A standout summer destination for music lovers, concert-goers and families alike, the three-day event features 120+ performances on 10 stages, attracting tens of thousands of visitors to downtown throughout the weekend.
The 28th Annual San Jose Jazz Summer Fest 2017 features an acclaimed roster of artists from around the world as well as homegrown Bay Area talent.