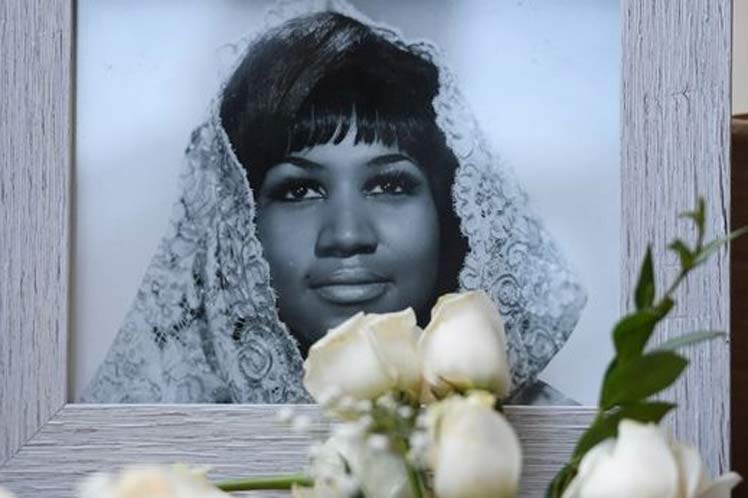 por los  servicios de noticias de El  Reportero 
El funeral de la cantante estadounidense Aretha Franklin, conocida mundialmente como la reina del soul, será el 31 de agosto en Detroit, confirmó su portavoz y representante, Gwendolyn Quinn.  
La vocalista también apodada Lady Soul y reconocida como una de las artistas más influyentes en la música contemporánea, murió el 16 de agosto, a sus 76 años, luego de una dura batalla contra el cáncer. 
Según el representante, el funeral tendrá lugar en el Gran Grace Temple, en Detroit, la ciudad en la que creció el artista, pero se limitará a la familia y sus amigos más cercanos. 
Sin embargo, el cuerpo de Franklin se exhibirá en el Museo de Historia Afroamericana Charles H. Wright, Detroit, el 28 y 29 de agosto, para todos los fanáticos que quieran despedirse de ella. 
Muchos artistas rinden homenaje a estas figuras icónicas de la música mundial que usaron su voz a favor de los derechos raciales en los Estados Unidos y la liberación de las mujeres. 
The last performances of the exceptional singer took place in 2017: a concert in Philadelphia, in August, and two months later it was presented in New York for the foundation of the British musician Elton John who fights against AIDS. 
Franklin developed an extensive musical career in which she accumulated a score of albums, 18 Grammy awards and 75 million albums sold. 
Cuban first ballet dancers invited to international gala in Chile 
The first dancers of the National Ballet of Cuba (BNC) Grettel Morejon and Dani Hernandez will share a gala in Chile with artists from more than 10 countries, the company, directed by prima ballerina assoluta Alicia Alonso, announced.  
The gala will take place at the Oriente Theater, in Santiago, on August 30 and 31, with the participation of 25 artists from 12 countries. 
Morejon and Hernandez will stage the pas de deux 'Aguas Primaverales' (Spring Waters), by the Russian choreographer Asaf Messerer, with music by Sergei Rachmaninov; and Nutcracker, in Alicia Alonso's version of Lev Ivanov's original, with music by Piotr Ilich Tchaikovsky. 
In addition to the Cuban pair, Natalia Berríos, Romina Contreras and Emmanuel Vásquez, from the Ballet of Santiago, will also be on stage, as well as Cesar Morales, from the Royal Ballet of Birmingham (United Kingdom), and Andrei Yermakov, from the company of the Mariinsky Theater (Russia). 
On behalf of another Russian group, from the Mikhailovsky Theater, the dancers Ekaterina Borchenko, Julian Mackay and Sabina Iapparova will travel to Chile, while Ketevan Papava and Denys Cherevychko will represent the Ballet of the State Opera of Vienna (Austria). 
SANFIC Film Festival opens in Chile 
The 14th edition of the Santiago International Film Festival (SANFIC) spread its red carpet on Sunday night to the Spanish actress Maribel Verdu and several Latin American movie stars.  
At the inauguration at the CorpArtes Theater, the Argentinean film 'El Angel' (The Angel), directed by Luis Ortega, was the colophon of the gala. 
Maribel Verdu, the guest of honor at SANFIC-14, who has been nominated 11 times to the Goya Awards and has won two in the Best Actress category in 2008 and 2013, made statements to reporters. 
'It is wonderful to be in a festival that provides luxury opportunities to knowledge and sharing to the entire Hispanic American cinema. I have very close ties with this region and I wish new projects came, with Chile, for example,' the Spanish actress said. 
SANFIC cubre tres segmentos competitivos: cine internacional, cine y cortometrajes chilenos y talento nacional. También tendrá las aclamadas secciones Visiones del mundo y Maestros del cine.