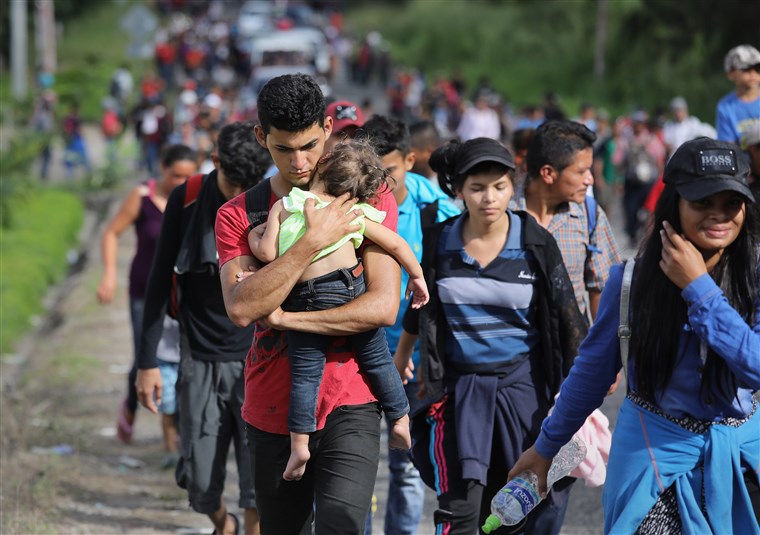 "We are going to offer employment, work for Central American migrants," said the president-elect, Andrés Manuel López Obrador
by Jorge Monroy
"We are going to offer employment, work for Central American migrants," said the president-elect, Andrés Manuel López Obrador, reiterating that in order to reduce the migratory phenomenon, it is necessary to create welfare conditions.
At a press conference in Tamaulipas, after meeting with Governor Francisco Garcia Cabeza de Vaca, Lopez Obrador was questioned about whether the Mexican government should allow the passage of the caravan of migrants from Honduras. In response, Obrador said that migrants should be seen beyond the free passage.
He reiterated that one of the solutions is that the president of the United States, Donald Trump, accept the plan that he proposed to generate development in Mexico and the Central American region.
"It has to do with the same, we are asking the government of the United States, the government of Canada, the implementation of a development plan in Mexico and in the Central American countries, we are making a proposal for cooperation for development. The one who leaves his town does it out of necessity, not for pleasure, and we want the migration to be optional, not compulsory, and for people to work, be happy where they were born, where their relatives are to temper the migratory phenomenon, they have to take care of the causes; there must be investment to generate employment, improve living conditions, work in Central America and in our country; I explained this to President Donald Trump; He will accept our proposal, is carrying out a bilateral consultation process, we have information about what is happening in Central America and our position is to face the migratory phenomenon with development, with work, with well-being in Central America and in the country " he commented.
But should the caravan be allowed in? -She was asked.
"There are options, there are alternatives. It's not just about that (letting the caravan go by), it's about giving options, giving alternatives, that those who leave their villages have job opportunities, we in Mexico, from December 1, we will offer employment I work with Central American migrants, that is a plan that we have; that who wants to work in our country, will have support, will have a work visa, we are seeing that. It is not dealing with the issue only with deportations or with measures of force, but by giving options, alternatives. This plan will be announced as of December 1, and we are looking for joint support, and progress is being made. In the last call I had with President Donald Trump, we celebrated the signing of the free trade agreement with the three countries, a trilateral agreement, and I told him that the second step is the development plan that includes Central America to promote productive activities , create jobs, and in this way confront the migratory phenomenon, not with deportations, not with measures of force, but giving people who leave their villages looking for work, "he said.
López Obrador said that the migratory phenomenon must be approached with respect to human rights and giving work options to those who are forced to leave their villages.
"The plan is that nobody is forced to emigrate, that's the ideal, and if they already make the decision to leave their villages, they have options in Mexico. The plan of our development are like curtains to give job opportunities, all the south will have possibilities of occupation, of employment, for thousands of workers, because we will plant in the south-southeast 1 million hectares of timber trees , 400,000 jobs will be created, the Mayan train will be built, it is an investment of 8,000 million dollars, the Isthmus of Tehuantepec will be developed, that is another curtain. What results from the consultation on the airport in Mexico City will involve investment that will greatly strengthen industrial development in the Bajío. Here in the north there will be a free zone from Matamoros to Tijuana, taxes will go down from 16 to 8 percent VAT, to 20 percent the ISR, will increase the minimum wage to double in the border area, then, they are opportunities so that nobody is forced to leave the country, "he said.
In another related news in Mexico under Peña Nieto administration
Mexico to migrants: you will be deported if you do not have documentation
As many as 4,000 migrants are believed to be heading for Mexico's southern border
The federal government has warned to caravan of Central American migrants traveling to the United States via Mexico that if they enter the country illegally they will be detained and deported.
In a joint statement, the secretaries of Foreign Affairs (SRE) and the Interior (Segob) said that in accordance with the law, anyone who enters Mexico "irregularly" will be "rescued" and subjected to review.
If they do not have the required documentation they will be returned to their own country.
The statement said the measure "responds not just to compliance with national legislation" but also to the government's interest in avoiding migrants becoming "victims of human trafficking networks."
More than 200 Federal Police officers arrived in Tapachula, Chiapas, yesterday to help the National Immigration Institute (INM) secure the southern border. The organization's chief, Manelich Castilla, traveled to the border city earlier this week.
As many as 4,000 mainly Honduran migrants fleeing poverty and crime are planning to travel through Mexico to the United States, infuriating U.S. President Trump.
Many are traveling on foot, some with babies and small children, while others are in buses.
One Honduran whose legs had to be amputated after he fell from a Mexican freight train during an attempt to get to the United States in 2015 is trying again. This time a fellow migrant is pushing his wheelchair.