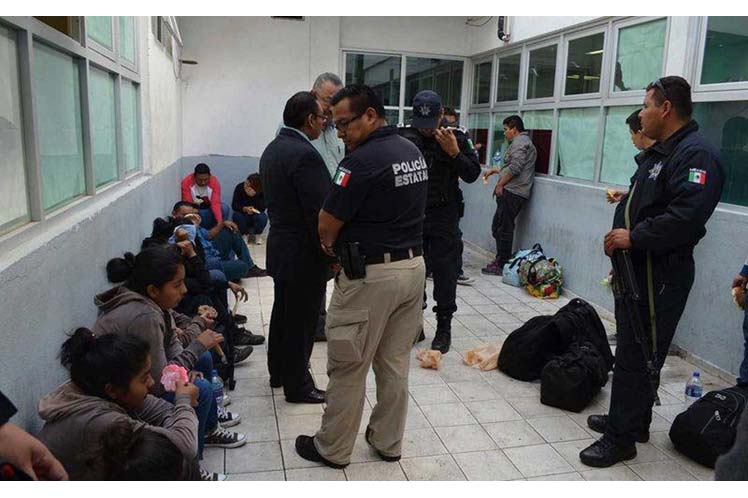 by the El Reportero's wire services
The Mexican Federal Police intercepted 137 Central American migrants on the Tampico-Victoria Highway in the north of the country, adding up to a thousand undocumented migrants registered by the authorities so far this year.
The migrants traveled in the box of a trailer in total overcrowding and in the group there were also minors.
Mexican authorities expressed their concern over the increase in undocumented persons from Central America who use Mexican territory to enter the United States illegally.
The groups are each time more numerous, as well as the number of children, said sources from the Ministry of Interior.
US ambassador to Mexico unexpectedly resigns amid increased tensions under Trump
Roberta Jacobson, the US ambassador to Mexico, announced her resignation on Thursday, saying on Twitter she would be leaving her post at the beginning of May "in search of other opportunities."
CABEI Board of Directors Meets in Nicaragua
The board of directors of the Central American Bank for Economic Integration (CABEI) is holding a meeting today in this capital, to address several strategies for the current year, among other institutional issues.
Vice President Rosario Murillo said she will address some operational issues related to the approval of loans for Honduras, El Salvador and Nicaragua.
Murillo also said that President, Daniel Ortega, will receive today and tomorrow the CABEI board of directors, who will also pay posthumous tribute during a solemn session to Silvio Conrado. Conrado was the Nicaraguan director of this regional organization until his death.
The Central American Bank for Economic Integration, founded in 1960, aims to promote integration and development of Central America, being one of its main suppliers of resources.
Its founding members are Guatemala, El Salvador, Honduras, Nicaragua and Costa Rica, while Panama, the Dominican Republic and Belize joined as non-founding regional countries; and Mexico, Taiwan, Argentina, Colombia, Spain are non-regional members.
Federal judge whom Trump called 'Mexican' clears way for border wall
The federal judge once slammed by President Donald Trump as being a "Mexican" who was incapable of being impartial has sided with Trump in his bid to move ahead with construction of a wall on the U.S.-Mexico border.
Judge Gonzalo P. Curiel on Tuesday rejected arguments by the state of California and a coalition of environmental groups, who said the Trump administration had improperly ignored environmental laws in its push to build the wall.
Curiel said in his 101-page ruling that such decisions should be left to other branches of government, not the judiciary. He quoted U.S. Supreme Court Chief Justice John Roberts in saying political matters "are entrusted to our Nation's elected leaders, who can be thrown out of office if the people disagree with them. It is not our job to protect the people from the consequences of their political choices." (by James Rainey).
Measure passes the Assembly Floor to urge trump to reverse decision ending TPS for Salvadorans
(Sacramento) – Today, Assemblymember Wendy Carrillo (D-Los Angeles) presented her first legislative measure, House Resolution (HR) 69, on the Assembly Floor. As the only member of the state legislature of Salvadoran background it is a personal issue she is uniquely qualified to lead on. The resolution urges the President to reverse his decision to terminate the Temporary Protected Status (TPS) designation of Salvadorans and to work with Congress to find a path to legal status for these valuable members of our community. HR 69 was adopted on a bipartisan vote.
An estimated 200,000 Salvadorans protected by TPS found refuge in the United States, and 49,000 found a home in California. They are a key part of the workforce, with labor participation rates of 88 percent, and of our communities, with over 190,000 U.S.-born children living here. Tearing hundreds of thousands of immigrants from their families exemplifies just how callous and out of touch the Trump administration is.
Scotus breathes new life to DACA program, at least temporarily
High Court's decision means DACA renewals can continue 
Los Angeles — The California Dream Network (CDN), the youth organizing arm for the Coalition for Humane Immigrant Rights (CHIRLA), celebrated the Supreme Court's decision not to rule on the DACA injunction Monday, Feb. 26, until the 9th District Court of Appeals rules on the case.
The following is a statement for Angelica Salas, CHIRLA Executive Director:
"This is great news for the 800,000 DACA recipients who are eyeing President Trump's self-imposed March 5th deadline with great concern and trepidation.   The court's decision not to stop the injunction for now allows many more young immigrants to renew their DACA work permits.
President Trump can ameliorate the anxiety, fears, and distrust many young immigrants and their families are feeling by extending DACA indefinitely and by working with Congress to pass a reasonable, fair, and permanent solution.
CHIRLA encourages young immigrants whose DACA work permits have expired or are set to expire within the next few months to renew them at a community organization or with an immigration attorney of trust."