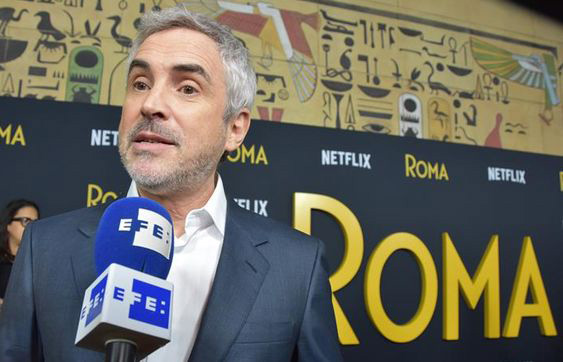 An expanded theatrical release in the U.S. and international markets
by the El Reportero's news services
The most personal project to date from Academy Award®-winning director and writer Alfonso Cuarón (Gravity, Children of Men, Y Tu Mamá También), ROMA follows Cleo (Yalitza Aparicio), a young domestic worker for a family in the middle-class neighborhood of Roma in Mexico City.
Delivering an artful love letter to the women who raised him, Cuarón draws on his own childhood to create a vivid and emotional portrait of domestic strife and social hierarchy amidst political turmoil of the 1970s. Cuarón's first project since the groundbreaking Gravity in 2013, ROMA will be available in theaters and on Netflix later this year.
Archaeological inspection of site for solar park turned up 2,300-year-old cave
Archaeologists believe people of importance were buried in five graves found on the site 2,300-year-old ceremonial cave has been discovered between two ancient Mayan cities in Yucatán, an expert from the National Institute of Anthropology and History (INAH) announced this week.
Víctor Castillo Borges, leader of the exploration project, said the Múusench'een Cave is part of a Pre-Columbian settlement hidden between the cities of Ebtún and Cuncunul.
Speaking at a Mayan culture forum at the INAH Yucatán Center in the state capital Mérida, Castillo said the cave and settlement were discovered in 2017 during an archaeological inspection of a site for a solar park.
Castillo explained that "virgin water" used by Mayan priests during ceremonial rituals is still present within the cave, which he said "is still considered a sacred place."
Before exploration of the cave could take place, the INAH expert said that "the people in charge … had to take part in two [Mayan] ceremonies," adding that "workers carried out a ritual every day before starting work inside the cave."
Ceramic evidence found inside indicated that it was used for ceremonial purposes as early as the middle pre-classic period, which dates back to 300 BC, Castillo said.
Castillo explained that the cave's name, Múusench'een, means "lack of oxygen in the cenote," an "original name that has been preserved for many years."
Gourmet produces a Grammy nomination to the Cuban group Orishas
Orishas, the distinguished and pioneer group of Cuban hip-hop, is proud to announce its nomination for the prestigious Grammy Awards, thanks to the excellence of its 5th studio album: "Gourmet".
In this opportunity, his originality and musical trajectory have been recognized by the Recording Academy, obtaining a nomination in the category: Best Latin Album of Rock-Urban or Alternative Album (Best Latin Rock, Urban or Alternative Album), because "Gourmet", a production that, in the words of its leader Yotuel, has been the most" personal and great "of his discography, has collaborations with great artists of the industry such as: Franco de Vita, Chucho Valdés, Beatriz Luengo, Silvestre Dangond, Lila Downs among others.
This is the third time that The Grammy Academy recognizes its musical contribution to the industry. In his resume they already have 2 Latin Grammy.