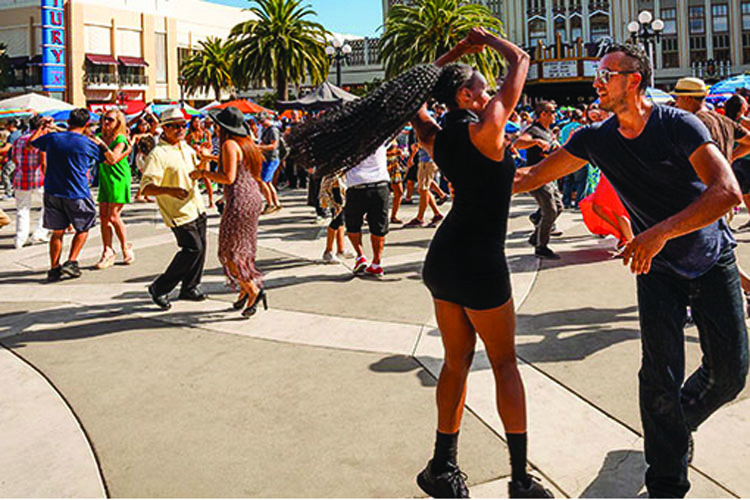 Compiled by El Reportero's staff
Our mission is to present an annual film festival with films that educate, entertain and inspire intergenerational audiences about the issues of aging: the triumphs and challenges. Sept. 16-18, 2016. Opening night The Art of Living, at 5:30 Friday, Sept. 16, 5:30 p.m. at New People Cinema 1746 Post Street (between Webster and Buchanan), Japantown. For a complete Festival Program: http://www.legacyfilmfestivalonaging.org/
Dance Brigade auditions, be a part of history!
Dance Brigade is seeking female and male professional dancers with strong technique in ballet and modern (partnering experience +) for Dance Brigade's 40th Anniversary Celebration at Yerba Buena Center for the Arts on January 13 and 14, 2017.
At 3316 24th Street and Mission.
Paid rehearsals and performances. Rehearsals begin Sept. 19, 2016, Mondays 1:30 p.m. – 3:30 p.m. Wednesdays and Fridays 9:30 a.m. – 12 p.m.  At 3316 24th Street and Mission Streets, SF.
Please bring resume and photo. For more info call 415 826-4401 or email dancebrigade1984@gmail.com.
Announcing Round 10 of the Alternative Exposure Grant Program
We are proud to inaugurate the tenth year of our Alternative Exposure grant program, which supports the independent, self-organized work of artists and small groups playing a critical and significant role in the San Francisco Bay Area visual arts community.
Application period deadline to apply: Sept. 22, 2016. soex.org/alternative-exposure/how-apply.
9th Annual Redwood City Salsa Festival
The Redwood City Salsa Festival, a FREE outdoor festival happening in downtown Redwood City. With three stages of live entertainment, and a Salsa Competition & Tasting, this event is a high point in Redwood City's summer event.
Multiple stages featuring a variety of music, including Salsa, Latin Jazz and Reggae, will fire up Redwood City with music and dancing all day long. Amateur and professional Salsa Chefs will compete for fun, prizes and Salsa Glory. PLUS, there's Tequila Tasting, FREE hands-on art projects, and a Children's Play Area, complete with bounce houses, and more! More info at 650-780-7340 or  www.redwoodcityevents.com.
Here's some on the Salsa Fest Schedule: Music starts at 12 noon with Fito Reinoso, Orquesta Bembé, Carlos Xavier y su Orq., Edgargo y Candela; Latin Jazz Stage: Kat Parra, Cabanijazz Project, and Ray Obiedo and the Urban Latin Jazz Project; Reggae Stage; lots of more entertainment with brew and wine testing in three different blocks.
On Saturday, Sept. 24, 12 p.m.-8 p.m. Courthouse Square 2200 Broadway, Redwood City. More info at 650-780-7340 or visit: www.redwoodcity.org/events/salsafest.html. FREE Admission.