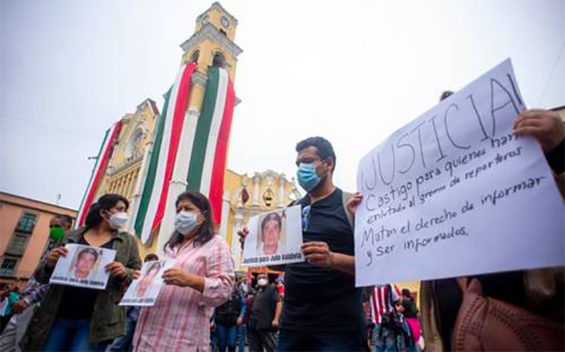 Most acts of aggression are threats of death or violence
by Mexico News Daily
For Mexico's journalists 2020 will likely be the worst year for violence against them in a decade, according to a freedom of speech watchdog organization.
Article 19, which reports on violence and intimidation against members of the press in Mexico and Central America, said the first half of 2020 was 45 percent worse for such acts than during the same period in 2019.
In the first half of 2019, Mexican journalists reported 280 acts of violence or aggression, and so far, between January and June 2020, that number has nearly doubled to 406, averaging out to an act of aggression or violence against a journalist occurring every 10.75 hours.
This puts Mexico on track to surpass the 2019 total by at least 66 percent and be most the violent year since the organization started recording such data. In 2019, Article 19 reported 609 acts of violence or aggression, which it says was the highest number reported in a decade.
Four journalists have been murdered this year and physical attacks on journalists are up 80 percent at 47.
However, the majority of aggressive acts toward journalists this year has come in the form of threats of various kinds, including death threats and threats of violence which, in all, have totaled 96, a 26 percent increase.
The organization also recorded 91 cases of other kinds of intimidation or harassment, up 40 percent. This includes smear campaigns, which the organization said have doubled in 2020 as a tactic to silence reporting.
The organization also reported 61 cases of censorship or other alterations of journalistic content, which they said doubled compared to last year.
The states with the most acts of aggression toward journalists reported this year are Mexico City, Puebla, Oaxaca, Veracruz, and Quintana Roo. Together, these states represented nearly half the total number of recorded incidents in the country.
Mexico City topped the list with more than double the reported incidents from last year — rising from 27 incidents last year to 64 this year. However, the biggest change was in Puebla: Although the state recorded fewer incidents than Mexico City — only 49 cases — it rose from 10th to second place on Article 19's list.
The organization said among the factors behind the growing cases of aggression was intolerance among officials for public scrutiny. It also said there has been a multiplier effect in which the strategy of media attacks by President López Obrador has been repeated by state governors.
Program helps thousands of small restaurants stay alive
Training in health measures and providing protective equipment boost confidence among customers
An initiative supported by the national restaurant association Canirac, Coca-Cola and others is helping thousands of small eateries survive the coronavirus-induced economic downturn.
Called Tu Cocina Local (Your Local Kitchen), the program provides training to staff at fondas (small, informal eateries), taquerías (taco restaurants) and torterías (sandwich shops) on the implementation of health measures that reduce the risk of coronavirus infection and make diners feel safe.
The idea is that the restaurants will attract more customers if they are seen to be taking people's health and hygiene seriously.
The initiative has also provided social distancing screens, face shields and washable tablecloths to more than 50,000 small food businesses.
In addition, it has launched a digital campaign to encourage people to return to their local fondas, taquerías and torterías, which account for 95% of all restaurants in Mexico, according to Canirac.
More than 30,000 are at risk of closing permanently due to a downturn in sales, the restaurant association says. Tu Cocina Local aims to help as many as possible remain open and thus keep thousands of people in work.
One restaurant owner who has benefited from the program is Rocío González Díaz.
"El Volcancito is a family business. We're the third generation. Approximately nine people work here and nine families depend on [their employment]. The pandemic has affected us in an economic sense," she said.
González said sales fell and that she was unable to meet some costs but nevertheless she was able to keep her inexpensive eatery open.
"We didn't have to close because the government allowed us to open at 30%. Tu Cocina Local has helped me a lot with tablecloths and partitions [to separate diners]. That's helped a lot in terms of making customers feel safe," she said.
In addition to Canirac and Coca-Cola, the companies Mondelēz México, Unilever, Kimberly Clark and Ragasa are supporting the initiative, which was launched in June.
Source: El Economista (sp)