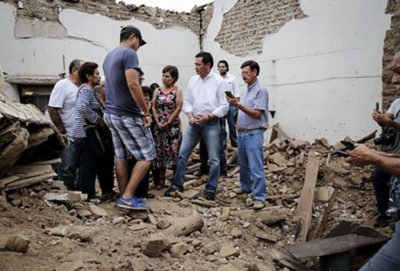 More than 1,100 have followed Thursday's massive earthquake
Compiled by México News Daily
Continuing aftershocks in Oaxaca and Chiapas are making things difficult for census takers trying to evaluate the damages to buildings after last Thursday's massive earthquake.
Interior Secretary Miguel Ángel Osorio Chong said today that a damage census would be complete by the end of the week regardless.
The concern is that buildings will sustain further damages as a result of the aftershocks, of which there have been more than 1,100 since Thursday.
A temblor measuring 5.6 at 4:09 p.m. yesterday caused a cell phone tower to topple from the roof of a three-story building and land in the street in the Chiapas capital of Tuxtla Gutiérrez. Epicenter of the quake was 126 kilometers from Tonalá.
In Juchitán on Saturday, a three-story building fell into the street, a day and a half after the 8.2-magnitude quake that has killed 96 people.
In Oaxaca yesterday, army personnel began to demolish buildings that were beyond repair in the municipalities of Ixtaltepec and Juchitán. Federal officials have confirmed that 12,000 homes have been damaged in the state, and that 971 of them had been completely destroyed.
The federal government has announced that funds will be provided to employ residents of affected areas in cleanup operations and rebuilding.
Other structures affected by the quake are schools and churches. State Governor Alejandro Murat said yesterday that damage has been reported in 402 schools; in 60 the damages are severe. Seventy-eight churches were affected, he said.
The total number of victims in Oaxaca is now estimated at more than 800,000.
As of yesterday, 8,000 people were still without electricity.
Efforts to locate victims in the rubble in Juchitán continue with a canine unit of the Navy Secretariat. A marine said yesterday they had recovered 12 victims who were still alive. Another 41 were dead.
In Chiapas, reports indicate damage has been far more extensive. As of late yesterday, the state's Civil Protection office said 1.47 million people had been affected by the earthquake and nearly 18,000 families are staying with relatives or in temporary shelters.
Homes that sustained damages number 40,633; 6,000 of those were destroyed, chiefly in Tuxtla Gutiérrez, Tonalá, Parral and Chiapilla.
Also affected are 1,000 schools, 48 health sector facilities, 29 public buildings, 52 churches, 106 business premises, numerous highways and 11 bridges.
Source: Milenio (sp), El Universal (sp)
Earthquake devastates Oaxaca's Mixe region
In one municipality, 300 homes damaged, dozens destroyedAt least 15 municipalities in the Mixe region of Oaxaca have been devastated by last Thursday's earthquake.
The head of a local organization called Servicios del Pueblo Mixe (Services for the Mixe People) said the situation has been complicated by heavy rainfall in the region for more than seven days.
Adelfo Regino Montes said highways have been severely damaged, hundreds of homes have collapsed, crops have been lost and electrical service knocked out.
Of 300 homes damaged by the 8.2-magnitude earthquake in Santiago Zacatepec, dozens have been completely destroyed.
Residents are only now just recovering after a storm ripped the roofs off many homes, leaving them partially or completely destroyed, Montes said.
Donations for citizens of the Mixe region, located in the eastern highlands of the state, are being accepted at three locations in Oaxaca city: Calle Cosijoeza 113, corner of Libres; in the zócalo; and in front of the Monte Albán convention center.
Source: El Universal (sp)
Efforts under way to aid earthquake victims
Over 2 million people have been affected by Thursday's quake
As donations are being gathered by various organizations and individuals to assist the victims of last Thursday's earthquake in southern Mexico the government has announced it will withhold further aid to victims of Hurricane Harvey in Texas.
It was unclear how much aid Mexico sent but the Foreign Affairs Secretariat said today that it was suspending shipments due to domestic needs caused by the earthquake and Hurricane Katia, which struck Veracruz on Saturday.
Authorities estimate that at least 2.3 million people have been affected by the earthquake, which claimed 96 lives, according to the latest figures. The government of Chiapas says 40,000 homes have been damaged; in Oaxaca the number is 12,000.
The national office of the DIF family services agency says earthquake victims in Oaxaca and Chiapas need goods such as blankets and bedding, clothing and shoes, food products including tuna, beans, sardines, powdered milk, water, cereal, biscuits, instant coffee and health care items such as soap, sanitary towels, tooth brushes and toothpaste.
The Red Cross said yesterday it had shipped more than 40,000 tonnes of humanitarian aid to the two states most affected by the 8.2-magnitude quake.
The organization has sent 250 paramedics and 500 volunteers to deliver supplies, joining 1,500 volunteers already working in Oaxaca.
Mexico City has also joined donors by sending 32.5 tonnes of supplies donated by citizens at the donation center installed in the zócalo, a shipment sent with support from the Federal Police.
On the weekend, the Development Bank of Latin America (CAF) announced a US $200,000 donation to aid earthquake victims and the allocation of loan funds to Mexico of up to $100 million to rebuild infrastructure.