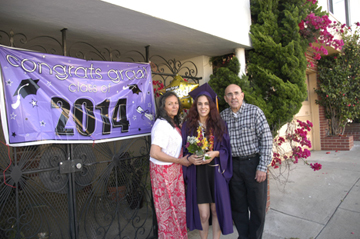 The Santiago-Bermúdez family had more than one happiness this year. But one of its greatest satisfactions was when their pretty daughter Nicole Marie Santiago, obtained her Bacherlor's Degree in Humanities during this year of graduations at San Francisco State University. Her hard work and sacrifice was rewarded.
Nicole, a very exceptional young woman of 22, who has suffered family tragedies and has learned to overcome economic obstacles and adversities to keep on advancing in her studies, graduated with honors and was written on the University's Dean's List as an outstanding student.
She was honored with a special dinner at her home by her beloved family and closest friends. She will now take a leave from school to work and help her parents before starting her Master's Degree in Screen Writing.
The daughter of Israel Santiago, a native of Puerto Rico, and of Adriana Santiago de Bermúdez, of Nicaragua, Nicole is an excelled student born in San Francisco, 2009 it obtained her high school diploma from the Christian School of San Francisco.
Since the age of 12, Nicole began to worry about the most disadvantageous, which is one of her many qualities that makes her an exceptional people.
She traveled to Nicaragua with his mother to provide meals, clothes and Bibles to the inmates. Her mother is so proud of her.
" Nicole has worked hard and helps us in everything, she has worked since the age of 15. Frequently she tells me that I should not be working anymore … that she will work and make enough… ", her mother said.
She also worked helping the elderly, the children in the local community at her local church, taking them to the park and joining them in art projects. America is a part of the tutorial program Count of America, which gives classes to low income children.
For all this the staff of El Reportero congratulates Nicole for all her achievements, and hopes that all her dreams be fulfilled along her life.