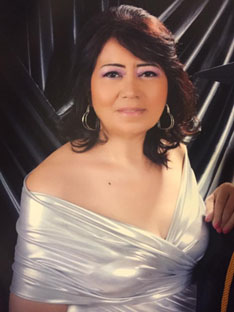 by Marvin Ramírez
The Nicaraguan community in the San Francisco Bay Area is mourning the loss of a great woman who knew how to love her family and friends, who are now crying her departure.
Mrs. Norma Socorro López, born in Granada, Nicaragua in Dec. 19, 1946 entered the Kingdom of God on Sept. 8, 2015, after succumbing to a cancer that spread rapidly into various organs in her body. She died at home surrounded by her family.
Born to Ponciano and Pastora López, she was the oldest daughter of five children. She came to the United States in Nov. 20, 1955.
López-Caldera graduated from Mission High School, and was employed Pacific Bell for 30 years until her retirement. She is described as strong, loving, caring, high-spirited, a devout Catholic, a big San Francisco 49er fan, loved her bingo family and threw the best parties!
Referred to as the matriarch of the family, it means she watched over her brothers and sisters before and after their parents passed away.
"No words can describe how beautiful of a woman you were and the pain that our family is feeling," said nephew Robert Ponciano Cain in Facebook. "You kept our family strong and together. We love you so much and know that you are with our grandparents right now. We are missing you so much."
Granddaughter Melody Rocha, daughter of veteran Salsa and Jazz percussionist, Bayardo Rocha, gathered the family to express their feelings in one message:
"In loving memory of our beloved mother, aunt, wife, Godmother, sister, and matriarch of our family. You will always be in our hearts forever. We will cherish the timeless memories you have given all of us.
All the strength and the love will forever be ingrained within all of us. May you rest in peace with mom and dad in Heaven and continue to always look over all of us. We love you and miss you, until we meet again."
Mrs. López-Caldera is survived by her son Edwin Caldera, and her siblings, Sonia Caldera, Dennis López, Umberto López, Rosa Rocha, and Elizabeth, and many nephews.
She will be buried at the Colma Olivet Memorial park Cemetery next to her parents on Monday, Sept. 14, 2015.
The staff of El Reportero newspaper and its editor, Marvin Ramírez, joins the family in this difficult time of pain.