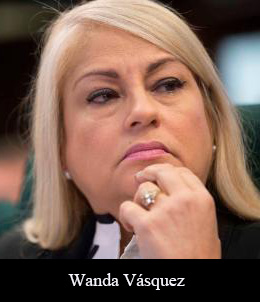 by the El Reportero's wire services
SAN JUAN, Puerto Rico, Apr 16 – Like during the tragic Hurricane Maria in 2017, corruption today is rampant in Puerto Rico amid the Covid-19 crisis, after an attempt at defrauding 38 million dollars from the Government was detected.
The concession of a contract last week to a construction company to purchase Covid-19 test kits has placed Puerto Rican Governor Wanda Vazquez Garced in a frail position, after she had consolidated in the post, which she took over in August 2019, after the popular overthrow of Governor Ricardo Rossello Nevares.
The benefited company, Apex General Contractors, which has no experience in the medical field, received 19 million dollars, 50 percent of a 38-million-dollar deal, to acquire test kits to detect the new SARS-CoV-2 coronavirus, which has so far killed 51 people in Puerto Rico.
That sum, paid in advanced by the Puerto Rican Government, could be recovered because the Oriental Bank froze the transfer to an institution in Colorado, the United States, and warned about the irregularity to federal authorities, thus freezing Apex's account.
Governor Vazquez Garced strongly defended the transaction, which involved local officials, in addition to recommending the spokesman for the medical task force, Segundo Rodriguez Qulinchini, thus ignoring acting Health Minister Concepción Quiñones de Longo.
The official, who resigned in silence and told reporters to ask 'the lady governor' about the reason for her resignation, said later that they wanted to force her from La Fortaleza, the venue of the government, to sign in 21 minutes a contract of which she had no knowledge.
Mexico's Covid-19 statistics show advance into epidemic phase three
MEXICO, Apr 15 – Statistics on Covid-19 epidemic in Mexico show an advance into phase three, which is expected to begin in late April or early May, the Secretariat of Health said on Tuesday.
At the regular afternoon press conference chaired by Undersecretary of Prevention Hugo López-Gatell at the National Palace, it was informed that there were 406 deaths yesterday, but there are 90 other deaths that are not added to that number because it has not been confirmed whether the deceased suffered from Covid-19.
The problem is that there are patients affected by influenza and other respiratory diseases in Mexico, and as long as the real cause of death is not determined, they cannot include them in the list of confirmed Covid-19 cases.
For his part, Epidemiology Director José Luis Alomia noted in the technical report certified by the World Health Organization (WHO) that at 13:00 hours on Tuesday, there were 5,399 confirmed cases, 10,792 suspicious patients, 24,000 ruled out individuals and 40,091 people tested.
The incidence rate is 4.22 per 100,000 inhabitants, and the country is still in phase two, but very close to phase three. The new measures to be prepared for the new phase will be informed on Thursday.
Over 1,000 Bolivians stranded in American countries want to return
LA PAZ, Apr 17 – The Defender of the People of Bolivia Nadia Cruz confirmed Thursday that about 1,194 Bolivians stranded in six American countries are trying to return to their homeland.
They remained in other nations in the context of the advance of Covid-19, and many governments, as measures to prevent the entry of the disease, closed their borders, including that of Bolivia.
Nadia Cruz explained that 1.449 Bolivians stranded in Chile want to return. It is the largest number abroad, followed by Mexico (62), Argentina (38), Brazil and the United States (22 each), and French Antilles (1).
Bolivia closed its borders on March 26, following the government's decree of a state of health emergency to fight the pandemic.