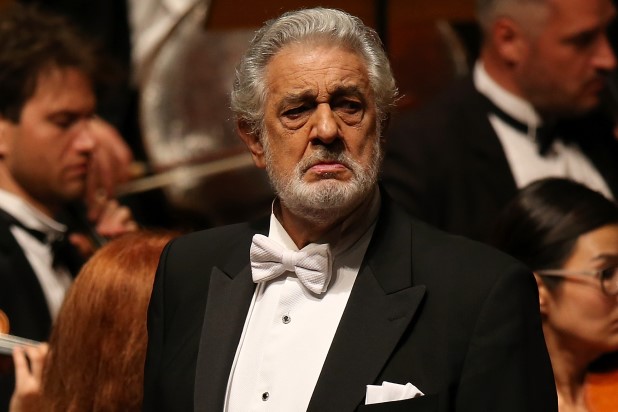 by the El Reportero's news services
The 79-year-old tenor announced he tested positive on March 22
Opera star Plácido Domingo is hospitalized in Acapulco, Mexico with the coronavirus.
Per CNN, his spokesperson said, "He is doing well and is responding to treatment."
On March 22, the music legend used his Facebook page to share the news of his diagnosis with fans. He wrote, "I feel it is my moral duty to announce to you that I have tested positive for COVID19, the Coronavirus. My family and I are all in self-isolation for as long as it is deemed medically necessary. Currently, we are all in good health but I experienced fever and cough symptoms therefore deciding to get tested and the result came back positive."
The tenor went on to encourage his followers to take the threat of the pandemic seriously and listen to experts.
"I beg everyone to be extremely careful, follow the basic guidelines by washing your hands frequently, keeping at least a 6 feet distance from others, doing everything you can to stop the virus from spreading and please above all stay home if you can! Together we can fight this virus and stop the current worldwide crisis, so we can hopefully return to our normal daily lives very soon. Please follow your local government's guidelines and regulations for staying safe and protecting not just yourselves but our entire community," he wrote.
Earlier this month, an investigation conducted by the Los Angeles Opera found that Domingo engaged in "inappropriate conduct" with women between 1986 and 2019, when he resigned as the L.A. Opera's general director.
A representative for Domingo did not immediately return TheWrap's request for comment.
Carlos Acosta to present Swan's Death new version
London, April 3 (Prensa Latina) The Director of Birmingham Royal Ballet, Carlos Acosta, has announced that he will present online a new version of 'The Swan's Death,' an iconic work created by Mikhail Fokin to Ana Pavlova.
According to historians, the work becomes the most finest choreography from the beginning of the 20th century and also demands one of the most complex and complete performances due to its fragility and plausibility of its unique character.
¨Frankly, I don't know how it will work. We are going to perform one of my favorite works. I have purposely changed the ending, so this is a dance about life and about hope,¨ Acosta said.
Carlos Acosta, who was a ballet dancer star of the London Royal Ballet, classed the new work as an experiment amid the lockdown imposed by the Great Britain government due to the spread of the new Covid-19 pandemic.
¨This is a dance of promises. It represents the end of something and the beginning of something else. And in these crazy times we live, we all need a new beginning,¨ Acosta stated.
Latino Arts Fest 2020
The Latino Arts Festival is a beautiful display of visual arts and crafts, traditional dance, live music, film, food and more!
The Latino Arts Festival is a cultural experience and a beautiful display of visual arts and crafts, traditional dance, live music, film, food and more!
Hundreds of guests, both locals and tourists, enjoy and engage with the work of talented artists whose background and heritage enhance their artwork and inform their performance.
Hoping that the crisis of the coronavirus to be a thing of the past then, the event at the Park City will be one -of-a kind experience of the flavors and traditions of Latin America!
Fri, June 19, 2020, Park City Library, 1255 Park Ave, Park City, Utah. (Outdoor field)