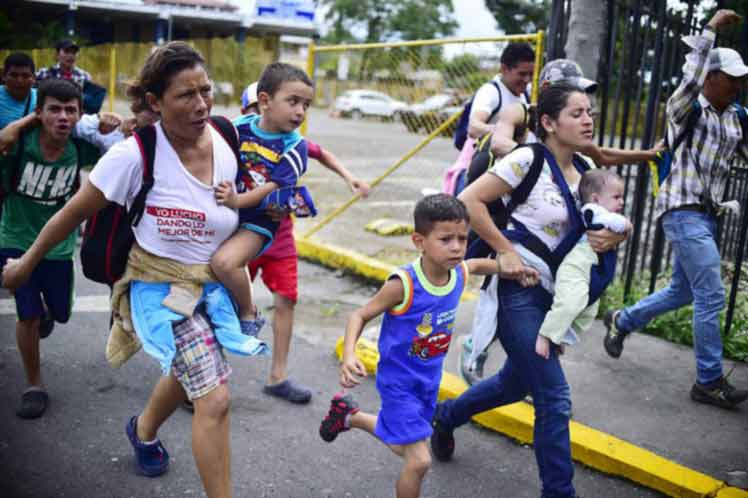 by El Reportero's wire services
More than 247,000 Hondurans, mainly women and children, are today suffering the consequences of forced displacement, a study says.
The main causes of this phenomenon are threats of a family member murder, extortion and gender violence, the newspaper El País reported.Yolanda Zapata, head of the Land Office, said women and children have been displaced by force, seeking some protection mechanisms within the municipalities.
She also stated these people suffer the most as they are forced to leave their homes and children of school age who end dropping out of school.
¨Work must be done to guarantee the rights of the population, protection and care, since there must be lasting solutions for these people,¨ Zapata stated.
¨We reviewed some figures and 38 percent of the population had an impact on the education sector, seven percent of children had to drop out school and 41 percent were affected by health.
AMLO rejects congressional bid to bring back capital punishment
He was responding to a proposal to reinstate the death penalty for perpetrators of femicide
President López Obrador announced his opposition to a proposal to reinstate the death penalty at his morning press conference on Wednesday.
"I don't believe in the death penalty and I also don't think it's an option, an alternative," he told reporters.
His declaration came in response to a proposal on Tuesday by federal deputies from the Green Party and his own Morena party to put up for discussion the amendment of four articles of the constitution, as well as the country's withdrawal from two international treaties by which is it bound not to reinstate the punishment.
They proposed the death penalty for those found guilty of femicide and homicide of people under 18 years of age, saying that the measure would be temporary "until Mexico returns to times of peace and tranquility."
Green Party national director Carlos Puente and the party's parliamentary leader in the Chamber of Deputies, Arturo Escobar, also suggested that the Supreme Court be the entity to decide on the matter.
Last week, National Action Party (PAN) Senator Víctor Fuentes Solís proposed a debate on the issue after the widely publicized femicides of Ingrid Escamilla and 7-year-old Fátima in Mexico City.
Morena party Senate leader Ricardo Monreal spoke against it, calling the death penalty a "barbarity."
"We cannot, for the circumstances and crises which we've experienced in this country in recent years, establish this type of barbarous penalty," he said.
The death penalty was abolished in Mexico in 1929 and the country signed the American Convention on Human Rights, also known as the "Pact of San José," in 1969.
Article 4 of the treaty, which deals with the right to life, stipulates that "the death penalty shall not be reestablished in states that have abolished it."
Source: El Financiero (sp)
López Obrador backs arrival of cruise ship rejected in other countries
President Andres Manuel Lopez Obrador approved today the arrival in Mexico of a cruise ship that was denied entry to other countries because it carried on board a person suspected of having the coronavirus COVID-19.
In his morning press conference at the National Palace, the president, in response to a question on the subject, said that there is no tourist on board with a COVID-19 coronavirus and for humanism, passengers will not be prevented from getting off the ship.
Tourists on the Meraviglia cruise ship, which is stranded off the coast of Quintana Roo, will be able to disembark on Mexican soil, announced Lopez Obrador.
'The information we have is that there are no sick people,' the president reiterated, and recalled that this cruise ship was denied arrival at two ports, but in Mexico instructions were given to carry out an inspection so that they could be in the country, complying with health regulations.
We cannot reject those who transit through the country, he added, and there is already a review protocol on the cruise