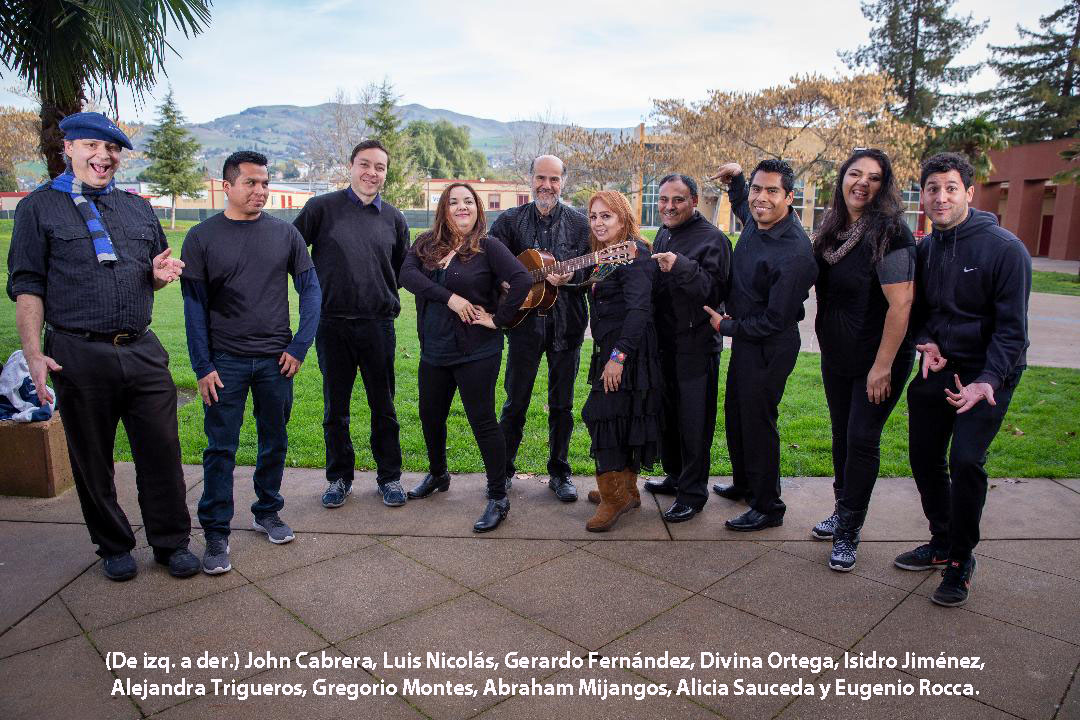 Compiled by El Reportero's staff
Teatro Nahual invites you to the new theatrical production (in Spanish), Malinche Show written by the renowned Mexican playwright, Willebaldo López. This historical musical farce has a plot based on real events in the history of Mexico, and performed on stage in a fun way. Always generating laughter in the audience, but with a reflective background in the style of Nahual Theater productions.
The play Malinche Show analyzes a perspective of the history of Mexico and its relationship with other countries of the American continent. Emphasizes how television, media and foreign influence can dramatically change the thinking and life of a human being.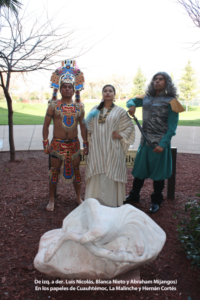 The work offers a vision of what it means to be children and heirs of La Malinche, and that can cause complex insecurity in the life and mood of the Mexican people. The work addresses how people may feel intimidated or ashamed to speak their language – Spanish – and why they do not want to be judged and criticized in front of foreigners.
In addition, Malinche Show brings out how influential people in the fields of government, religion, technology and business pressure the main characters of the play, the people, to participate and alienate in the great machinery of La Malinche. This mechanical web offers a good life, where everyone can be famous and rich, but they must pay a high price that is losing their own identity if they want to be part of the Malinche show.
All actors reside locally in the Bay Area, and include Abraham Mijangos, Blanca Nieto, Luis Nicolás, Alicia Sauceda, Gerardo Fernández, John Cabrera, Eugenio Rocca, Gregorio Montes and Alejandra Trigueros.
The musical direction is by Isidro Jiménez and the voice by soprano Divina Ortega. The scenery is in charge of the talent Bridget Willy. The artistic direction is from the director and founder of Teatro Nahual, Verónica Meza.
Malinche Show will premiere at MACLA: 510 S. First Street, San Jose, California. The premiere is on Saturday, Feb. 29 at 7:30 p.m., followed by four more performances on Saturday, March 7 at 7:30 p.m., Sunday, March 8 in the morning at 2 p.m., Saturday, March 21 at 7:30 pm, and Sunday, March 22 at 2 p.m.
Tickets on sale at the door. You can also buy it online: www.teatronahual.org or by phone: 650-793-0783.
Pete Escovedo Orchestra for Valentine's Day at the Bay
Pete Escovedo toured internationally with the legendary guitarist, Carlos Santana, for five years and performed on three Santana albums: Moonflower, Oneness and Inner Secrets. Mr. Escovedo left Santana to follow in the musical footsteps of his mentor, the late Great Tito Puente, who influenced his music and decision to form his own orchestra consisting of a five-person horn section with strong rhythm and percussion personnel.
On his website, http://peteescovedo.com/ you will find links to hear his music, see video performances and read his biography. More information about his new book "My Life in the Key of E" is also on his website.
Mr. Escovedo finished working on his new CD released in April 2018 a labor of love musically titled "Back to the Bay" which received a Grammy Nomination in November of 2018.
In 2013, Pete Escovedo, was honored with a Jazz Tribute Award at the Los Angeles Jazz Society 30th Anniversary. He performed at the White House for President Obama and was requested to return for a repeat performance.
July 2020, Mr. Escovedo will celebrate 65 years in the entertainment business and his 85th birthday.
At Yoshi's Oakland, $44.00 – $75.00 Doors: 7:30 p.m. Show: 8 p.m. Valentine's with Pete Escovedo. Five shows, on Feb. 14 – 17, Yoshi's Oakland, 510 Embarcadero West, Oakland.