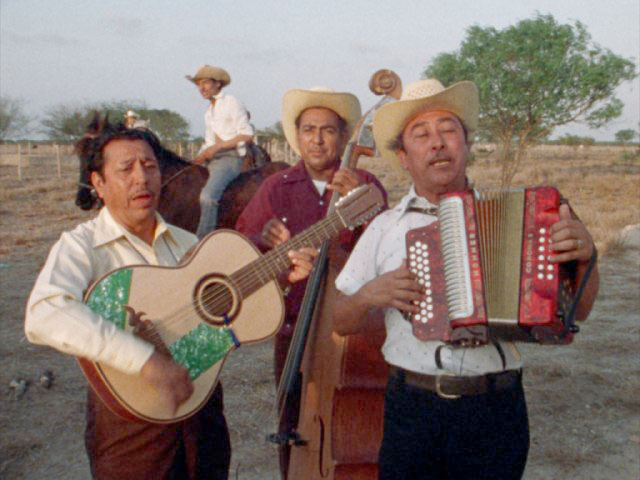 by the El Reportero's news services
Chulas Fronteras (Beautiful Borders) is a zesty introduction to the music and culture of the Texas-Mexican border. From joyous, lively dance tunes to soulful, political work songs, musica Norteña (Tejano/Conjunto) fuses traditional Mexican harmonies and central European dancehall rhythms.
The film celebrates the famed Mexican-American musicians of the borderlands, the migrant farming communities from which they come, the strong family bonds of Tejanos, and the social protest ethos inscribed in their music. Marvelous music, and the generosity of spirit they show in the face of hardship. Featuring Flaco Jiménez, Lydia Mendoza, Los Alegres de Terán, Narcisco Martínez, Santiago Jiménez and many more.
Featuring: Flaco Jiménez, Lydia Mendoza, Los Alegres de Terán, Narciso Martínez, Santiago Jiménez, Rumel Fuentes, Don Santiago Jiménez, Los Pingüinos del Norte, Ramiro Cavazos and more!
Del Mero Corazón is a lyrical journey through the heart of Chicano culture as reflected in the love songs of the Tex-Mex Norteña music tradition. Featuring Little Joe & La Familia, Leo Garza, Chavela & Brown Express, Andrés Berlanga, Ricardo Mejîa, Conjunto Tamaulîpas.
More than 40 years later, these milestone films continue to resonate as spirited depictions of the porous nature of the border and the vibrant culture that springs from this region.
Featuring: Little Joe & La Familia, Leo Garza & His Conjunto, Chavela & Brown Express, Andrés Berlanga, Ricardo Mejía, Conjunto Tamaulípas.
Both 1976 films, which are the work of intensive restoration to 4k, will be screened in September in Northern California.
Presentations: September 25 at 7:00 p.m., Rialto Cinemas Cerrito in El Cerrito, September 26 at 6:45 p.m. Roxie Theater in San Francisco. Opens on September 27 at 7:00 p.m. (one week). Rialto Cinemas Elmwood in Berkeley, September 28 at 4:15 pm, Christopher B. Smith Rafael Film Center in San Rafael, September 29 at 1:00 pm, Rialto Cinemas Sevastopol, September at 1:00 pm, September 29 at 7:00 pm, Theater of the parade in Chico,
Deported migrants featured in new interactive border wall art in Tijuana
A barcode on each of the four murals allows access to the story behind each person
The border wall that cuts off Tijuana's beach from its American counterpart was transformed last Friday into a canvas that tells the stories of deported migrants.
The interactive art installation at Playas de Tijuana by Lizbeth De la Cruz Santana consists of portraits of four deported migrants, spanning the height of a section of the border fence along Tijuana's beach.
Visitors who hold their cellphones up to a QR barcode affixed to one of the murals can access audio on the project's website narrating each migrant's story.
The subjects are a United States veteran, two mothers who were forced to leave behind their U.S.-born children and a man who was deported just months before he would have qualified for DACA — the 2012 program designed to shield from deportation people who were brought to the U.S. when they were young.
De la Cruz Santana, 28, herself the child of a Mexican migrant, said that each of those depicted in the installation is someone she knows, and that she felt compelled to share their stories to bring awareness to the dangers and hardships faced by migrants during their journey north and during deportation.
She added that she hopes the project, which is part of her doctoral dissertation and funded through a grant provided by the Mellon Public Scholars Fellowship, could help raise money to provide legal assistance for deported migrants.
"Technology is one of the best ways and venues for people to tell their stories."
Mauro Carrera, a muralist and partner with De la Cruz Santana on the project, said he hopes the project shows "the people behind the politics."
De la Cruz said that while mounting the installation she was struck by the stark contrast between the bustle and liveliness of beachgoers, restaurants, bars and a bullring on the Mexican side of the border fence, and the nervous quiet of parked Border Patrol vehicles on the U.S. side.
"If you look past this wall on the U.S. side, there's nothing. I wanted to erase the border."