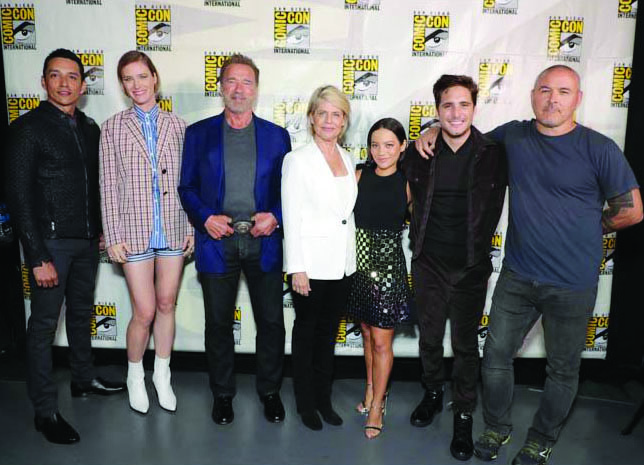 by the El Reportero's news services
Terminator: Dark Fate", Colombian actress Natalia Reyes opens up about how training for her role was "tons of work" both physically and emotionally. Plus, the actress explains how the movie reflects what is happening today in our society.
Natalia Reyes is a Colombian Method actress known for her stunning starring role in Sony's hit series Lady, La Vendedora de Rosas for Latin America (2015 most seen series in Colombia and Netflix Latam), also for her work on Cumbia Ninja (2013).
She was born in Bogotá, where she started acting when she was only 9 years old and after participating in numerous national TV shows, series and films moved to New York in 2011 where she graduated from The Lee Strasberg Theatre and Film Institute.
Mexican American Gabriel Luna has been spotted on the set of Terminator 6. The Agents of S.H.I.E.L.D. actor, best known for inhabiting a version of Ghost Rider on the Marvel series, is playing a new Terminator in the upcoming reboot/sequel. This batch of set photos is the first we've seen of him since filming began. Luna looks more or less like himself and not so much like a deadly futuristic robot, but he was caught playing an acoustic guitar on set. Though, that's probably not making it into the movie.
Diego Boneta is a Mexican American actor, and singer. He will play Miguel Ramos.
Boneta's role isn't clear as details are being kept deep in the Cyberdyne vault, but he is said to be playing a human in the reboot that last week saw its release date move from July 26, 2019, to Nov. 22, 2019.
He made his feature debut in the all-star Tom Cruise musical Rock of Ages. He currently stars in The Titan, a sci-fi thriller with Sam Worthington that just hit Netflix, and next toplines Luis Miguel, Netflix's Spanish-language biopic series that tells of the story of one of the biggest singers from Latin America and is set to debut April 23.
Leave the children at home, Terminator: Dark Fate will have an R rating, which requires that children under 17 be accompanied by a tutor in the United States.
Premios Juventud 2019: The 6 Best Performances
Anuel AA and Farruko perform on stage during Premios Juventud 2019 at Watsco Center on July 18, 2019 in Coral Gables, Fla.
The 16th annual Premios Juventud gala was celebrated on Thursday (July 18), and Latin stars took over the stage, leaving their soul in every live performance.
Artists like Romeo Santos, Farruko, Maluma and Karol G performed, along with the new generation of singers like Angela Aguilar, Guaynaa, Lunay and Tini.
The 16th edition of Premios Juventud celebrated music, pop culture, digital media, fashion, TV and social media during a four-hour live show that included performances supporting the new generation of urban music such as Guaynaa, Lunay and Sech.
The highlight of the night definitely was Daddy Yankee's speech, dedicated to his homeland's crisis.
"I claim the governor to hand over his position in a peaceful, reasonable and diplomatic manner," he said. "Even though I travel the world, my final destination is always my home, Puerto Rico."
Maluma and Jesse & Joy were the first artists to receive the "Agente de Cambio," honoring their humanitarian work. Two young Latinos, Alondra Toledo and Carlos Osuna, were also honored with the trophy for their leadership and positive contributions to the community.
The singer-songwriter and dancer Argentina, Emilia, shined in the event. On the night of the Awards the young woman dazzled during her presentation to present the musical collaboration between Pedro Capo, Farruko and Lali "Calma". She recently released her single Recaclienta.