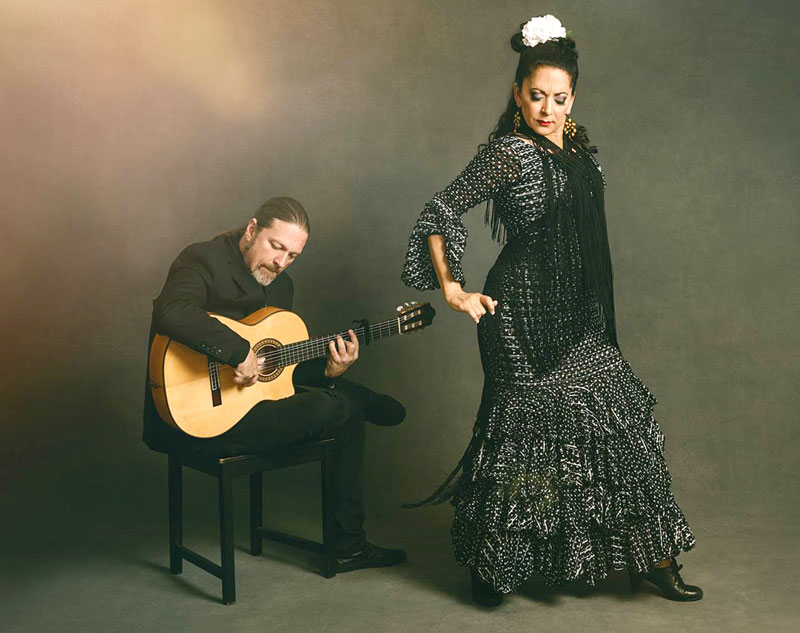 Compiled by the El Reportero's staff
The band FLO led by Mio Flores, El Timbalero, consists of a collection of musicians based out of the San Francisco and greater East Bay Area. Each with 30 years and plus of professional entertaining, performing, recording and touring with many greats of the music industry.
This group of well seasoned musicians have been playing together and entertaining audiences of many diverse social backgrounds and genres of music and have crossed paths with each other anywhere from the last five to 25 years in their careers. "FLO" Funky Latin Orchestra is pleased to be at Club Fox with all of you on this great night.
Azul Latino is led by Ernie Nolasco who is a self-taught lead guitarist with over 30 years of experience in the local Bay Area Music Scene. Growing up in the Mission District of San Francisco, Ernie was immersed in the eclectic blend of musical scenes that traversed the Bay Area through the 70s and 80s. Drawing influences from Ernie Isley, Neil Schon, Jimi Hendrix, and Carlos Santana. Ernie is a product of the Guitar's Golden Age; when artists used the guitar to organically emulate emotion. (www.azullatino.com).
On Saturday, June 1, at Club Fox, 2209 Broadway, Redwood City. Doors open 7 p.m. Show 8 p.m.. Advance: $20/ Door: $25. For More Information, call 415-285-7719 or write DrBGMalo@aol.com.
Teatro Nahual presents "The First Lady" (Spanish)
The First Lady written by the Mexican playwright Willebaldo López is a farce that reflects the absurd reality of the politics that surrounds us worldwide. This work, in a grotesque way and at the same time very close to reality, shows the scope of corruption in which the political layers and the type of ambitious individuals that make up the political posts move. The public, through laughter, can see reflected the reality of the town. Likewise, the eccentric personality of a political leader and the opulence and ambition of his first lady are caricatured, who try to reform the laws for their own convenience, regardless of the welfare of the people.
The work has the performances of Juan Aquino, Lucía Peralta, Geraldo Cadenas, Marco Morales, Brenda Gutiérrez and Carolina López.
The original music is by the masters Gerardo Fernández and Isidro Jiménez. The set design is by Bridget Wylie. The stage direction is in charge of Verónica Meza.
"The First Lady" will premiere on Friday, May 24 at 8 p.m., followed by more performances on Saturdays, May 25, Sunday, May 26, at matinee at 2 p.m .; Friday, May 31 and Saturday, 1st. of June.
Place: MACLA-510 S. First Street in San Jose, CA.
Tickets are on sale at the Teatro Nahual site: www.teatronahual.org. You can also buy them at the theater door or book your tickets at: (650) 793-0783.
San Francisco International Arts Festival
Since 2015 the San Francisco International Arts Festival (SFIAF) in collaboration with the Fort Mason Center for Arts & Culture has worked to expand its range of harmonically inspired offerings and this year's program will feature 20 music concerts or other genres including live musical accompaniment.
The presentations cover many subjects as part of the Festival's Path to Democracy theme including civil rights, social and racial justice; migration and the plight of refugees and a testimony to the re-emergent period of democracy in Spain's post-Franco era in the mid-1970s; and concerts focused on protecting the environment and climate change. Among the lineup are:
– Caminos Flamencos (USA)
Flamenco Generation XYZ is a variety showcase by Caminos Flamencos featuring the next generation of dancers and musicians comprising a span of 50 years in a concert of solidarity, collaboration and the passion of flamenco culture.
Gallery 308. Friday May 24, 9:30 p.m. Tickets: $15 – $38.
– San Francisco Flamenco Dance Company (USA) – Don Quixote Rides Again
Get ready for another whimsical flamenco adventure for the whole family. Master Flamenco artist Luis de la Tota stars as Don Quixote in this bilingual, rhythmic adventure filled with dazzling footwork and colorful costumes. He can rap, tap and make you laugh! Don Quixote rides again and you're invited!
Gallery 308. Saturday May 25, 2 p.m. Tickets: $15 – $28.
At Fort Mason Center for Arts & Culture. Thursday May 23 – Sunday June 2, 2019. $15 – $100. Box Office and Information: www.sfiaf.org or 415-399-9554.
Celebrating the joy of giving with Latino flavor!
The Latino Community Foundation will be honoring legends and celebrating the power of culture and courage. There will be dance, great food and wine, and sharing lots of loud, collective laughter.
The event will celebrate the leadership and contributions made by past, present, and future leaders. It's a celebration of culture, values, and families. Celebrating and honoring the sacrifices that have been made to open doors of access of opportunities for others.
On May 17, 2019, from 5:30 p.m. to 12 midnight, at the San Francisco Fairmont Hotel, 950 Mason Street, San Francisco.
The Latino Community Foundation is on a mission to unleash the power of Latinos in California. Will you join us? www.latinocf.org.