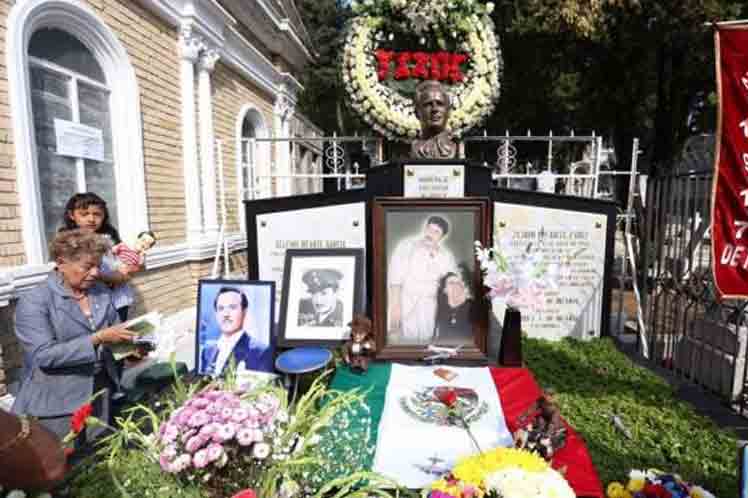 by the El Reportero's news services
Like every April for 62 years, the Pantheon Garden of Mexico City is convulsing where is the tomb of Pedro Infante, eternal national idol, dead one day as today in a plane crash in Merida.
He was only 40 years old and, like his compatriot and admired Jorge Negrete who lies very close to his grave, he also died 'in full glory and in full youth'. Bench carpenter and apprentice of everything, always without a penny and eaten by poverty, at 22 years of age he began to travel fame thanks to his voice and his charisma.
That's why he was heard repeating that 'in the 15 years that I've been an artist, this has been the first care: not to be as I always was. Nothing has gone to my head and this produces its effects. Everywhere people do not admire me, but they love me.'
For posterity were his voice and his grace, his talent and his virtues in more than 350 songs and 60 films, achieved in a very short time, from his first recording of Guajirita, in 1937, in his native Sinaloa, and his first appearance in the cinema as an extra in 1939 in the film In a donkey three baturros, up to his most notable successes including the one considered his last film, School of thieves, of 1957. It was, and continues being famous his affirmation in a press interview in 1952 in the one that reveals his profession of faith:
I am not Mexican because I was born on this earth, which could be a simple accident. I am Mexican by conviction, because I love everything of our country, because I like the customs, the folklore, the landscape, the tradition and the Mexican sky.
'For me, no other country is more beautiful than mine. And do not think I obey to a jingoistic and ridiculous feeling, but a natural inclination of admiration towards this unparalleled Tenochtitlan, so full of misunderstood people but so beautiful things in the face of who knows how to search and feel'.
For Cubans, a man who has said something so beautiful and profound about the land that saw him be born and give his life, is a source of pride that he also said: 'Nowhere can there be more generosity, more enthusiasm than in Cuba. Say that I am willing to go whenever they call me and that if I am Mexican on all four sides, I feel Cuban at heart'.
At 62 years after his death, Mexico remains sad. Cuba too.
"The After" the official after-party of the 2019 Billboard Latin Music Awards
THE AFTER surrounded by Las Vegas' lights and glamour, will also include special appearances by Universal Music Latin Entertainment emerging artists Elisama, Mariah and Colombian singer Greeicy
Miami, FL – April 17, 2019 – Telemundo and Universal Music Latin Entertainment will host THE AFTER, the official After Party of the 2019 Billboard Latin Music Awards. and will feature special performances by emerging artists Elisama, Mariah and Colombian singer Greeicy, with special DJ sets by Lafame and NYC's Latin Mixx.
Attendees to include Luis Fonsi, Nicky Jam, Karol G, Sebastian Yatra, DJ Snake, and other celebrities, hosts, and singers who will come together to celebrate this year's excellence in music.
The 2019 Billboard Latin Music Awards will air simultaneously on Telemundo Network and Spanish-language entertainment cable network UNIVERSO on Thursday April 25 at 8pm/7c live and will also feature presenters from television, film, music and social media influencers