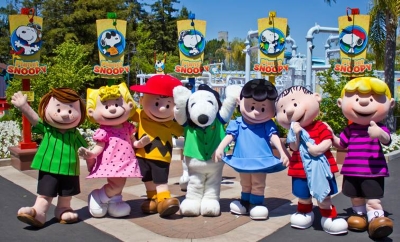 Compiled by the El Reportero's staff
Great Mall Kicks Off Summer Event Series With An Afternoon of Family Fun
Good grief – summer's here and it's time for some fun! Grab the whole family and head to Great Mall for a day of Summertime Fun With The Peanuts Gang.
Join Charlie Brown, Snoopy and the rest of the gang* for photo opportunities, Peanuts themed arts and crafts, face painting and much more. Guests will have the chance to win exclusive prizes, courtesy of California's Great America.
The event is free to attend, and marks the first of several summer activities hosted by Great Mall, one of Northern California's premiere shopping and entertainment destinations. Next up, the circus is coming to town! Circo Caballero will be performing from June 21 – July 3 in the parking lot at Great Mall, between Marshalls and Saks Fifth Avenue OFF 5th. Tickets are available for purchase here.
With diverse events for the entire community year-round, Great Mall serves as the hub of downtown Milpitas.
Saturday, June 23, 2018, from 1 – 3 p.m.
Great Mall (near Entrance 2), 447 Great Mall Dr., Milpitas.
County seeks new Poet Laureate
San Mateo County is seeking a new Poet Laureate for the 2019-2020 term. The mission of the Poet Laureate is to elevate poetry and celebrate the literary arts within the County by making poetry more accessible to people in their everyday lives. The appointed applicant will serve as the County's third Poet Laureate, and their term will commence January 2019. Applications from published San Mateo County residents are being accepted now through Aug. 6, 2018.
"Our County is so fortunate to have many fine poets living here. We look forward to finding our next Poet Laureate amongst them. This person will continue to be an ambassador for the literary arts in our County and bring more of our local poets to the forefront," said Supervisor Warren Slocum. "We look forward to celebrating the diversity of our County through the spoken word and literary arts."
San Mateo County Board of Supervisors created the honorary post of Poet Laureate in 2013. During their two-year term, the Poet Laureate will receive a $5000 yearly stipend, and will serve as a representative and advocate for poetry, literature and the arts by participating in public readings and civic events. They will also be responsible for proposing and leading their own community project.
The current Poet Laureate, Lisa Rosenberg, will complete her term in December 2018. During her tenure, Rosenberg created the Spoken Art project to increase recognition for the County's poets and visual artists. The current community-wide project showcases both visual and language arts by providing a platform for local poets to respond to the work of local artists.
The 2019-2020 San Mateo County Poet Laureate will be announced in October 2018. For more information, visit http://www.sanmateocountypoet.org/www.sanmateocountypoet.org.
Thee Latin Allstars from So Cal
If you want to hear it all in the key of Latin Rock, you need to catch Thee Latin Allstars, led by former El Chicano guitarist Ray Carrion, bringing you the sounds of Old School Latin & Soul Mu
sic. He has brought together a rather eclectic mix of musicians and singers from El Chicano, Tierra, WAR, and many others to put on a show like no other.
Also joining the group will be Fresno Native from Redbone, Pat Vegas who will be treated to an awesome homecoming. Be sure to join us on Sat July 7 to the multi level sounds of Thee Latin Allstars. Sat July 7 at Fulton 55.
http://www.latinrockinc.net/events/2018-07-07-thee-latin-allstars-and-heavy-weather.aspx
Go to www.fulton55.comor by calling 415-285-7719 for tickets with no service charge.