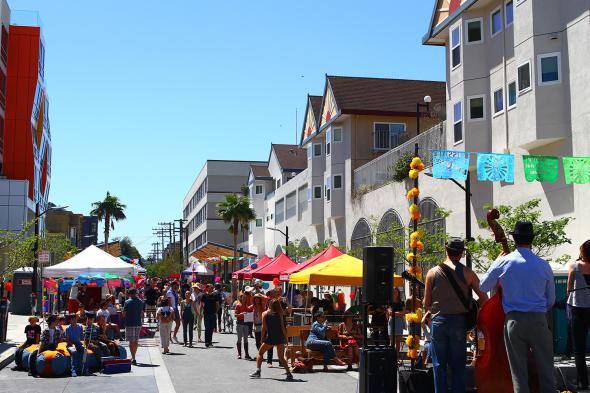 Compiled by the El Reportero's staff
Mission Community Market returns. Join your favorite farmers market sellers and the Mission community in celebrating the first market of the spring season with a fun evening of good food, free family activities, live music, and more. Opening Day Festivities:
• Kids' activities and tissue paper flower making with Casa Bonampak
• Live music by La Gente (4-6 pm) and Muchacho Mandanga (6-8 pm), brought to you in partnership with Little Mission Studio
• Market to Table Demo with chefs Alejandro Morgan and Juan Torres of Lolinda
•Seasonal Market Tasting: Spring Greens
Starting on April 5, the Mission Community Market will be operated by CUESA on Thursdays, 4 to 8 p.m.
Uncommon Law presents, Crime After Crime
Crime After Crime is the story of the battle to free Debbie Peagler, an incarcerated survivor of brutal domestic violence.
Over 26 years in prison cannot crush the spirit of this determined woman, despite the injustices she has experienced, first at the hands of a boyfriend who beat her and forced her into prostitution, and later by prosecutors who cornered her into a life behind bars for her connection to the murder of her abuser.
Her story takes an unexpected turn two decades later when a pair of volunteer attorneys take on her case, and attract global attention to the troubled intersection of domestic violence and criminal justice.
After the film, stay to hear from award winning filmmaker Yoav Potash, former UnCommon Law client Alicia Nolan and UnCommon Law attorney Lilli Paratore, whose Equal Justice Works Fellowship is focused on parole policy change that recognizes the experience of gendered trauma and abuse.
Tuesday, April 10th, 6:50 p.m., at The New Parkway Theater, 474 24th St. Oakland.
Cinco de Mayo with Third Sol & Camino
Third Sol makes a return to Club Fox to celebrate this big day of music at the annual celebration of Mexican Independence Day, Cinco de Mayo! 
Third Sol, known for their original soul music and many favorite tribute renditions, will fill the dance floor with their brand of East Bay sounds. 
Also making a return themselves as the openers of the show will be Camino who have been making waves in the bay area performing movement through many venues across the peninsula and San Francisco area.
Camino brings a Latin smoky flavor with their original music and captivating sounds. This band is to become an immediate favorite of anyone who hears them. 
At Club Fox – Sat May 5. For reserved seating (limited) call the LRI office at 415-285-7719. 
Tickets also available through PayPal on LRI website. Be sure to make your purchase through link for each band on the page.
http://www.latinrockinc.net/events/2018-05-05-camino.aspx 
At the SF Public Library: The Imagination of American Poets
San Francisco Public Library celebrates San Francisco's literary cultural heritage and National Poetry Month, presenting more than 50 portraits of local and national poets accompanied by their handwritten work selected from photographer Christopher Felver's publications Tending The Fire: Native Voices and The Poet Exposed.
The exhibition features cultural luminaries Allen Ginsberg, Billy Collins, Louise Erdrich, U.S. Poet Laureates W.S. Merwin, Robert Hass and Kay Ryan. The exhibition also presents first San Francisco Poet Laureate, Lawrence Ferlinghetti and current laureate Kim Shuck.
 Christopher Felver: The Imagination of American Poets opens on March 24 in the Main Library's Jewett Gallery with the opening event featuring the first Poet Laureate of San Francisco, Lawrence Ferlinghetti, San Francisco's current Poet Laureate, Kim Shuck, and U.S. Poet Laureate, Robert Hass. The exhibition will be enhanced by artist talks, film screenings and other related programs through June. The exhibition is curated by Sue Kubly and Dr. Peter Selz, noted art historian, and sponsored by Friends of the San Francisco Public Library.
March 24 – June 24, at the SF Main Library, Jewett Gallery, 100 Larkin Street, San Francisco