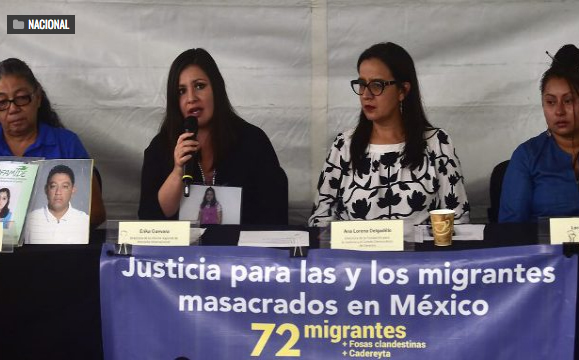 11 have been charged in Tamaulipas mass murder, but no one sentenced
by Mexico Daily News
Eight years after 72 undocumented migrants were killed in a massacre in Tamaulipas, authorities still haven't conducted a "real investigation" into the crime, charges the head of an NGO that represents the families of 10 victims.
Ana Lorena Delgadillo, director of the Foundation for Justice and the Democratic Rule of Law (Fundación Justicia), told the newspaper El Universal that despite 11 people being charged in connection with the San Fernando massacre, allegedly committed by the Zetas drug cartel in August 2010, not one person has been sentenced.
"To date, we don't really know what the truth is. There is no real investigation of the state to find out to what extent there could have been complicity of authorities," she said.
Documents made public by the federal Attorney General's office (PGR) in 2014 revealed that local police had collaborated with organized crime in the murders.
At the time, Delgadillo said, the release of the information was an important step toward finding the truth, but lamented that the amount of information released was limited.
Now, she says, while the PGR has allowed Fundación Justicia to see its investigative file, it has repeatedly refused to furnish it with copies which, in turn, could be passed on to the families the NGO represents in El Salvador, Honduras, Guatemala and Brazil.
"For us it is very regrettable that this information doesn't get to the families in Central America, they don't have access to the information," Delgadillo said.
One of the most recent developments in the case was the arrest of Martiniano de Jesús Jaramillo Silva, the presumed mastermind of the massacre, in Ciudad Victoria last November.
However, the regional leader of the Los Zetas Vieja Escuela criminal cell in Tamaulipas spent only two days behind bars before he died of kidney failure in a Mexico City hospital.
The massacre came to light when authorities found the bodies of the 58 male and 14 female victims on a farm in August 2010 after a survivor, a migrant from Ecuador, reported the incident.
He said they were offered work as gunmen for Los Zetas with a salary of US $1,000 every two weeks but were killed when they didn't accept.
To mark the eighth anniversary of the massacre, representatives of Fundación Justicia along with human rights activists and priests yesterday participated in a ceremony to place memorial crosses on the ranch where the bodies were found.
Father Pedro Pantoja, an advisor at the Casa del Migrante (Migrant Shelter) in Saltillo, told El Universal that 72 crosses — one for each victim — were erected. He said a meeting with the wives of massacred migrants will be held at a later date in Guatemala.
"It wasn't just a genocidal massacre . . . it was a cry of terror for all Central American migration," he said.
"[Our] hearts are full of indignation, sadness and pain. As defenders [of human rights], we have to take on their pain, place ourselves in their flesh."
In other criminal justice news in Mexico:
10 years on and Mexico's justice system is not yet world class
Senior security official says better standards required
Ten years after the New Criminal Justice System (NSJP) was first introduced, the system is still not "world class," a high-ranking government security official has acknowledged.
Álvaro Vizcaíno Zamora, executive secretary of the National Public Security System (SNSP), said yesterday that one of the system's main shortcomings is that it has created a "revolving door," with people detained and released time and time again.
". . . We still need to achieve better standards in order to be able to offer Mexicans the justice they deserve," he said.
Speaking at the second International Forensic Sciences Symposium in Mexico City, Vizcaíno added that building the system "is not easy" because it requires the political will of all three levels of government as well as money, which, he explained, is usually not enough.
The new accusatory system, which replaced a Napoleonic system based on written arguments with trials in which evidence was presented orally, was approved constitutionally in 2008 but states were given eight years — until June 2016 — to make the transition.
Under the new system judges have more leeway to release suspects pending trial and increased power to dismiss a case if they believe a suspect's rights have been violated.
Vizcaíno said the solution to the "revolving door" problem is "pre-trial units," whose role is to conduct a risk analysis for each person accused of a crime.
The analysis could subsequently be used as the basis for a prosecutor's argument to a judge regarding what precautionary measures should be adopted as the accused awaits trial, he explained.
". . . If its preventative prison, then let it be imposed," Vizcaíno said.
He explained that the pre-trial units were not created in the first years of the implementation process and now more work needs to be done to make them more effective.
". . . Two years ago, only four states had this piece of the justice system [in place] at intermediate to optimal [levels]. Now there are 32 units but they have to mature and continue to advance," he said.
Vizcaíno also said those charged with implementing the new system — such as police and officials in security and justice institutions — needed more and better training.
Source: Milenio (sp)