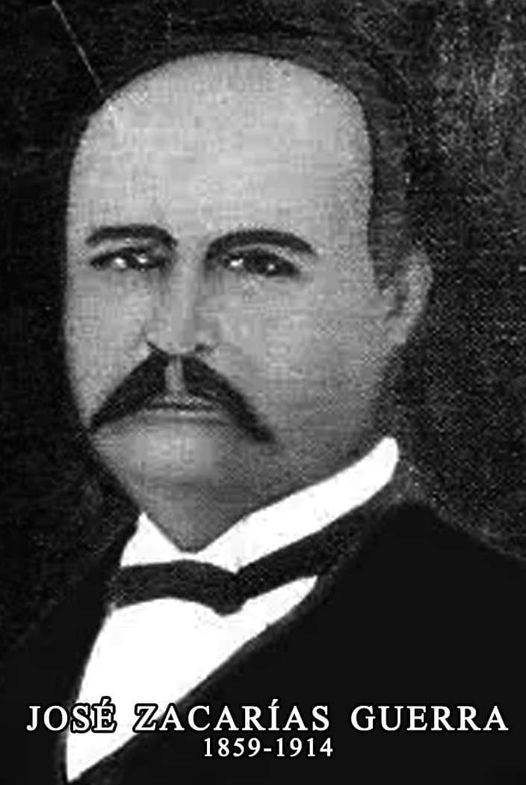 José Zacarías Guerra Rivas was born on Nov. 5, 1859, in Managua, Nicaragua, the son of Benjamin Guerra Bellarte and Dolores Fitoria Rivas, who died when he was just a baby, remaining in the care of his aunt Mercedes Rivas de Murillo.
Dolores was a single mother, because Benjamin did not establish a close affective relationship, the Guerra and Rivas families were native to Managua, well known and of good economic position, details the writer Francisco Bautista Lara.
Zacarías had a wealthy life, he belonged to one of the most distinguished families, his father was a minister during the government of Roberto Sacasa, he remarried Rosa Camacho and had three children: Rosa, Mercedes and Mariano Guerra.
In 1896 his father died, leaving him an inheritance which he knew how to manage very well; Zacarías stopped living with his paternal family and only bought some properties.
Zacarías was hard-working and extremely thrifty, very not sociable, he lived alone, he did not allow visitors, in addition he did not have any vice or luxuries in the house, and he had almost no contact with his relatives.
One of his properties was a 120-acre coffee farm located in El Crucero, from which he obtained a large income, by 1907, Zacarías gained a reputation for being tight-fisted.
In 1909 he wrote his will, he did not want to hire any lawyer, because he said that they charged too much, the will was given to Dr. Modesto Barrios, so that he could deliver it in turn to the district judge, and that it be read after his death.
José never got married, nor did he have children, but during his childhood there was a girl that he liked so much, but that he never saw again.
In 1913 his nephew Benjamín José Guerra (son of his half brother Mariano Guerra) was born, and although José was classified as tight-fisted, his nephew when holding a ring that shone on his finger, took off the garment and gave it to him, the report details "Zacarías Guerra and his nephew Benjamin: I was not the father of one, I will be of many".
The health of Zacarías Guerra began to complicate because of diabetes, but for not spending on doctors, he resorted to home remedies, which did not relieve him, finally he died on May 5, 1914, at the age of 55 years, he was buried in the San Pedro de Managua Cemetery.
On May 9 his will was read, the man described as tight-fisted, he left most of his fortune for the construction of a home for orphans and low-income children, C $ 5,000 Córdobas for his aunt Mercedes, to whom he had a great affection and for his sister Rosa; the administrator of his estate was Dr. Rafael Cabrera.
The news spread like wildfire, people were surprised, and those who made fun of him went to put flowers on his grave and gave speeches in gratitude for his noble work.
Part of his will read:
"I want these properties to be sold at public auction by posting notices in the newspapers so that they sell better, since it is my only wish that my capital is invested in an asylum or house for orphaned children, being able to start establishing it in my largest house which is on 5ª Calle Norte number 84. I protest that my will is contrary or they want to annul it under any pretext, damn it a thousand times ".
In June 1914, in honor of him, the Hospicio Zacarías Guerra was founded, whose board of directors was Monsignor José Antonio Lezcano, Salvador Castillo and Juan Zelaya.
With the sale of the war assets, the construction of an asylum began on some land of a 100-block estate, but when it was finished, it was not to the taste of the Government and they moved to another house, but in 1931 the earthquake occurred that destroyed the capital, and the Hospicio functioned the following year, after several years without a defined place for the home, during the government of Luis Somoza, the Hogar Zacarías Guerra was built for the Colonia Centroamerica, and in 1963, the Hogar opened its doors, the board of directors was made up of: Isabel Urcuyo de Somoza, Ing. Fernando Montiel, Dr. Fernando Medina, Dr. José Antonio Tijerino, Gonzalo Torres, Pastora Pérez Cano and Pilar Altamirano.
Currently the Hogar Zacarías Guerra is dedicated to helping many young people at risk and with limited resources, they are taught education, music, sports and different work disciplines.
In 2013 the novel "Manantial" was published, based on Zacarías Guerra, by the Nicaraguan writer Francisco Bautista Lara.
Little is known about Zacarías' relatives, his two sisters Mercedes and Rosa did not have children, but his younger brother Mariano had five, was vice mayor of Managua and was part of the board of directors of Hogar Zacarías Guerra, but later, he had problems of debt and fell financially, lost his home in the 1931 earthquake and died the following year, details El Nuevo Diario in its report: "Zacarías Guerra, his family and rebellion."
Harley Ezel