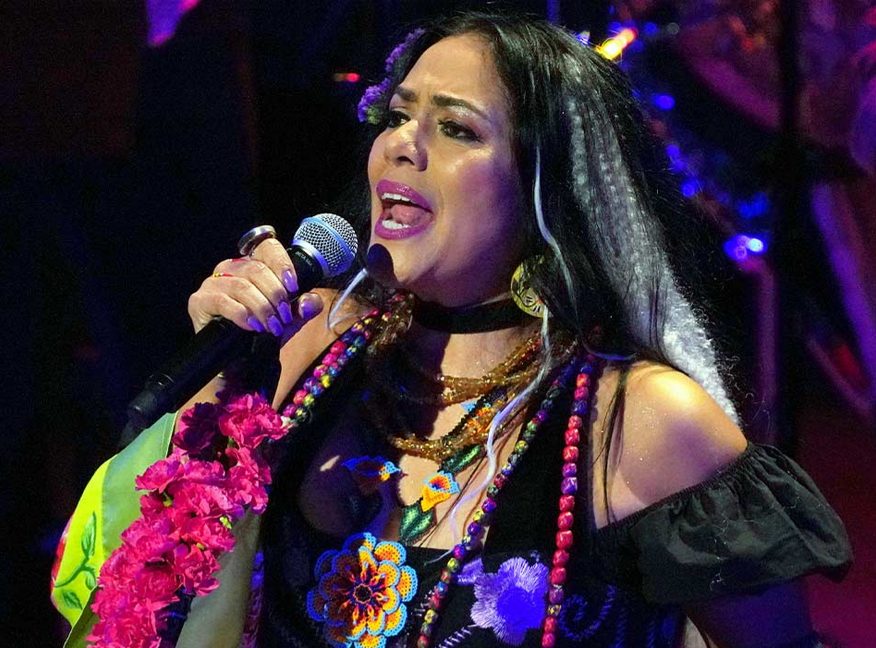 Compiled by the El Reportero's staff
Mexican-American singer and songwriter Lila Downs is a GRAMMY winner and one of the most celebrated artists of her generation.
A native of Oaxaca, she's built a career bridging cultures and languages, both as a musician and social activist for humanitarian causes. With guidance from her vocalist mother and inspiration from Mexican singing greats Chavela Vargas and Lucha Villa balanced by the gamut of American music she heard in the States, Downs made her major label debut with 1999's jazz-informed La Sandunga, and her contributions to the 2002 Frida Kahlo biopic Frida elevated her status to that of a major international star.
She's won a GRAMMY and multiple Latin GRAMMYs, including a nod for her newest Sony Music album, Salón, Lágrimas y Deseo (Salon, Tears and Desire). This performance, filmed in May 2019, is a celebration of that release.
On Oct. 30.
The coronavirus separates us, threatening the fabric of community – but music connects, which is why we've launched Fridays at Five. It's what we need right now: a new series of weekly pre-recorded concerts that aspire to connect you – to music, to musicians, to the warm and unique feeling of experiencing live music at the SFJAZZ Center.
For just $5 a month ($60 annually), you can become a Member and tune in each Friday from 5–6 PM PT (8–9 PM ET) for the latest concert. Make it a regular date. Bring a glass of wine and cozy up – we think you will discover that digital technology can reveal new dimensions of musical performance. Fridays at Five is not your typical video concert series; it is designed to take you inside the music.
Starting at just $5 a month ($60 annually), you can sign up for or gift a digital membership and tune in with friends each Friday at 5 p.m. (PT) for the latest concert. Proceeds will help the SFJAZZ team prepare to reopen the SFJAZZ Center and bring you the same breadth of live concert and educational programming you're used to. The music will outlive the virus.
Upcoming Artists 
Sept. 11 – Red Baraat
Sept. 18 – Wayne Shorter Celebration Pt. 5
w/ Wayne Shorter, Danilo Pérez, John Patitucci, & Terri Lyne Carrington
SEP 25 – John Coltrane's A Love Supreme: A 50th Anniversary Celebration
w/ Ravi Coltrane, Joe Lovano, Geri Allen, Drew Gress, & Ralph Peterson Jr.
Oct 2 – Bobi Céspedes
Oct 9 – Thelonious Monk Birthday Celebration
w/ Joanne Brackeen, Kris Davis, & Helen Sung
Oct 16 – Mary Stallings & Bill Charlap Trio Oct 3 Taj Mahal Quartet
Think Big, Dream Big, Believe Big, and the results will be BIG!
Eleven days to sign up for the 11th annual Time to Wonder!
Dream Big 2020 will be the same fabulous event, with a twist!
We invite our entire large family of members, friends, patrons, supporters, parents, and children to join us for our first ever virtual gala.
– Interact with the Children's Museum with never before seen footage.
– Learn about new exhibits from Collette Michaud, Founder & CEO.
– Experience first-hand stories from members on the valuable impact the Children's Museum.
Peruse and bid on auction lots gathered locally; from wine to books, there is something for everyone. Come celebrate the wonder of the Children's Museum.
Hear transformative stories, see the joy, and experience the life-changing moments. Join us for the free LIVE EVENT. Stories, celebrations, and plans for the future.
Children's Museum of Sonoma County, On Sept. 13, 2020, 4:30 p.m., 1835 West Steele Lane Santa Rosa, California 95403.