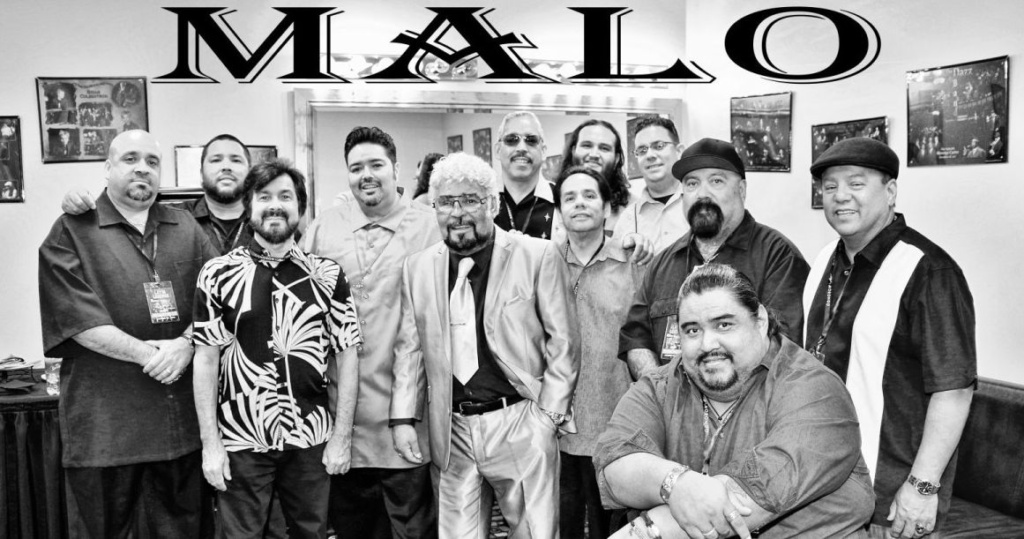 by the El Reportero news services
Arcelio Garcia, lead singer of the pioneering Latin rock outfit Malo, gave his soul to the Lord this past Monday, Aug. 10. He was 74.
Born in Puerto Rico, Arcelio moved to San Francisco with his family when he was 3 years old.
When he was a teenager, some friends of his had a singing group and asked him to sing with them because their baritone had gone into the army.
Arcelio didn't know if he could sing, but said he'd give it a shot.  He found that he liked it and started to learn from his more experienced friends.
One day a car drove by while Arcelio was singing on the sidewalk with his group.  The driver told Arcelio he liked his voice and asked him if he would join his band.  Arcelio checked it out and joined the band, the Malibus, named after the sporty Chevrolet.  They went on to become a very well-known and popular band in the Bay area in the mid-60s.  At first they played mainly R&B, but later started to add Latin music to the mix.
Three or four years into the career of the Malibus, a guitarist was brought in by the name of Jorge Santana, the brother of the already famous Carlos Santana.  In 1970, The Malibus changed their name to Malo and things started happening.  By 1971, they were signed to Warner Brothers Records and recorded their first album, which was simply entitled "Malo,", as Mark Guerrero's blog, tells the story.
Malo is recorded in the history of Latin music in the Bay Area, as an American musical group known for its blend of Latino, rock, jazz and blues. The San Francisco-based ensemble was led by Richard Bean, Arcelio Garcia, and Jorge Santana, the brother of Latin-rock guitarist Carlos Santana.
Malo continued to play as today's day, but due to the unexpected occurrence of the covid-19 virus, it had not been able to tour since the beginning of the year.
If you ever heard songs like Nena, Cafe, Pana, Lady I Love and Latin Bugaloo then you've heard the unique electrifying voice of Arcelio "Malo" García.
For the past 40 years Arcelio had led and toured the band, performing at sold-out concerts throughout the nation. Through the years Malo has featured many gifted musicians including (recently deceased) Jorge Santana on guitar, and Richard Bean who sang and co-wrote their hit song "Suavecito."
Malo's sound–a complex brew of salsa, pop and soul–is much the same as it ever was, with an edge of contemporary R&B; now spicing up the mixture, reads a Los Angeles Times intervidwe. "I call it the California sound," said Garcia in a recent phone interview from his San Francisco home.
If you've ever enjoyed any of Malo's music, then you've been fortunate to experience first-hand, the true and authentic sound of Latin Rock!
Friends have requested Malo's fans and musicians who've enjoyed and even played Malo's music, to join to rally together to bless Arcelio with an awesome Malo type farewell. One that would place a smile on his face and make him feel "Suavecito."
Thank you for sharing the many years of legendary music and for the awesome memories that will live on for generations to come. Per Arcelio's request, may the music go on to bless many generations to come.
Malo was Arcelio's main source of income and due to this unexpected circumstance and medical expenses, it has left his family with a financial challenge.
People are asked to contribute in a Go-Fund-Me campaign currently going, to help alleviate the burden of medical bills and funeral expenses.
https://www.gofundme.com/f/arcelio-malo-garcia?utm_source=facebook&utm_medium=social&utm_campaign=p_cp+share-sheet&fbclid=IwAR0B6lUEgHO2Nmt_0qrp619u194Z9VtGp1R_T4Y_1Hm98e-iBlNalYF7E60
In the Bible, 2Corinthians 5:8 says: Absent from the body present with The Lord. We love you brother Arcelio.
He is survived by his wife Elsa.