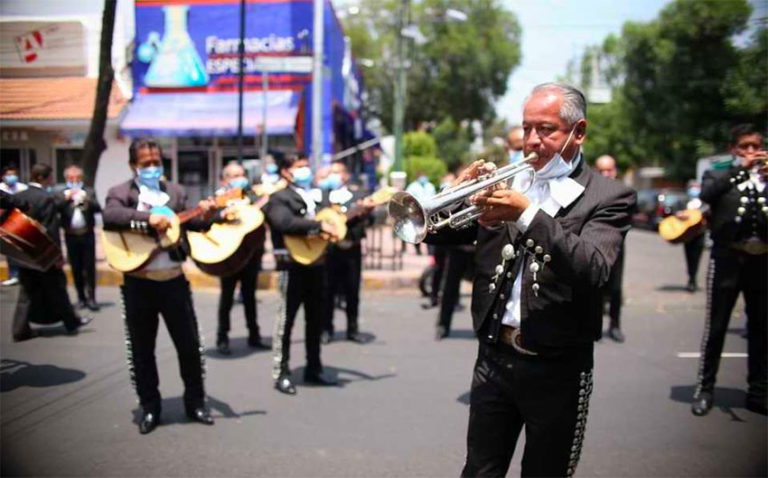 With little happening in Plaza Garibaldi, musicians sought to lift patients' spirits
by the El Reportero's news services
With few revelers to play to at Plaza Garibaldi, Mexico City's mariachi mecca, some 120 musicians traveled to a hospital in the south of the capital on Tuesday afternoon to serenade Covid-19 patients and the medical personnel treating them.
Wearing face masks (which trumpeters lowered temporarily in order to play their instruments) and maintaining a "healthy distance" from each other, the musicians assembled outside the National Institute of Respiratory Diseases, where they played a range of classic mariachi songs.
Their aim, said National Mariachi Association spokesman Julio César Barragán, was to lift the spirits of people suffering from Covid-19 or other respiratory diseases and to show their solidarity with them and the doctors and nurses treating them.
"The distancing protocols were followed by the mariachis," he added.
The serenata coincided with World Health Day, a World Health Organization initiative whose main purpose this year is to celebrate the work of nurses and midwives and remind world leaders of the critical role they play in keeping the world healthy.
Singer Leo Dan did not die: I am alive and kicking
The quarantine of dozens of countries in the world that forced the isolation of millions of people, seems to have given more time to those users on social networks who are responsible for spreading false information to make the unwary fall, who they take for granted. everything you see on these digital platforms.
This Saturday morning, Argentine singer and songwriter Leopoldo Dante Tevez, better known as Leo Dan, became a trend on social networks after he claimed that the artist had died, apparently a product of the coronavirus.
His fans mourned the death of the artist and even expressed their condolences to the family; however, it was all a fake news that, the same singer Leo Dan had to come out to deny through a video he recorded from the balcony of his residence. (Reported by RCN Radio).
Spanish singer-songwriter Luis Eduardo Aute dies
The well-known Spanish singer-songwriter Luis Eduardo Aute died this Saturday in a Madrid hospital at the age of 76, according to sources in his family circle quoted by several media.
Considered one of the main references of the author's song in Spain, Aute (Manila, Sept. 13, 1943) was retired from the stage since the summer of 2016, when he suffered a serious heart attack that kept him almost two months in a coma.
That year, the musician, visual artist, filmmaker and poet completed half a century of his career and was preparing to close the performances in the Fiestas Colombinas de Huelva.
To celebrate the 50th anniversary of his first studio recording, he organized the La Gira Luna tour, which began with a recital at the National Auditorium in Mexico and took him on a tour of Spain with 15 concerts, one of them on June 21 in Madrid as part of a solidarity initiative to help refugees.
On Aug. 8 of that year he suffered a heart attack and was in a coma for 48 days. He recovered slowly and in 2018 his colleagues gave him a tribute concert.
Some twenty artists, including Joaquin Sabina, Joan Manuel Serrat, the Cuban Silvio Rodriguez and Ana Belen, joined together on a historic night to send encouragement to the artist.
In May 2016 he even accompanied the Cuban troubadour in a multitudinous free performance in the Madrid neighbourhood of Vallecas, with the aim of collecting economic and material donations for those affected by the earthquake that had occurred a month earlier in Ecuador.
The 1970s and 1980s were the decades of greatest impact for this multifaceted creator, coinciding with the restoration of democracy in Spain and the rise of singer-songwriters.
Along with the names of Joan Manuel Serrat, Joaquin Sabina and Paco Ibañez, his transcends mere interpretation to reach the collective memory of several generations.