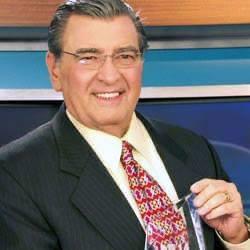 by Araceli Martínez Ortega
Luis Echegoyén, an icon of Spanish-language journalism in the Bay of San Francisco, died on Monday, April 6, in his home in the Mission Terrace neighborhood of San Francisco.
"He died asleep, in peace, while taking a nap in the afternoon," says the eldest of his children, Luis David Echegoyén.
He was 81 years old when he was surprised by death at his home where his entire family was gathered.
William Moya Cabrera, husband of his daughter Deborah, and Esther Armendáriz, his sister who lives in Los Reyes, El Salvador, also mourn his departure.
"My father left us a lot, especially his great passion for helping his people. He was a fighter for the less fortunate. He helped establish many outreach programs in poor communities," said his 55-year-old son Luis David saddened.
But also, he commented, he contributed to the creation of the Mission Culture Center for Young Artists.
His mother María Ethel is heartbroken. "She has lost her king," says the eldest son. Don Luis and María Ethel were married for 60 years, and 64 years together.
Don Luis was born on July 5, 1938 in Santa Ana, El Salvador. He emigrated to San Francisco in the early 1960s.
In the United States, he became a pillar of the Hispanic community in the Bay. He was known for his humanitarian efforts, his commitment to immigrants, and his activism.
He used his celebrity status to raise awareness of social justice issues related to the Latino community, making him known as "The Mayor of La Misión," the Hispanic district of San Francisco.
Collaborated with leaders of community organizations, civic organizations, and artists to advance projects that serve Latinos.
For several decades he was the host of the 6 p.m. and 11 p.m. newscasts on Univision/ Channel 14, where he earned the respect of the community.
But his career went beyond his work as a journalist and activist, he was an actor, comedian, master of ceremonies and poet.
Before working on television, his baritone voice led him to participate in a variety of Spanish radio stations such as KOFY, KBRG, KLOK, KIQI and KEMO.
He owned Hispanic Multimedia where he produced commercials and educational programs.
In 1975 he joined KDTV/Canal 14, which later became Univisión, where he worked until he retired in March 2007.
Luis was the first Latino to receive an Emmy Award. He was a member of the Board of Governors of the National Association of Television, Arts and Sciences (NATAS) and founder of the scholarship program for Latino students "Éxito Escolar".
At Univision, he also hosted the Saturday program, Aqui con Luis Echegoyen, which featured leaders serving the Latino community.
The last years of his life, he spent working for the Latino community, sometimes as a master of ceremonies; and others, as a freelancer for TV Azteca. In addition to cultivating one of his favorite hobbies, declamation and poetry, and not missing an opportunity to help the community.
He was known for his gift of people, his elegance, chivalry, charisma, creativity and sense of humor.
He could talk about any subject, and he had a large collection of books in his library.
In his spare time, he liked to read about history, politics, and poetry. He often recited Rubén Darío's poems at local events.
Don Luis's remains were cremated, and his family had a private service on Friday, April 10. However, they plan to hold a public event to honor his memory, once the coronavirus pandemic quarantine is over.
Reactions
Mauricio René Avilés met Luis Echegoyén in late 1962 when he emigrated to San Francisco.
"In those days we had 23,000 Latin Americans. It was the custom to meet at home, and share anecdotes from our countries, "he says.
It was a normal weekend when, in one of those Latino home meetings, he met Luis, when he was reciting the poem, El Brindis del Bohemio.
"We met again during the soccer war between Honduras and El Salvador. We form the United Salvadoran Organization. We used to make kermeses to raise money to send to El Salvador," he says.
Luis worked in San Francisco for various organizations that helped people, he added.
"He came from being the spoiled child of El Salvador's golden age of television and radio. He was trained by the best. He studied with Omar González, one of the most important speakers in El Salvador. He participated in an artistic caravan that went through all the towns. He sang, he jumped and he made antics," he remembers.
"He was privileged because he worked with famous people in El Salvador; and he was one of the first artists to do comedy, game shows and art tours at a time when everything was done live."
Mauricio René considers that Luis came to San Francisco in search of new horizons.
"More than a journalist, he was a theater man – a theater man -. He was always acting. He was upset when I said, "You have to go back to the theater" because he was busy with radio and television."
He opened Channel 20 television in San Francisco which later became Channel 14, and then Univision.
How would you describe him?
"He was a big deal. A very humanistic humanist. In El Salvador, he was able to get a scholarship to study theater in Mexico and went to Cuba."
But above all, he says that Luis had an ability to see life in a very practical way.
"Because of his training in the theater, he knew how to solve problems right away, and how to get things out of the way."
"The legacy he leaves us is that he was a well-placed man," he says. And he explains: "he went where there was an open door. Not just for getting involved but for helping. He was a person who gave himself 100 percent to the community."
On Facebook, María Leticia Gómez, a retired journalist from Univision published upon learning of the death of Luis Echegoyén, the following:
"Since we met in 1999 we became great friends. We hosted Univision News 14 together for seven years. Just a week ago we spoke for the last time, and he said goodbye with his characteristic, "I love you so much Marrrrrrrría Leticia!"
In the midst of the immense pain that his departure causes me, I give thanks for the years that life has allowed us to share. Luis Echegoyén was a generous teacher, an incomparable companion, a close friend, a unique journalist and a wonderful human being. Rest in peace dear Luis. I will carry you in my heart forever, Chego".
He is survived by his wife María Ethel Ugarte de Echegoyén and their four children Luis David, Deborah Linda, Dernelio Miguel and Rossanna María. As well as three grandchildren, Roberto Carlos, Cristina Alejandra and Victoria Andrea Cabrera. In addition to two great-granddaughters: Isabela and Alejandra Cabrera.
(This article was translated from Spanish with Google Translate).